There are endless highlights to see and experience in Chicago. During my visit to The Windy City, I was able to visit many of these highlights and therefore I would like to share them with you.
Highlights of Chicago
Chicago has a lot of highlights. Not only figurative highlights, but also literal highlights. Chicago is a city built in height. The high-rise buildings in the city make a great impression. Not only from the ground, but also from the air.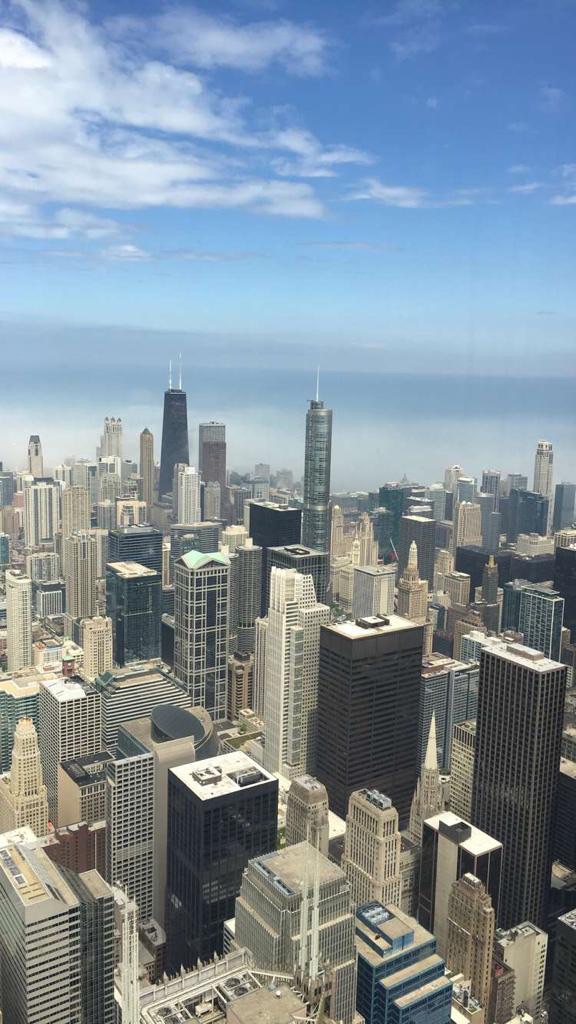 Willis Tower
One of the points where I have been able to admire this view and what I can definitely recommend is the Willis Tower. With 110 levels and 442.14 meters (1450 ft.) this building was until 1997 the tallest building in the world! And really, it's a picture. Besides the beautiful view you have from the Skydeck, it is also possible to take a step in this "Sky". Willis Tower has something magical, "The Ledge". In "The Ledge" it is possible to look straight down 412 meters (1351 ft.) through a glass balcony. Make sure you are not afraid of heights because it is a bit exciting.
John Hancock Center
Another real "highlight" of my visit to Chicago was a visit to the John Hancock Center. At 344 meters (1128 ft.), this skyscraper on North Michigan Avenue made a big impression. Although this "Big John" as it is often called, is mainly filled with offices, but no attractions are missing. On the 94th floor you will find the 360 Chicago from which it's possible to see all over the city. With clear weather you can even see three other states. However, I cannot say anything about this view, because I was allowed to visit the John Hancock Center in the evening and this is one of the things that stayed with me the most. Again a groundbreaking view of life in the city, only now at night. So, what makes this John Hancock Center different from the Willis Tower? This is due the Signature Lounge Bar on the 96th floor. Not necessarily cheap but a unique experience to get a drink at the bar and enjoy the beautiful view.
Because these attractions are so popular it may be very busy. That's why I recommend buying tickets in advance to get the most out of your visit to Chicago.
Millennium Park
Millennium Park, part of Grant Park is one of the most beautiful parks in Chicago if you ask me. A combination of modern architecture, peace and beautiful sights makes this park special. In addition, the park lives up to its name by organizing free festivals and concerts for millennials, mainly in the summer.
The Bean
A real highlight in this park is "Cloud Gate" or "The Bean". For someone who has watched the movie The Vow, this should sound familiar. This large silvery bean cannot to be missed. The beautiful Chicago skyline magically reflects in this bean and is therefore a real eye-catcher. And above all for free!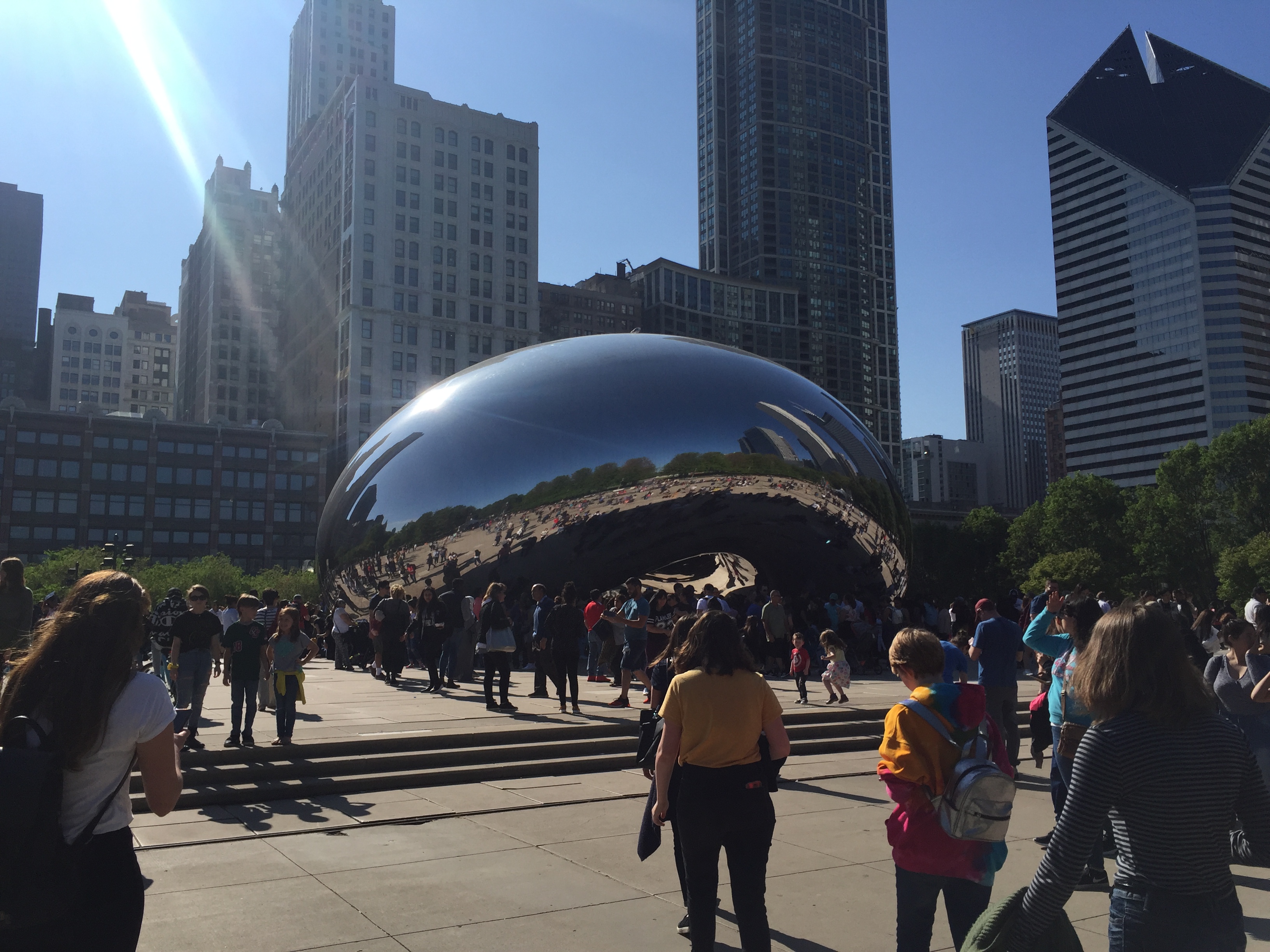 Buckingham Fountain
The highlight of water, then you are talking about the Buckingham Fountain. As one of the largest fountains in the world, this fountain is a real picture. The fountain can be found in the middle of the park and you will not miss it because it sprays a whopping 45 meters (150 ft.)high! Besides that the fountain has a beautiful design, the fountain gives away a spectacular show every hour for 20 minutes. After sunset there is even a light show and music. Definitely worth a visit!
Jay Pritzker Pavilion
A real meeting place in Millennium Park is Jay Pritzker Pavilion. This open-air theater can accommodate about 11,000 people who can enjoy concerts and festivals in the summer months. During my visit to Pritzker Pavilion no activities were organized, but nevertheless it was a place where many young people meet. That's how we got in touch with some locals and talked about our trips to Chicago. A nice place to meet others if you want to.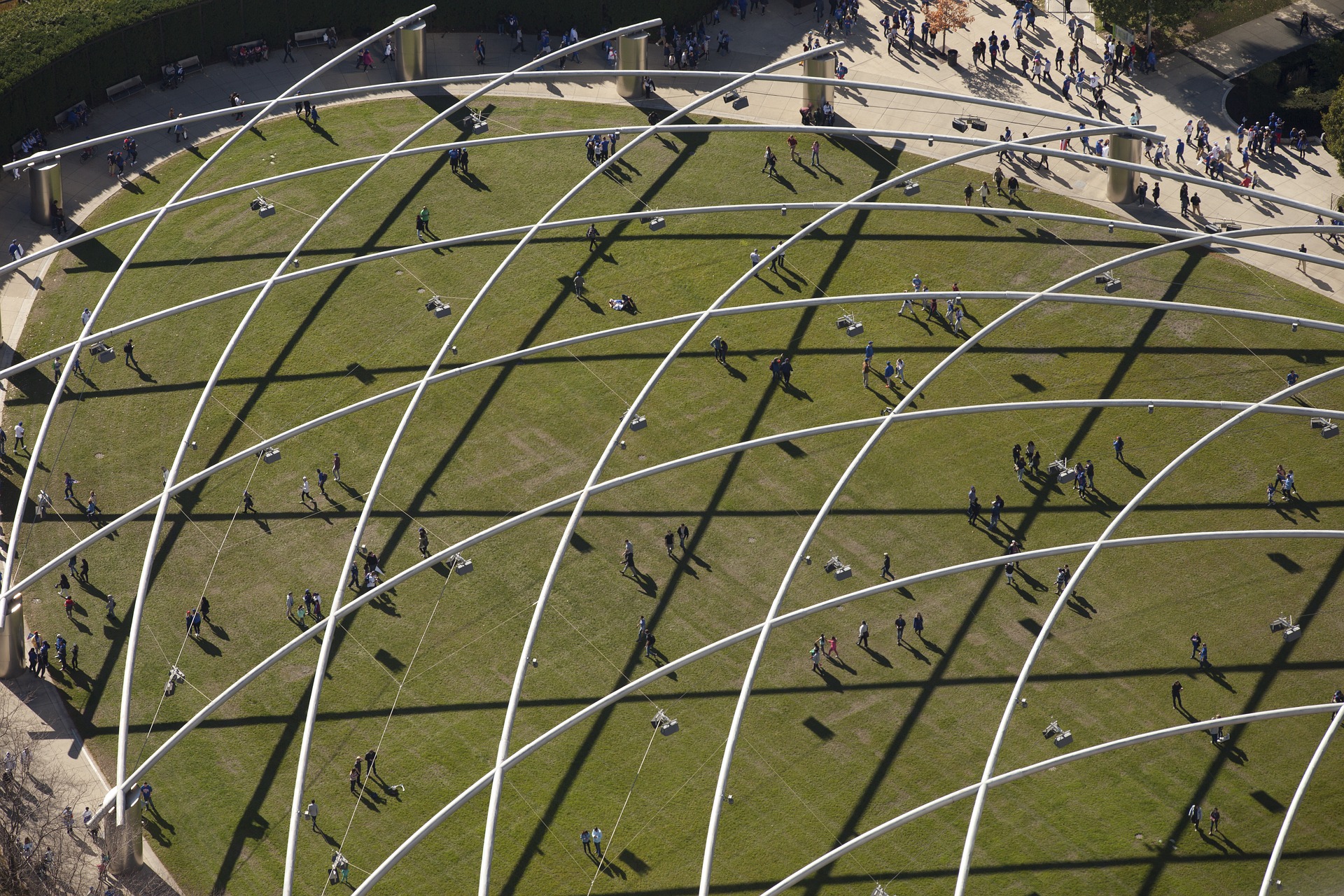 Chicago's waters

Navy Pier
Another of Chicago's most popular must-see attractions is the Navy Pier. The well-known pier of about one kilometer long, located on Lake Michigan, is visited annually by 9 million visitors. Nayy Pier is the place you go to have fun. With attractions, restaurants, shops, parks or simply the view, this is the perfect place to spend your time. View
the pier from above? Then take a ride on the 45-meter (147 ft.) ferris wheel "Centennial Wheel". During my visit to the Navy Pier, the weather was perfect and it was wonderful to relax while enjoying a drink under the sun. Not only during the day the Navy Pier has a lot to offer, but it is also nice to visit in the evening. Every Wednesday and Saturday evening between May and August there is a large fireworks show, which is completely free to view. So worth a visit!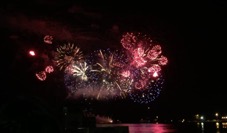 Chicago River
Undoubtedly you will pass it while visiting Chicago. The Chicago River. The river runs through the entire city and is connected to Lake Michigan. If you have more time in Chicago, it is well worth the effort to walk the Chicago Riverwalk. This 2.1 kilometer long pedestrian path takes you along all the beauty of the river. Not so fond of walking? Then there is also the option to view the river from one of the many tour boats. I can't say much about this because, I only saw the river on foot and it was well worth it. Another fun fact if you're in Chicago on St. Patrick's Day, the entire river turns green. Be on time here because this happens around 9 a.m. and the river is only green for a few hours.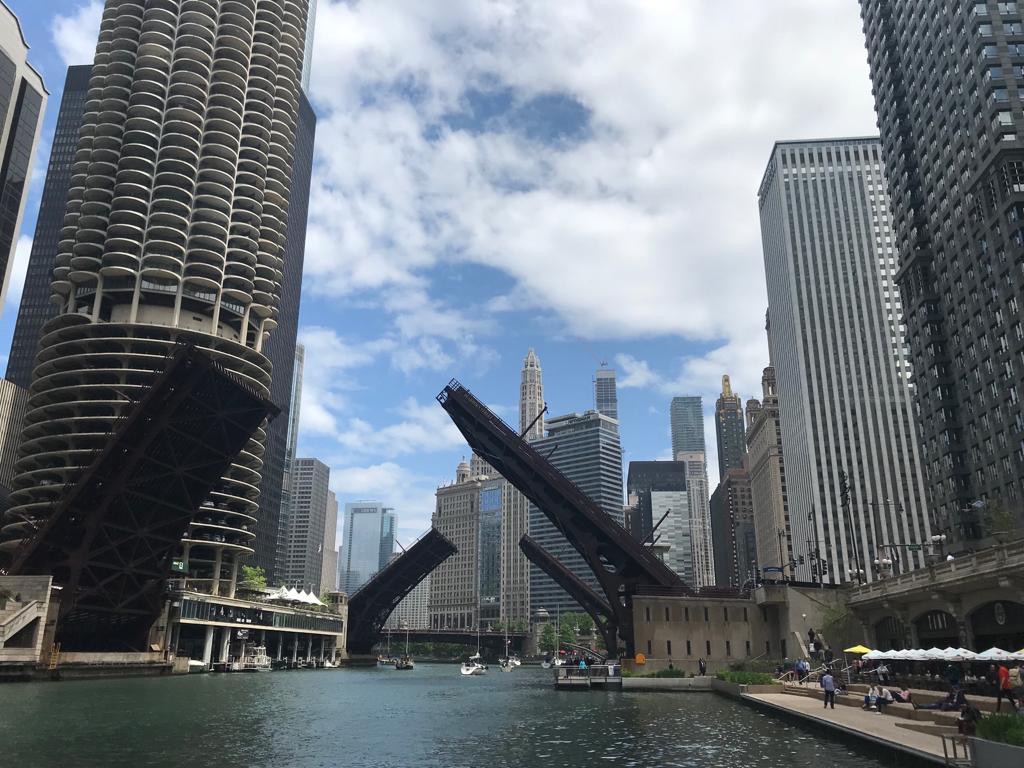 Culture
Field Museum
Making a choice between museums is sometimes difficult, especially in Chicago. One of the museums I've been during my visit was the Field Museum of Natural History. With nearly 40 million copies, the Field Museum is one of the largest museums in the world. The museum has an extensive collection. One such exhibit is Sue, the tyrannosaurus, which the museum claims is the largest and most complete in the world. Besides the tyrannosaurus Sue, they have a large collection of stuffed animals and objects from Indians.
A museum that I have not visited myself but is very popular in Chicago is The Art Institute of Chicago. The Museum of Art owns many famous pieces by Picasso and Van Gogh. If you don't have much time, it is wise to buy tickets in advance to avoid waiting in the long lines.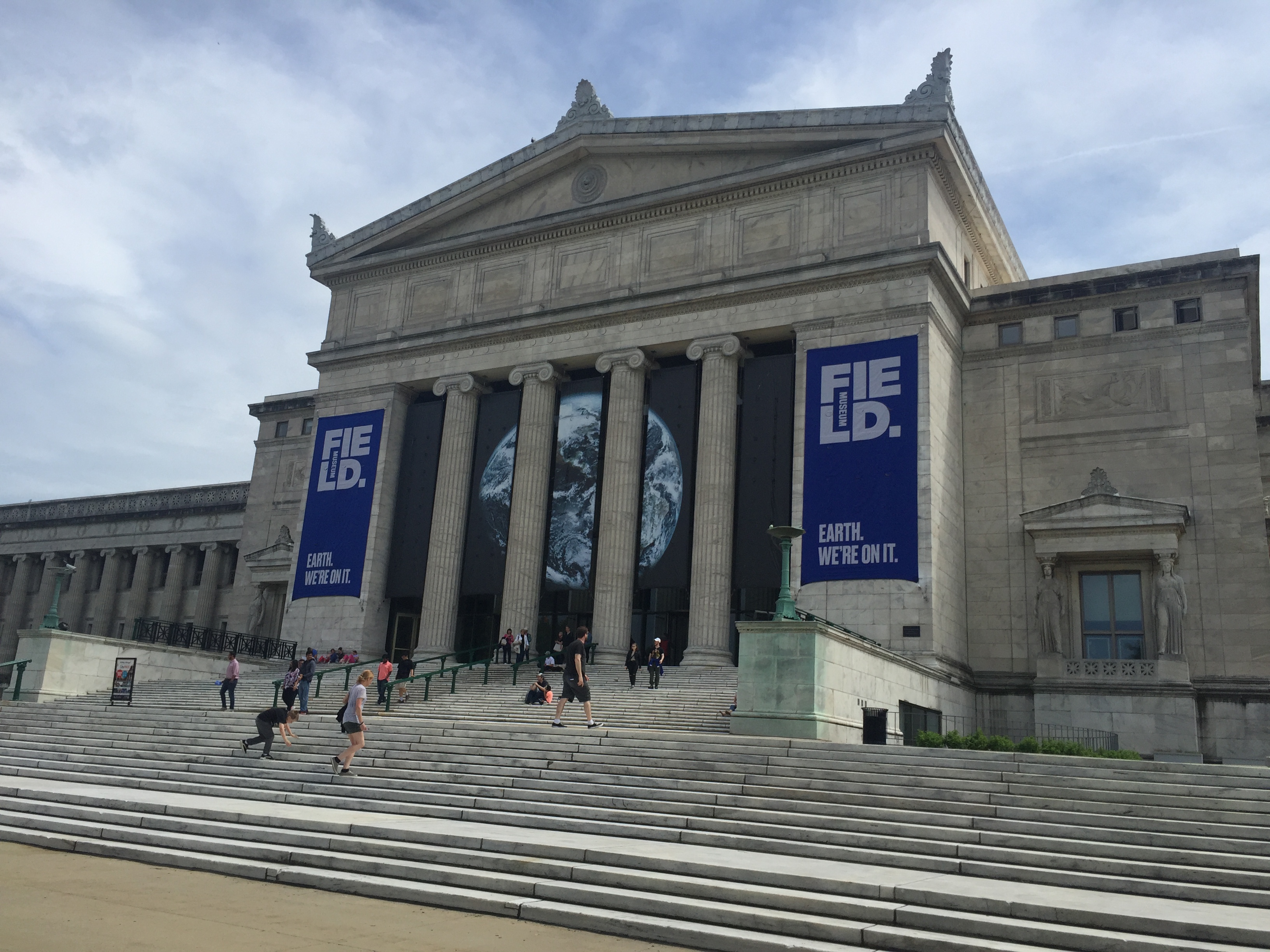 Chicago White Sox
Sport is not unknown in Chicago. With the Chicago Bulls, Chicago Bears, Chicago White Sox and Chicago Cubs, the city is doing well. A visit to these famous clubs is therefore not to be missed and really fun. During a home game of the Chicago White Sox, I bought a ticket and went to look. With the enthusiastic crowd, some homeruns (with fireworks) and hot dogs it quickly became a top match in American mood. The tickets are not too expensive and the stadium is easy to reach from downtown, so if you want to experience something of the American sports, this is definitely recommended.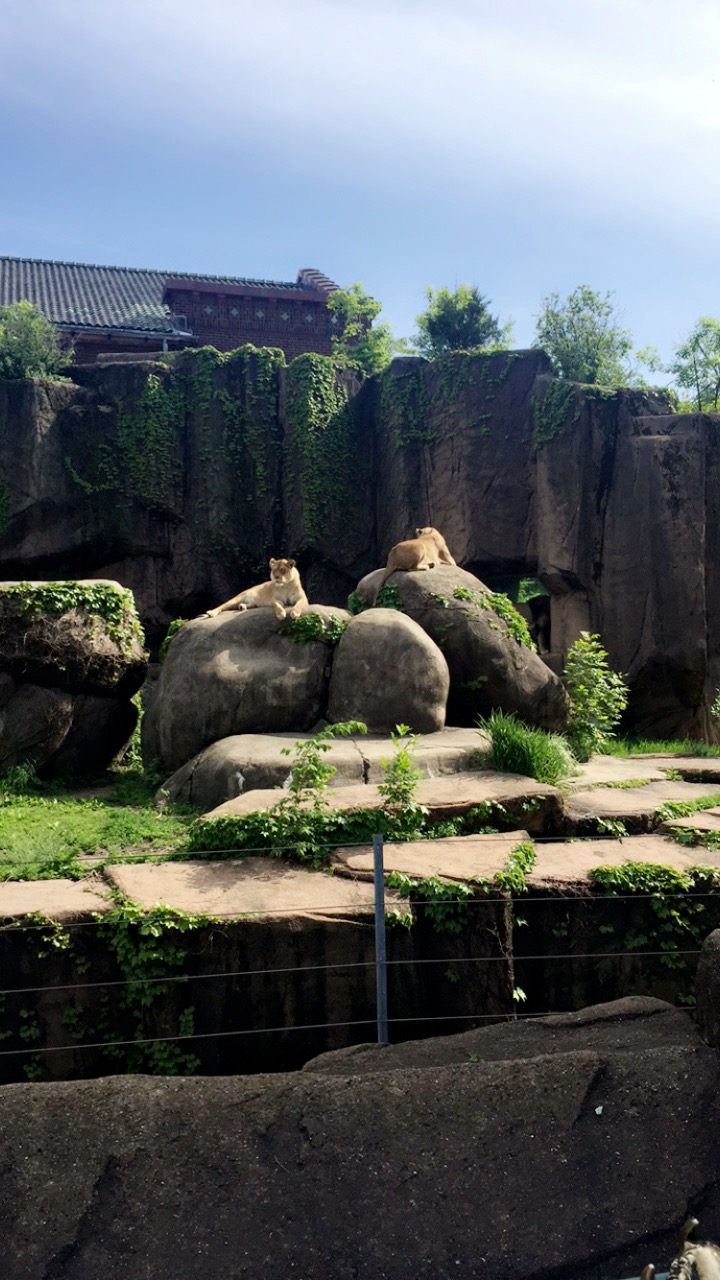 Lincoln Zoo Park
A zoo in the middle of Chicago? Yes, Lincoln Park Zoo. This free zoo is one of the oldest zoo's in the United States. From lions, bears, rhinos to polar bears, there is a lot to see and yes, all for free. Because the zoo is located a few miles from downtown, the Chicago skyline is clearly visible from the zoo.
What I found so special during my visit to this zoo is that the city is characterized by skyscrapers and crowds and that this place in the middle of this busy city is all about the animals and nature.
Food
Chicago style Hot Dog
Visiting Chicago and taste some of the city's typical specialties? Then you are at the right place. In addition to the many typical American dishes in Chicago, Chicago also has its specialties. One of the specialties is the Chicago style hot dog. In a real Chicago hot dog, the bun is filled with a Frankfurter sausage, pickle, onions, mustard, peppers, celery salt, tomato and sweet green pickle relish, a typical sweet and sour mix of finely chopped pickle. Of course finished with a dash of ketchup.
Deep Dish Pizza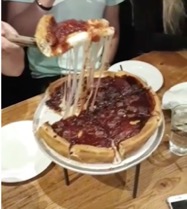 In addition to the hot dog, Chicago knows another delicious specialty. The Deep Dish Pizza. This Chicago-style pizza has a high, thick crust and is mainly filled with a lot of cheese and tomato sauce. If you order this pizza, you have to be patient because this richly filled pizza takes 30 to 45 minutes to bake. Due the reputation of this dish, there are many restaurants that offer this deep dish pizza. During my stay I visited Giordano's to try this deliciousness. Also good to know that they are offering more than pizza's at Giordano's if pizza is not your thing.
Conclusion
As mentioned, Chicago has a lot to offer. And there is never enough time for all the highlights of this city. Looking back on my visit to Chicago, I would like to explain 3 more points that you really must see during your visit to Chicago.
John Hancock Center

The bean of Cloud Cate

Navy pier
Do you like this article and would you like to read more about travelling in America? Then read this post: '4 best places in Los Angeles'
Would you like to know more about my trip to and through Chicago? Which way of traveling through this city I recommend, and which part of the city is the easiest to spend the night? Sign up quickly and receive my tips in your email.
{{cta('d9023667-8699-483f-9dc4-4769ea9c3358′,'justifyleft')}}