Do you also like to play football? Do you also have the urge to visit football matches? Are you always interested in the stadiums of the football clubs? Would you also like to visit football stadiums where all the big boys have played? I have that feeling too and that's why Camp Nou is one of the most beautiful stadiums for me. I am glad I visited Camp Nou. Every football fan should have been here once.
In this blog I share my experience about Camp Nou and visiting a match of FC Barcelona.
General Information Camp Nou
First of all, let me start with some general information about Camp Nou.
When you stand in front of the stadium of FC Barcelona, ​​the stadium does not seem very big from the outside. This is because the stadium is built in depth and the first ring is more or less underground. Although Camp Nou doesn't look big from the outside, there is still room for 99,453 visitors. With its current capacity, the FC Barcelona stadium is the largest in Europe. Camp Nou was not the stadium's official name initially, but was so named in 2000, as this name was often used as a nickname. Camp Nou stands for 'new field'. The stadium can be found at Carrer d'Arístides Maillol in Barcelona.
Why you should visit Camp Nou
I have been a football fan since childhood. I play football, I like to watch football and I like to talk about football. When I was growing up there were a lot of good players and teams, but there was one team with so many good players. At that time, that team played the most beautiful football that I had seen with my own eyes. FC Barcelona's famous tiki-taka football. I started imitating players like Ronaldinho & Messi. I dreamed of one day playing in those stadiums myself. Unfortunately I did not succeed in becoming a professional footballer and playing football in Camp Nou. However, I managed to visit Camp Nou and watch a match from Barcelona. Every football fan should do this! I watched matches on TV. Matches in La Liga and in the Champions league, yet the experience is very different.
Camp Nou Tour
My first experience with the FC Barcelona stadium was during my holiday in Malgrat de Mar. Together with my father, brother and friends we visited the FC Barcelona stadium. We bought tickets for the Camp Nou Tour, we walked through the museum and we got on the field. We walked through the catacombs, saw the changing rooms and saw the press room. It was overwhelming. Especially the field was great to see. Unfortunately we were not really allowed on the field, but it was great to see. Even without an audience it is a great stadium. The size of Camp Nou, the field, and then the great weather, leave an indelible impression.
TIP: It is funny that during the Camp Nou Tour we walked up the many stairs that were there. There were no clear signs of elevators back then, but there were elevators. This is a useful tip, because it saves a lot of time walking up the stairs!
FC Barcelona's museum is also great. All the prizes that Barcelona has ever won, all influential players and their stories and of course the beautiful club song of FC Barcelona. El Cant del Barca. The club song which is written in different languages ​​and which you can learn to sing along with. In the stadium, in the cafe or at home in front of the TV. At that time I just felt like Frank & Ronald de Boer. The twin brothers who then practiced the song in a Dutch TV program when they just joined FC Barcelona to play football there. It was great to see how many prizes Barcelona has won and how great the influence of Johan Cruijff is. Johan Cruijff lives in and around Camp Nou. Messi is also a real greatness. Everywhere there is merchandise from Messi and it is fascinating to see how big one person can become. You can also take a picture with the Champions League Cup. A beautiful experience. Especially if you, as a young boy, dreamed of becoming a professional footballer and ever winning that Champions league. This way you still get a bit of the feeling, even if it is not quite comparable.
You can easily buy tickets for the Camp Nou Tour. There are several organizations that offer these tours. One of the easier ways is through the FC Barcelona website itself. Here you can see what kind of guided tours there are and also what the prices are. You have the Camp Nou Tour, the FC Barcelona Basic Tour, Players Experience Tour and the Match Day Tour. The Players Experience Tour is one of the best running tours, but it is also more expensive.
For more information, take a look at: https://www.fcbarcelona.com/en/tickets/camp-nou-experience#
Visiting a match of FC Barcelona
My second experience was that I visited a match from Barcelona in Camp Nou. I visited the FC Barcelona – Valencia match in 2018 with my brother, uncle and cousin. Unfortunately the weather wasn't really good this day, but the match was a great experience. Why was this great and why should every football fan experience this? There was already a great atmosphere around the stadium. There were stands with FC Barcelona products, so you immediately got into the Barcelona atmosphere. There were all kinds of drinking and eating places with music, where many fans gathered. Songs were sung together and there was already a good atmosphere before we entered the stadium. In the stadium there are great places with great visibility.
Tip: Try to get as close to the field as possible for the best possible view. The higher you are in the stadium, the further you are from the field, which reduces visibility. Paying a little more often ensures a much better view and a better atmosphere.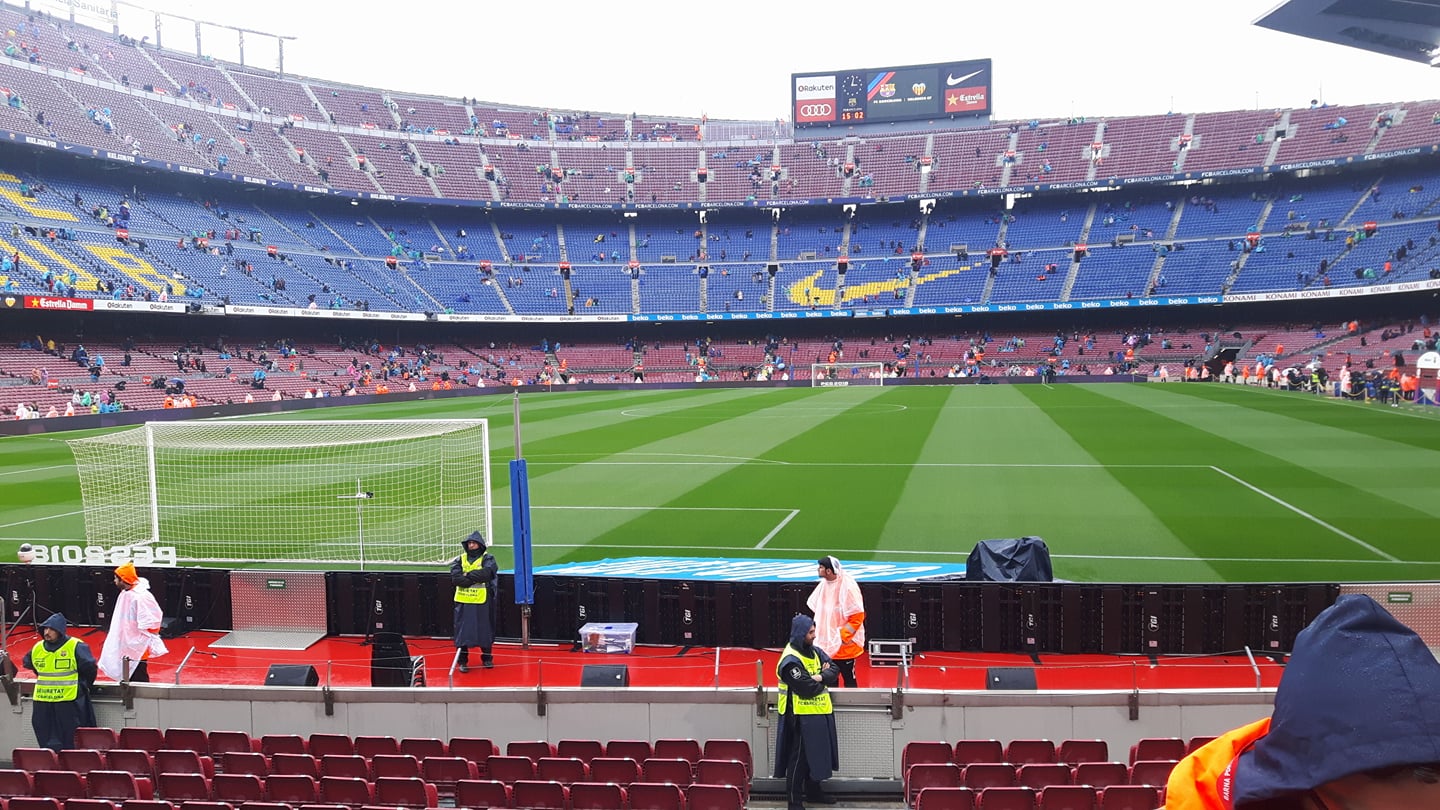 Our places can be seen in the photo above. Beautiful view and what was many times more beautiful was the atmosphere. We were right behind the goal where the atmosphere makers among the FC Barcelona supporters are. It was great to see how they sang all kinds of songs throughout the game and made it a really nice atmosphere. We were close to the field and you could see all the footballers very well. That was great to experience. The Barcelona stadium, the atmosphere, the people, the beautiful field, everything exhaled all football. As a football fan you must have experienced this! Below is a video of the match. Umtiti scores a goal from the corner here.
Many tourists come to the matches of FC Barcelona. Partly because of this, there are various organizations that offer competition tickets. There is plenty of choice between different organizations. What is important to look at are the places you sit compared to the price. Also whether accommodation, air travel and transport is included. We had booked the tickets with an organization and arranged the flight, accommodation and transport ourselves. This saved us positively in the total amount, but it does take away the luxury that everything is arranged for you.
What you also have to take into account is that matches in La Liga can be moved due to, for example, European obligations of the clubs in La Liga. It may be that the match is first on Saturday, but then suddenly on Sunday or vice versa. This is important to know in connection with booking flights and accommodation. I definitely recommend going to Barcelona for a weekend!
For more information about match tickets, take a look at: https://www.fcbarcelona.com/en/tickets/football?gclid=EAIaIQobChMIkKemw9PU4gIVjr_tCh2yUARVEAAYASAAEgI8RfD_BwE&ef_id=EAIaIQobChMIkKemw9PU4gIVjr_tCh2yUARVEAAYASAAEgI8RfD_BwE:G:s&s_kwcid=AL!5597!3!284713124112!e!!g!!fc%20barcelona
Useful things to know when visiting Camp Nou
Watch out for pickpockets.
Make a clear point where you will meet again. In the large crowd you can lose each other.
Whether you sit side by side during the match.
Go to the stadium on time. This way you avoid long queues at the entrance and you can taste the atmosphere from outside the stadium.
Arrange transportation so that you get to your destination before and after the game.
Taxis are plentiful, so you don't necessarily have to be close to the stadium. We were 15 minutes from the stadium and each taxi ride lost about 5 euros. Agree an amount in advance! This prevents you from having to pay high amounts.
In Short
Visiting Camp Nou, a match of FC Barcelona and the tour in the stadium, is really something you have to do! When you are there you experience the atmosphere, you get a great feeling and it leaves a great impression. It ensures that you get to see many things that you don't see on TV. Just do it!
My dream is to go to El Classico someday. The most exciting football match in La Liga.
Did you like this blog and do you want to stay informed about other football stadiums or other great places to visit? Subscribe to our newsletter now!
{{cta('7df022dd-0ac4-44ec-87fd-74c34ac839a3′,'justifycenter')}}