Is it Corfu or Kung Fu?
When I was a child, my first holiday going by plane was to Corfu in Greece. At the time I thought that Corfu didn't sound like a Greek island at all, more like an Asian island or something like that. Maybe because it sounded to me like Kung Fu… "Everybody was Kung Fu Fighting..", great song by Carl Douglas by the way. Anyways, back to the topic of today. It was a very nice holiday and the weather on Corfu is generally amazing and still not feeling too hot thanks to the cooling breeze on the green island full of nature. Of course I was very young, so every holiday with a pool and or sea in addition to good weather was a guaranteed success for me at the time. However, years later I decided to go back to the Greek island of Corfu. Not just because of the great weather, but because it is an amazing island. It has got great nature, tremendous landmarks and sights to visit and last but not least (at least according to me) Corfu has a very rich history. In this blog I will go through all of these topics and show you the reasons why Corfu is one of the most underrated islands of Greece and why you should visit it at least once!
The rich history of Corfu
Because it is one of my favourite subjects, we will start with a brief glimpse into the rich history of Corfu. Honestly, I could talk about all sords of different time periods regarding to Corfu, but I will just take you through the timeline and pick some interesting facts. According to findings of archaeologists in the caves of the Aghios Mattheos hills, Corfu has been inhabited since about 40,000 BC! Back then Corfu wasn't an island yet. Around 775-760 BC the Greek people arrive on Corfu for the first time, these Greek people were immigrants from Eretria, another Greek island.
A lot of the Corfu history that is BC is quite complicated due to the names of inhabitants and places that do not exist anymore. So I will move on the an interesting BC fact about a group of people that may ring a bell for you, the Spartans! That's right, the Spartans attacked Corfu in 375 BC, but with the help of the Athenians they were eventually driven out of the island. The reason that the Spartans wanted to have Corfu, is because of its strategic geographic location.
37 years after the Spartan attack failed, the Macedonians succeeded to conquer the island occupied it for 35 years long led by Alexander the Great himself! Who by the way was very impressed by Corfu's beauty, he most certainly had a good taste.
And then, the historical division of the Roman Empire into East and west takes place in the year 395. This change marked the beginning of the Byzantine era and Corfu comes completely under ruling of the Byzantium Empire. In this time period Corfu was booming because of its importance in both strategic placing and trade.
In the year 1204 the Byzantine Empire falls because it is overthrown by Crusaders, this is where Corfu is ruled for a short period of 10 years by Venetians. These Venetians will soon come across again. After this 10-year period the Byzantium recaptures Corfu and for half a century peace and prosperity returned to the island.
After that the power on the island shifts yet again, this time the Sicilians have been in charge for over a century (1267 – 1386) under the leadership of the Catholic King Charles of Anjou.
After the reign of the Sicilians we meet again with the Venetians, the 'Venetian period' ended in 1797. Art and architecture flourished during this period and Italian was for about 4 centuries the official language on the island. During this period the Venetians had to defend the island multiple times against the Turks, who in the end did not succeed in taking over Corfu.
To continue the main theme of Corfu's history, we will now go over the changes of sphere of influence after the year 1797, like it didn't change enough.
In 1797 Corfu becomes French led by world famous Napoleon himself. In 1814 after the fall of Napoleon the island became British for a change. After all in the year 1864 Corfu will be officially reunited with Greece, what a journey that was 😉.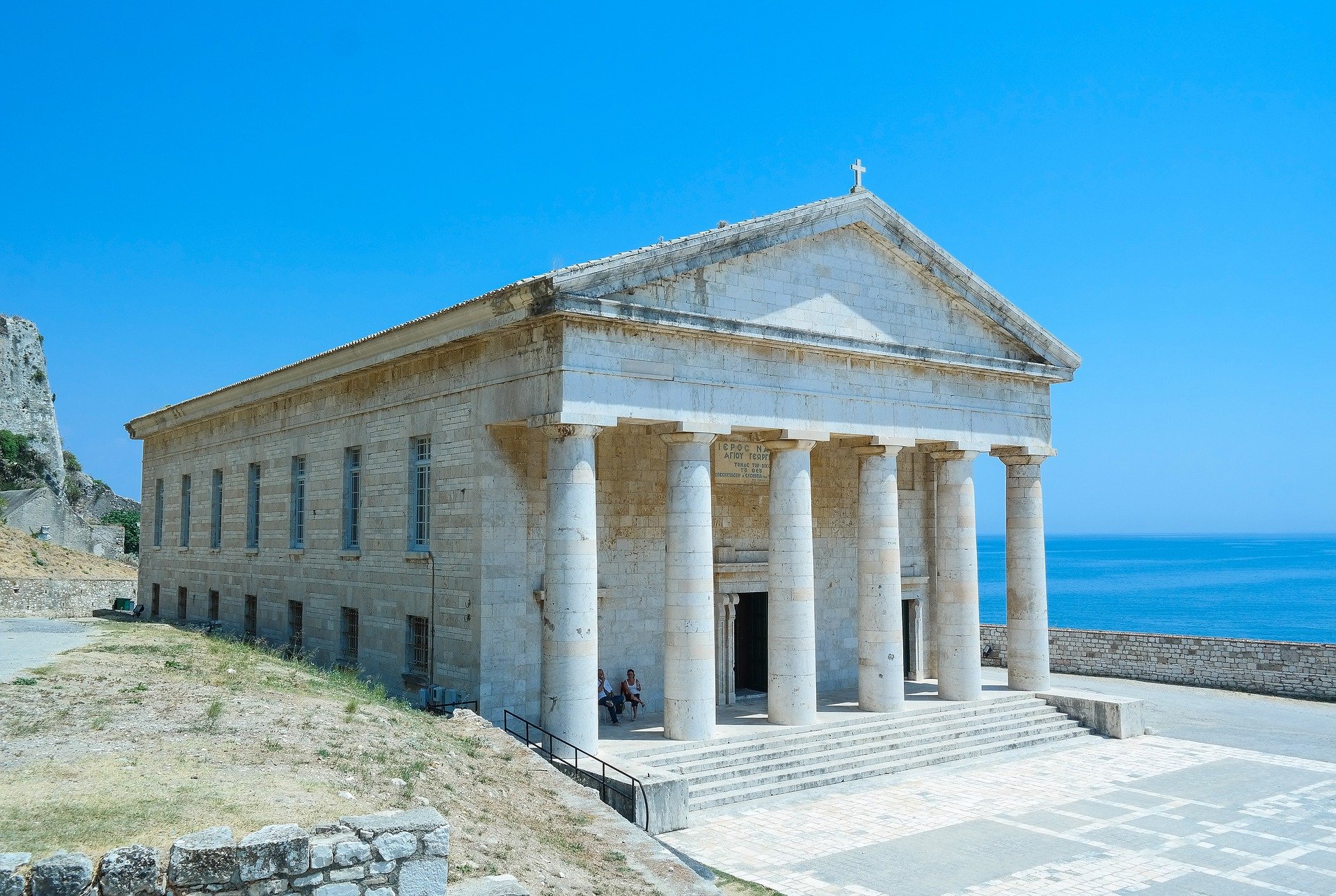 Sightseeing in Corfu
As you know from the history part above, Corfu has been exposed to a lot of different spheres of influence. Therefore, sightseeing in Corfu can be a lot of fun if you like architecture. If architecture isn't your thing luckily there will still be enough to enjoy in the nature department.
For the best architecture we go to the most obvious destination of all: Corfu town, a beautiful historical city. The picturesque city is full of great looking buildings and sights, even the normal houses have a good look and feel to them. Of course I will not be able to list all the sights to see, but I will select my favourites.
We will start off with the Fortress of Saint Mark (or 'The New Fortress'/ 'The Fortress of Sanmarco'). This fortress is a leftover from the Venetian period and is located strategically close to the old harbour of Corfu. It is said that it took almost 60 years to build, which has probably to do with the Turkish invasions around that same time period. As a tourist you can go into the fortress and as a reward for getting to the top you get a tremendous view as a gift.
If that view wasn't nice enough for you (you got to love the views of course), we got another great one for you: Corfu's Angelokastro Castle (or Angel Castle). It is truly a great sight on the top of yet another hill. And with this hill comes a special cave. What could be so special about a cave you ask? Well, in this cave you will be able to find a church which is dedicated to Gabriel and Michael, the famous angels.
And last but not least you should just look around the island and mainly Corfu Town in general, it is a great island and a great city with gorgeous looking houses, squares, churches and other diverse monuments. The city is not too big so you can see most that it has to offer in just a couple of days, or if you are a quick tourist maybe even faster 😊.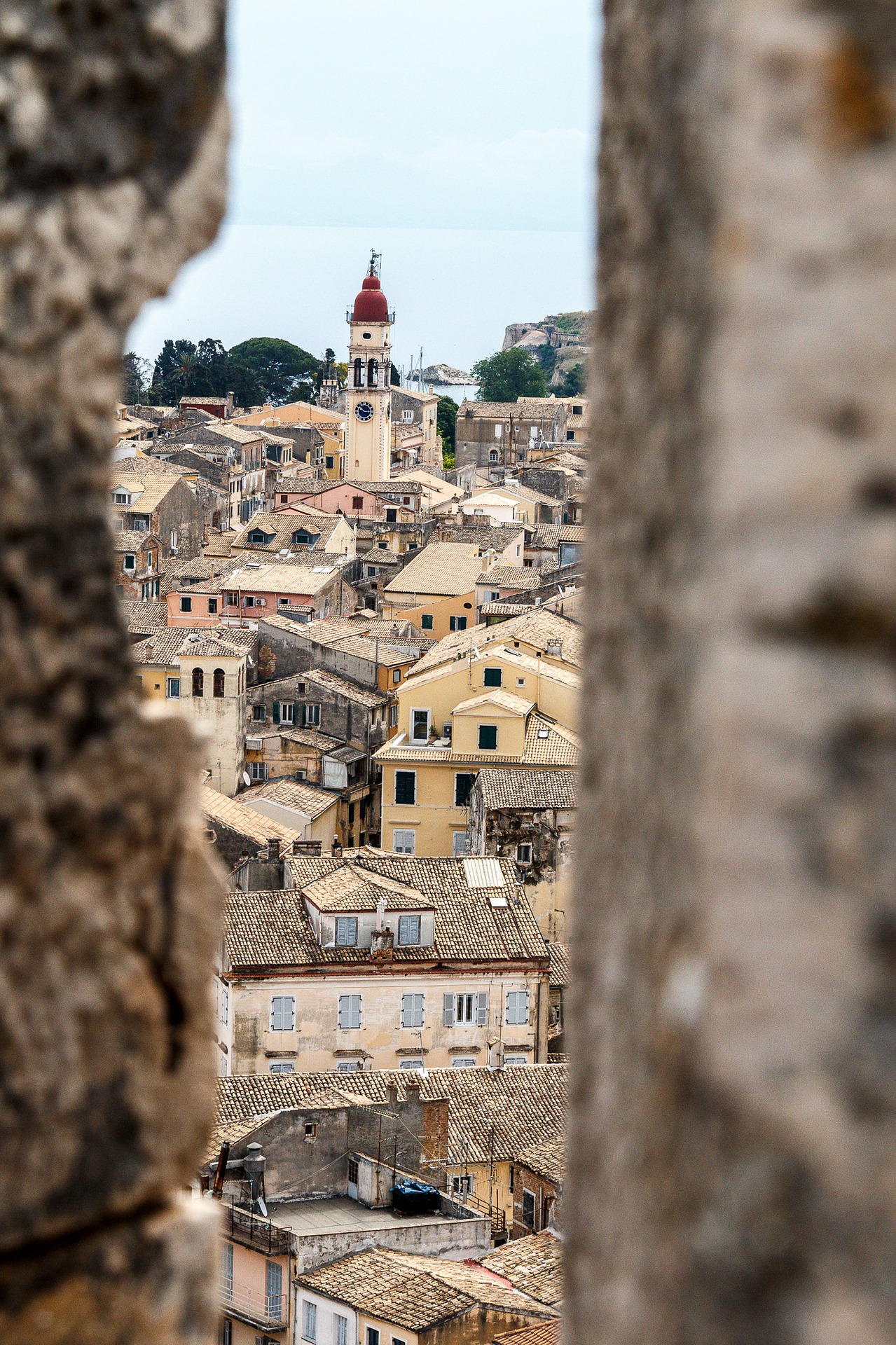 Nature and weather in Corfu
I did not count it as sight, but wow Corfu's nature is one great sight of its own! It is the greenest island of all Greece, but it doesn't stop there ladies and gentleman. The island has some amazing beaches too, my favourite ones are Voutoumi Beach and Agios Stefanos Beach. This first one is amazing according to me because of the way it is located, it is a beach in a cove with beautiful clear blue water between a large amount of trees. And Agios Stefanos Beach is a personal favourite because of the large rock cliff on the side and the wide beach with often times very big waves, which could be great if you like surfing. These are of course very specific beaches and I have not seen them all, but I am sure that there will be a beach to your liking close to wherever you are in Corfu!
And then, were the story all started, the weather.. First of all Corfu has a Mediterranean climate, the summers are very hot and the winters are mild because the island if of course surrounded by sea. On average the temperature is 21 degrees Celsius and approximately 243 days a year are rain free, could you possibly ask for more? Well I could not, that is why I went to Corfu twice, which I normally don't do quickly with holiday destinations.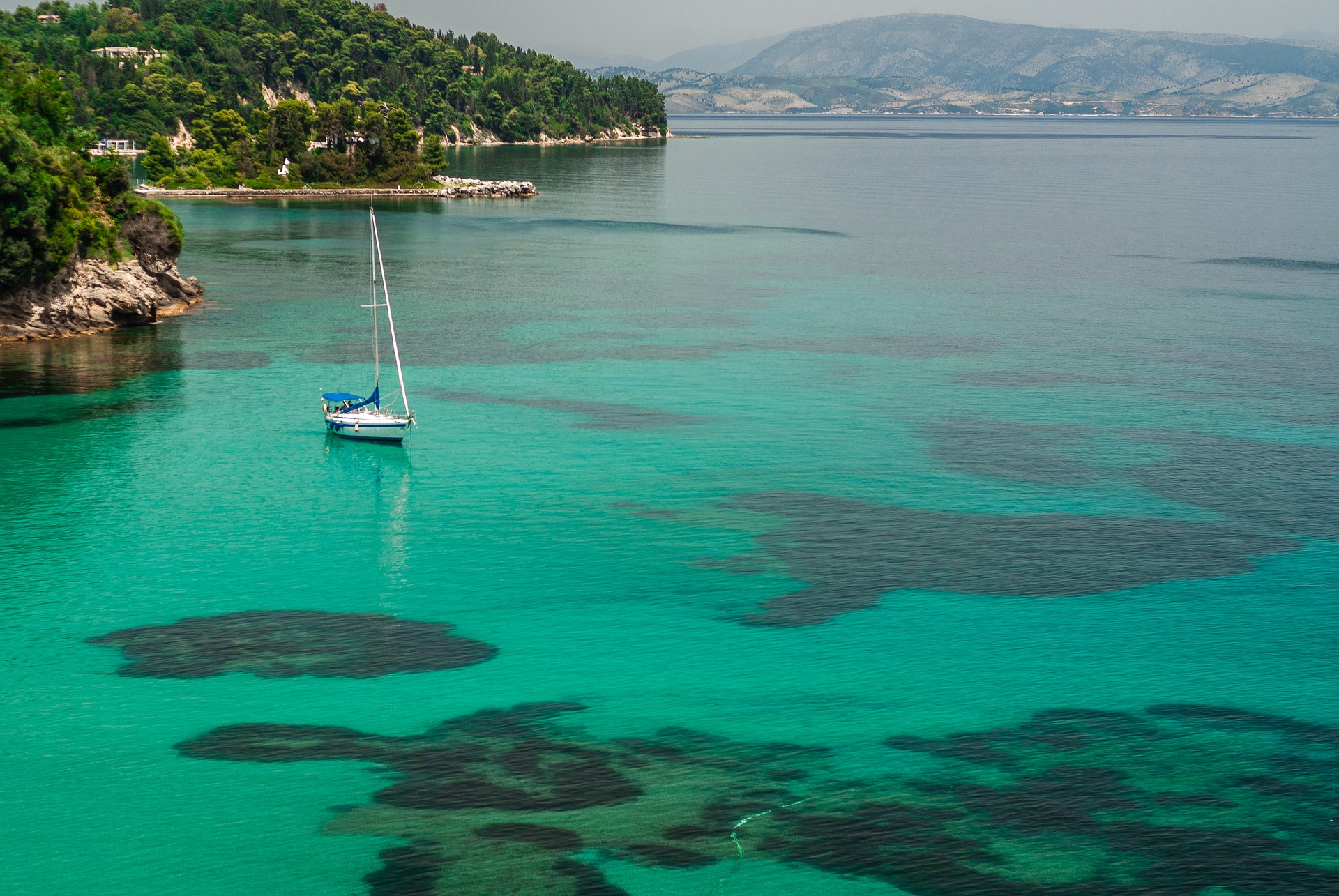 Conclusion
Corfu is not the most famous Greek island, but it has a lot to offer. It has an amazing history, great sights and the nature, oh the nature it is truly unmatched. Oh and how could I forget the superb weather 😉. So do not hesitate, the island is great. Go to Corfu, why would you wait?
{{cta('174e847f-71e8-4f74-85f4-ef69ee6a166b')}}