Introduction
One of the most known places under the European camping people is the Costa Brava in Spain. In this blog I will illustrate one of the most beautiful places, located in the Costa Brava. This place is called Sant Pere Pescador. Sant Pere Pescador is known for the many campings they hold. It varies from the smaller and quiet campings to the large campings with the most and best services. But beside the campings, the placed has a lot more to offer. There is a fantastic restaurant and you can visit the club if you want. That's why this blog is here! In this blog I will tell you all you need to know about why you should consider a trip to Sant Pere Pescador.
Top Campings
As explained earlier, in Sant Pere Pescador there are many campings. There is most definitely a camping that suits you in your desires. There is a lot to think about when you go visit a camping. What do you search in a potential place to stay for weeks? As stated before the campings each have their own benefits. If you're searching for a bigger pool, or maybe a place that is closer to the beach than another camping, keep reading, because I will now introduce the top 3 campings and there strengths.
1. Camping Las Dunas
Las Dunas is a name that is been around for many years now. The camping started in 1968 and really created a big name for themselves since then. It started very small, but now Las Dunas is one of the biggest camping in Sant Pere Pescador. It offers many services for the whole family. They offer different stay possibilities such as: bungalows, camping spots and mobile homes.
By being the biggest camping they also have a lot of facilities. During your stay it is definitely not necessary to leave the camping, because of the many facilities they offer. There is a supermarket, a restaurant and different food spots. Even if you want to sport, it's possible on the camping. Whether you want to play football, tennis, table tennis, minigolf or just lift weights, they offer it on Las Dunas.
If you plan on traveling with kids and you want to enjoy entertainment with the children, Las Dunas then also offers a wide range of entertainment. During the day the children can take dance lessons at the pool side. There is almost every day an instructor, who gives the children dance intructions by the pool while loud, happy music is playing. If the children want, there is also evening entertainment around 7 o'clock. The mascot of the camping, Laladu the Turtle, will provide a show for the kids, which they all love.
If you like to party then you're at the right adress at Las Dunas. That's because there's a club right next to the camping. So that means that as a parent, you don't have to worry yourself about how your children are going to travel to the club. The club is called "Fata". Fata offers a large variety of theme evenings, for example an all white party or a back to the 90's theme. Besides the theme evenings, there are also a lot of famous artists who come over. For example Vato Gonzalez and DJ Chucky. If you are interested, be sure to check out their website to know when your favourite DJ's are coming!
(https://www.campinglasdunas.com/nl/contenido/dunas-life/restaurants/discotheek-fata/)
Last, but not least, the beach. If you really love the beach, Las Dunas may be the perfect camping for you. That is because the beach is located right next to the camping. You don't even have to walk to the beach, because when you leave the camping, you set directly foot on the beach. On the beach you can decide if you want a relaxed stay or maybe do something adventurous. There are lots of possibilities: go kitesurfing, go on a speedboat or ride on the banana with your friends and try to remain on it while it's speeding over the sea.
2. Las Palmeras
With previously being the camping Las Dunas, we are now diving deeper in a totally different camping. Las Palmeras is quite the opposite of Las Dunas. A typical camping Costa Brava. If I have to summon up how the camping is, I would describe it as a relatively small camping with lots of facilities for all ages. Even though Las Palmeras is smaller than the other campings, it still has a lot to offer.
To begin with the restaurant, where you can eat the best sea food and paella. The waiters are very friendly and the service is very quick. If you want to visit the restaurant I highly recommend to try the shrimps. Next to the restaurant is the pool. There are two different pools, one for the adults and one for the kids. Even though these are very simplistic pools, they are still very enjoyable and are taken good care of every day by the cleaning crew. Other activities that you can do while staying on Las Palmeras are playing football, tennis, pingpong or playing pool.
For the ones that are searching for a quiet camping but still want some form of entertainment, this really is the perfect camping. Every wednesday and saturday there is a live band by the pool where children love to play and dance around. But even old people seem to really like the live band and that is why I would recommend this camping to all ages.
The beach is located on 300 meters from the camping. It is a estimated walk of 5 minutes. The walk can sometimes be a little tiring because the road is located next to an empty field, so you can really feel the heat while you walk towards the beach. But the walk is more than worth it, because the Las Palmeras beach is really beautiful. Futhermore, there is a little beach restaurant where you can buy your beverages and food. The restaurant is really simplistic and has a reggae and jamaican theme, that is what makes it so fun to sit at. If you visit it, I would recommend to take a pizza there, those are very delicious.
3. L'Amfora
In this next part I would like to tell you a little bit about my most recent holiday destination: camping l'Amfora. It's a lovely camping close to the small town of Sant Pere Pescador, on the east coast of Spain. I am absolutely blown away by this recent holiday and I'm going to show you why that is exactly.
One of the great things that it has got going for itself is that it is only an hour and a half drive away from Barcelona! So if you would like to explore the beautiful Las Ramblas street, you can be there in the blink of an eye. Furthermore the camping itself is perfectly located in itself. Picture the Mediterranean Sea, the sunshine, the Pyrenees as backdrop, fine white sandy beaches, little creeks, camping l'Amfora has got it all!
The camping itself is suited for families with young children as there is a lot of entertainment available for the younger generations. The entertainment team will make sure that the kids will not be bored even for a second of their day. Haven't got any kids of your own? That is absolutely no problem because there is plenty of other things l'Amfora has got to offer for you, such as a full on beauty salon to make you feel prettiest on this relaxed holiday destination, a tennis court to stay fit and focused if you don't like laying on the beach all day and a lovely minigolf course to play some fun games with your friends!
Still not sure if you want to spend your holiday here because of the possibility that you might get bored? L'Amfora organizes loads of off site sport amenities like water skiing, paintball games and there is even a canoe base close by. There are multiple amazing pools for every kind of water lover. There is an outdoor pool with a slide, but they have also got a special outdoor kid's pool for the youngest members of the family to paddle around in. Lastly they even have a spa well-being, just to get that extra touch of relaxation.
Must Visit
One of the best places to go in Sant Pere Pescador is Mas Gusó. Mas Gusó, started as a small family-run restaurant. I have actually been there 12 years ago, and back then it was a small local place with some nice food. Nowadays, it's one of the biggest restaurants in the area. It has changed and grown so much.
In peak season, there is a big chance every seat is taken and you have to wait until another group leaves. It's very popular because the food is very nice and the restaurant has a nice vibe to it. The menu offers a wide variety of food and drinks, with some local additions as well.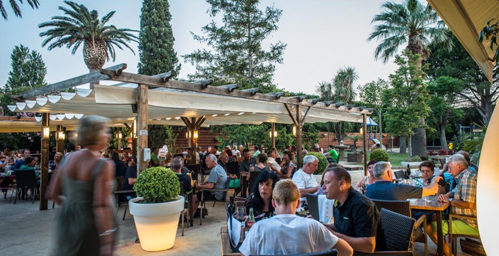 Mas Gusó does not only exist of a restaurant, it also has some other areas. One of those is the wine cellar. This wine cellar is run by a man named Joan, who is a sommelier. He knows almost everything about the different wines and flavors. He will advise the visitors what to choose from their wide range of wines. This is a must visit for wine lovers!
The market is another area of Mas Gusó. In this market, you will find local products only. Think of vegetables, fruit and other products which have their origin in the local area.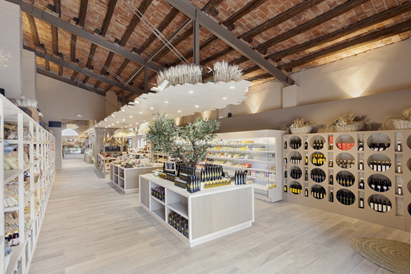 Last but not least, there is a shop called Souq. Souq is a shop which sells different items every year. They sell items like clothes and jewelry, which are focused on originality. Most of the items are made locally, and some are from further afield. They have something for all ages and genders, so this is a must visit for people who want some original items.
In Short
There are many different campings in Sant Pere Pescador that will suit you in your needs for a vacation. The top 3 campings for me in Sant Pere Pescador are below concluded in short.
Camping Las Dunas is a camping for people that want a camping with lots of facilities and is ideal for people with children who like to party. Camping Las Palmeras is a camping for people that want more of a cozy camping with lots of possibilities. And the last camping l'Amfora is a camping for people that want to do lots of activities during their stay.
The must visit in this blog is the restaurant Mas Guso, it's a really well known restaurant by the tourists and that's because they offer lots of good wine and delicious food.
Are you interested in more? Then I highly recommend joining our newsletter for the latest tips about your potential favourite camping!
{{cta('bbadcdad-d961-455d-8522-f57fc8be7609′,'justifycenter')}}