Are you visiting Ibiza right now or in the near future? Good, then you're at the right place to get to know some fun activities. When you think about Ibiza, you probably think of party's, drinks and the sun. Besides the popular party's and relaxed ambiance is this island full of surprises that not much people know about. Curious about these surprises? Good news, we have put them all below so you can discover it by yourself!
1. Es Vedra / Atlantis
Maybe the most popular sightseeing of Ibiza, the magical island Es Vedra. It is located at the south-west of Ibiza. You can't reach the island itself because there don't live any people around there and it has no port, but there is a really nice viewpoint where you can easy get to. As you are driving to the beach named Cala d'Hort, drive through on this way and you will see signposting that are telling you where to find Es Vedra. Eventually you will end up on a sandy road that will lead to a parking place. At this place you will have the option to go to Atlantis or Es Vedra. Atlantis is a beautiful place that is very popular by the hippies of Ibiza. It is much harder to get to with heavy climbing, but it's worth it. Make sure you have enough water to drink, it will take about 45 minutes to get there. When you are going to the viewpoint of Es Vedra , it's just a straight road that goes up slightly. If you have reached the viewpoint, you can also climb about 2 meters down to see some hippie caves. The hippie caves are intact and residents say they are still in use. Want to visit Es Vedra or Atlantis? We attached the location of the parking spot below.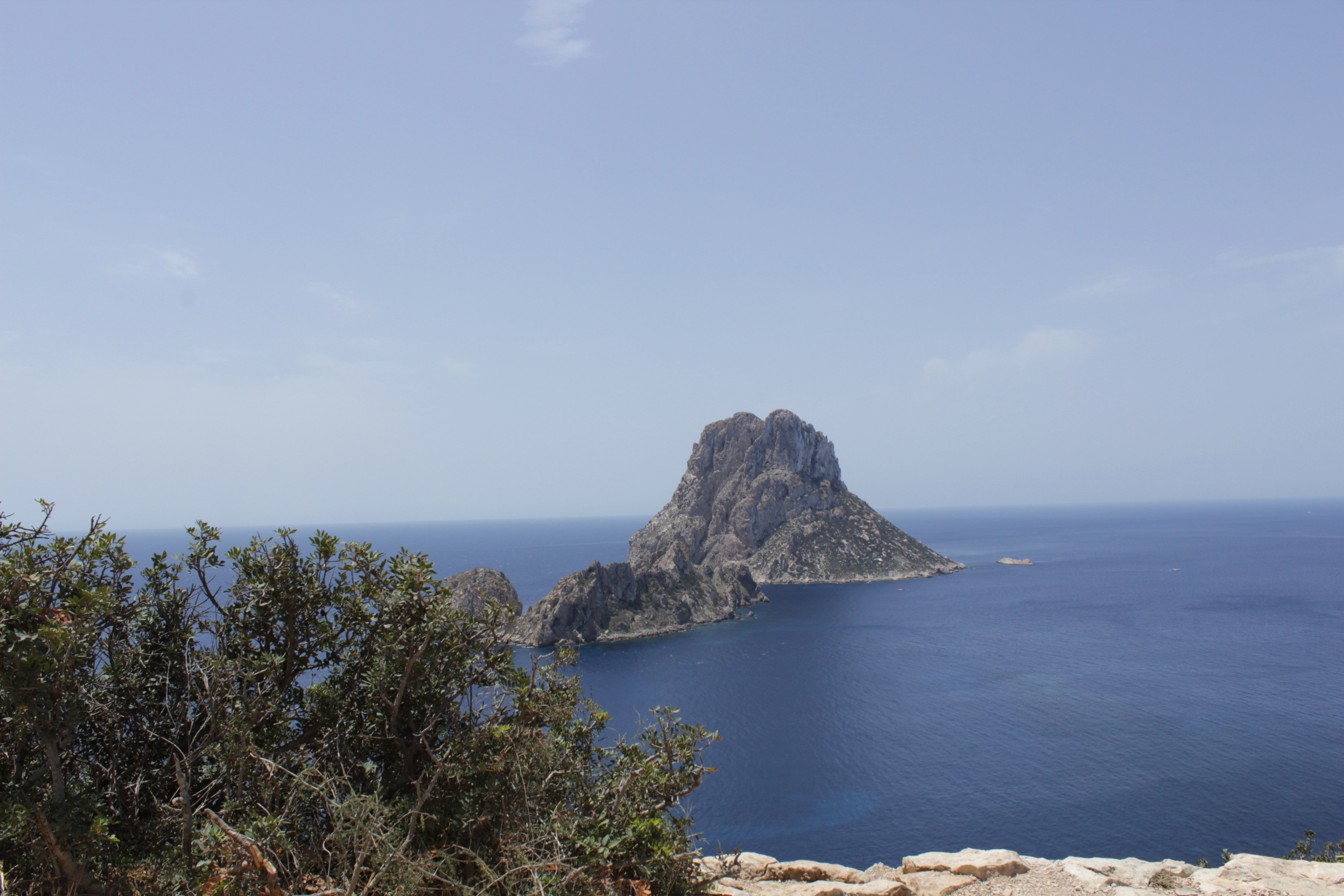 Location:
2. Dalt Villa
When you are visiting Ibiza-city, Dalt Villa will stand out through all the other buildings because of the big tower and it's historical walls. Dalt Villa is the oldest city-area of Ibiza-city and is recognisable by these ancient historical walls. These walls stem from the 16th century and are, despite their age, in very good condition.
For the people who like small cozy streets, this is your place. The area is full of small streets with tiny terraces and restaurants. Looking for mediterranean, Italian, Spanish or American cuisine? It's all available in Dalt Villa. And of course, a holiday-trip would not be a holiday-trip without souvenir shops. Besides all the souvenir shops in the small streets, you'll also find some nice clothing stores with typical Ibiza hippie-clothing.
As you're walking your way up to the top of Dalt Villa, you will be amazed about the beauty of Ibiza. From the top you will have a full view over Ibiza-city, the port, and with good weather conditions you will be able to see Formentera. In short, an absolute must to visit when you're in Ibiza!
3. Horse riding
It's possible to go horse-riding in an amazing environment like Ibiza! There is an organisation that buys and adopts horses that have had a bad youth. They have a sanctuary in an secluded place, so the horses have piece and enjoy nature. The valley has, as we speak, 17 horses owned. Every horse has his own quality and character, but they are all well trained to go horse-riding. This activity is for everyone who is interested in horse-riding, beginner or advanced. When you will visit Ibiza Horse Valley, the owners will invite you to a restaurant to have a drink and to get to know each other. After that they will take you to the sanctuary and they will get you a horse that suits you, on character. The owners, Monique and David, know their horses and their visitors, that's what making their organisation professional and special! If you are into horse-riding or would like to see the environment from a different way, you should definitely visit Monique and David from Ibiza Horse Valley. It will be an experience you will never forget!
Visit www.ibizahorsevalley.com for more information or watch their video below.
4. Cala Llentia
This place has something for everyone. You can discover something about the art of Ibiza or about their culture. And if none of this interests you, you can have a beach all for yourself.
If you would like to visit Cala Llentia , follow the signs to Cala Codolar and park over there. Walk to the west coast and you will see the Ibiza Stonehenge or Time and Space, as it was originally named. It was build commissioned by a Canadian billionaire that owns a villa near this artwork. We recommend you to visit this place with sunset, it is breathtaking and it's a beautiful place to make some pictures. Walking past the artwork you will find another piece of art. It looks like a piece of history but it is just another artwork of the Canadian billionaire. You will find some big doors that looks like it's from the 16th century, they say if you'll walk through these doors you will experiencea magical feeling. When you've made your pictures and you would like to have a swim, walk to the west coast and you'll find a path that goes down to a beach. Usually there's no one around there because it's an unknown place. So if you're into skinny dipping, take your chance! The location of the parking spot is attached below:
Location:
5. Kayaking in Ibiza!
Who wants some activity between the drinks and sunbathing, look this! It's possible to go kayaking on the beautiful water of Ibiza. There's an organisation called Kayak-Ibiza, that organises kayak-tours on the north coast of Ibiza. Don't worry, the north coast is most of the time the quietest sea of the island. In addition, they will first learn you how to use a kayak. When you would like to go kayaking with a guide, you can contact Paolo, the owner of Kayak-Ibiza. You can contact them at their website www.kayak-ibiza.com, Paolo will call or mail you about your booking. He is really friendly and passionated about his job! They will invite you at Cala Portinatx and learn you how to use a Kayak. After that, you will head to sea and explore Ibiza from water. They will show you some caves and give you more information about the history of Ibiza. Really interesting and absolutely a must when you want some activity in your vacation!
6. Abandoned nightclub
Ibiza is known for its party's, that's a fact. But did you know this this is Ibiza is a party island since way back? Well, now you know and we have found a place that can confirm this. At the end of the 60's Ibiza was getting popular by tourists. Not just by hippies but also by mainstream public. The idea to build a large club wasn't that stupid and in 1972 they opened it's doors. The club was located in the mountains that was hard to reach. The owners had to build a way by themselves. Although it was hard to reach, that didn't seem to be a problem. The club was getting much traffic and it was used for different purposes. It was build as amphitheater so it was also used for cabaret-shows and bullfights. Unfortunately in 1974 they had to close it's doors because of the oil crisis and the increasing flight ticket prices. Now, after almost 50 years, nature has find his way through the concrete. Are walls are full of graffiti and thewhole place is a mess, it's very special to visit. If you would like to visit this place, make sure you put on sturdy shoes and have your camera with you. If you have a car available it's quite easy to reach, we have attached the location below.
Location:
7. Bridge made by nature
If you are into climbing and adventure, this is something you would definitely like to visit. It requires a lot of effort, but the place you will reach seems something out of a fairy tale. The island is located at sea that can be really tough sometimes. This toughness has made something really special at the north coast of Ibiza. If you would like to see a bridge of stone that was made by nature, this secret spot is must to visit. If you have a car available you can drive to the parking spot that is located near the bridge. After parking the car you will need to walk about 45 minutes down on a rocky path. It's really beautiful with a view over sea and no sounds of traffic, just nature. Make sure you have enough water with you because you will also need to make your way up about 45 minutes. So, when you're parking your car at the parking spot you will find a path on your right when you're looking at the north coast. We have attached the location below.
Location:
Conclusion
Ibiza is more than only party's, clubs, drinks and sun. If you are a person that likes adventure and discovering things, you should definitely visit these places. Take your camera with you wherever you go, cause there are some places you really want to take some pictures!{{cta('5a5e26ae-a65f-45a8-94c3-9ec399249f98′,'justifycenter')}}