Searching for the perfect adventurous and relaxing holiday at the same time is pretty difficult. There are a lot of countries who are adventurous but not relaxing or very relaxing but you can't experience any adventure. Thailand is the perfect location to do an exciting backpack trip where you can choose to experience some real exciting adventures in the northern regions and combine that with the ultimate relaxing of the southern coastline! In this article we will talk you through the greatest and most exciting backpacking trips ever made!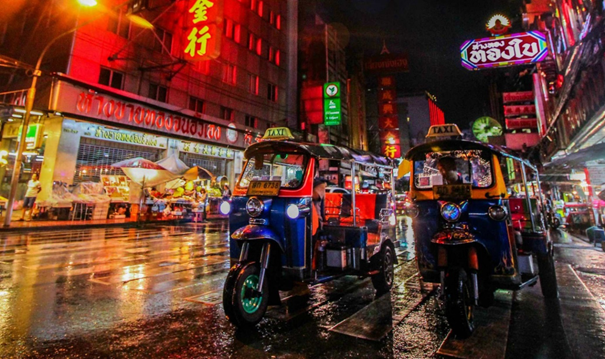 Starting at the lively city of Bangkok
I am sure you have heard of the city of Bangkok multiple times. The city is widely known for its unbelievable crowded roads full of scooters and Tuk Tuks, friendly people and the fact that there are people outside day and night. The city is a real must when you are visiting Thailand and you almost have no other choice because all the long haul flights arrive at this airport. So your backpacking trip strats and ends in the capital of Thailand, we advise you to explore Bangkok first for 2 or 3 days before travelling to the rest of the country. There are more than enough activities to do and places to see in Bangkok and you get a great view on the Asian culture and differences from the Western big capitals.
You can't leave Bangkok before you have done these things
Because of the amount of people that live in Bangkok (almost 15 million) all the locals use scooters to travel around town. For tourists we would advise to use a Tuk Tuk as taxi because there are traffic jams literally the whole day. The regular taxi's are much slower to get from A to B with then a Tuk Tuk because the Tuk Tuk drivers can fit through the traffic jams and small streets. Getting from one side of town to the other side can take 2 or 3 hours with a regular taxi. Also it is really fun to sit in a Tuk Tuk because you are in the open air. The Tuk Tuk drivers are very friendly and can tell you some other nice places to visit or advise you where not to go.
During the night there are lots of little street markets in some areas of Bangkok where you can buy all sorts of stuff from the locals, like clothes, scarves and souvenirs. Everybody on the markets is very colorful dressed. You can see lots of types of food that we don't see or eat as westerns and also there are a lot of acts going.
Bicycle tour through the center of Bangkok
There are some companies owned but Dutch people who organize bicycle tours with proper mountain bikes through. You can go as a group or with only 3 or 4 people and a guide on a beautiful trip where you can get to know the city much better. The guide will take you through narrow streets, by temples in the city where monks live and to one of the biggest parks of town. Down below you see some pictures of stuff you get to so during the adventurous bicycle trip through Bangkok. You get to see lots of things you wouldn't have seen by Tuk Tuk or feet.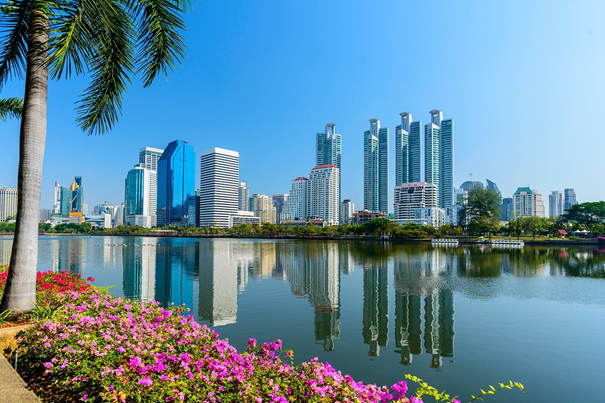 Travelling North to Chiang Mai
After being in Bangkok for estimated 3 days its now time to begin with the real backpacking trip and start travelling north. The best way to do this is by tour bus. This way you get to see a lot of the country and you see the immediate differences when you leave the crowded city of Bangkok. During this travel you will get to see lots of nature, other than in Bangkok. The trip to Chiang Mai is about 700 kilometers in total and could be done in one day. We should suggest to do this trip in at least 3 days so that youre arriving in Chiang Mai relaxed and not stressed from the trip. This way you can also choose some nice and relaxing hotels to stay the night and explore the country a little more there. It is also possible to go to Chiang Mai by plane but its up to you how much adventure and experiences of the country you want.
Chiang Mai a more quiet city
The third biggest city of Thailand is Chiang Mai. This city has only 200 thousand citizens and is therefore also a lot less crowded and full of traffic jams in comparison to Bangkok. This city has the ultimate backpack vibe and has a great nightlife. Here you can visit the night market with thousands of little shops where you can buy literally anything. Also the food at this market is really good! At this market you can visit the ladyboy cabaret as well. In the jungle of Chiang Mai you can choose to do some adventurous things like ziplining and swimming under a waterfall.
The white palace of Chiang Rai
In the city of Chiang Rai there is not very much to do except for visiting the white palace. This is an architectural place which is very popular of its eccentric design. Down here you can see the bridge is surrounded by hands that want to get to you and inside its full of mirrors etcetera. If you pass by this town you should definitely visit this beautiful palace.
Visiting Laos and Myanmar at the golden triangle
When staying in Chiang Rai your in the most North part of Thailand close to Laos and Myanmar. This region was notorious for being the biggest producer of opium in the world. This 3 country point where next to the Mekong river, the 3 countries Laos, Thailand and Myanmar (former Birma) come together. This area is called the golden triangle because of the wealth that came with the opium trafficking. Especially for tourists there are lots of boats who bring you to the otherside of the rivers so that you can visit Laos and Myanmar also. You get a stamp in your passport for being there and you can get a little tour on the other side of the river. There is a big museum about how the opium was made and about the history of this regions, this one is really worth visiting. This visit to the golden triangle does not take more than half a day.
Travelling South by night train
After you have spent about 1 to 1,5 week in the north of Thailand its time to get back south. You can choose to do this by air, tour bus again or night train. We recommend the last one. From Chiang Mai there is a night train that only stops twice that goes to Bangkok. This train is luxurious and is getting used almost only by tourists because its too expensive for the locals. In this train you get a good dinner and breakfast and you have lots of time to watch a movie or read a book. When its still light outside you can see tiny villages next to the train. Around 10 pm your bed gets made ready by the people who work on the train and then your seat gets turned into a bed. As the picture here shows you its pretty comfortable and when you wake up you have arrived in Bangkok again. This is a really nice and unique experience that you should do when visiting Thailand.
Last relaxing days at the coast in Hua Hin
Hua Hin city is known for its blue waters and white coast. This idyllic coast city is not flooded with tourists and is perfect for you if you want to relax a few days after the exciting and active days in the North of Thailand. The sea temperature is most of the time above 20/25 degrees and you can find a lot of monkeys on the beach and in the water.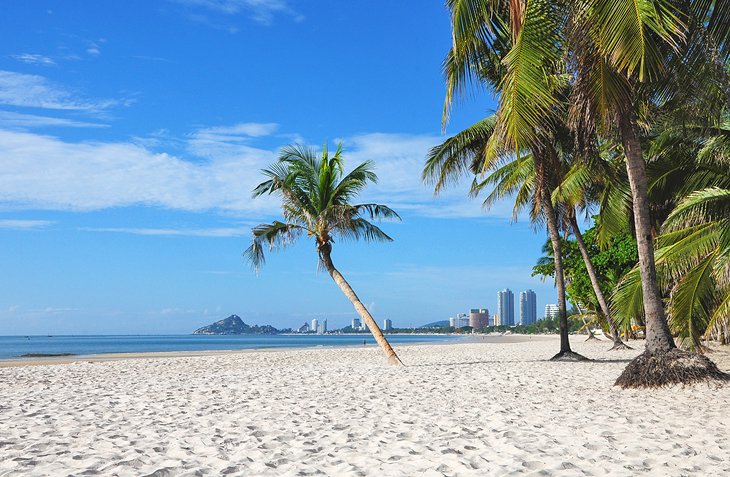 Visiting the imposing palace of the king
Because you fly back home from Bangkok we advise you to plan another stay in Bangkok of around 2 days before you leave. Now you can explore different parts of the city that you have not seen yet. We recommend to visit the imposing palace of the king and also Khao San Road.
In the center of Bangkok lives King Maha in a great palace full of gold and other artworks. Everybody can enter the palace and get a tour through the immense royal garden and other buildings. The king Maha himself and his grandparents really lived in this palace and they show their faces sometimes to the public. When Maha his father died in 2016 there was one year of grieving and every citizen of Thailand must visit the palace ones to say goodbye to their king.
Khao San Road is the backpackers street of the world
Khao San Road, a crowded, cosy street in Bangkok, full with Chang Beer t-shirts, tasty pad-Thai and enthusiastic travelers from all over the world. This street is especially popular with backpackers.A short walk through the heart of the city exposes visitors to all the street has to offer, and guides them through an area where the beer is flowing, the lights are bright and the energy is lively.
Now you have a good and clear vision on all the adventures you can experience while backpacking trough Thailand and combine this with the ultimate relaxation moments you also can get during a Thai massage at the beach!
Become a free member of Student Trippin and stay up-to-date! Join our newsletter now!
{{cta('d3384066-13d6-4895-b31f-2a6cf366ec74')}}