What is a roadtrip without good food? Not a good roadtrip if you ask me! 'Where shall we go eat?' is always the most asked question during traveling. After a long discussion you end up at the McDonald's for a quick bite. That's a shame if you ask me. There is so much more to explore, you just have to know where to find it. With this top 10 of best traditional South African food on your roadtrip, you can 100% enjoy the South African beautiful culture. You'd be suprised about the cheapness and quality of the food. South African has the currency Rand. 1 Rand is equal to €0,052. To put it into perspective; we ate dinner with appetizer, main course and dessert for €45,- in total for 4 people. Besides the delicious food, the prices are also lovely!
1. Sosaties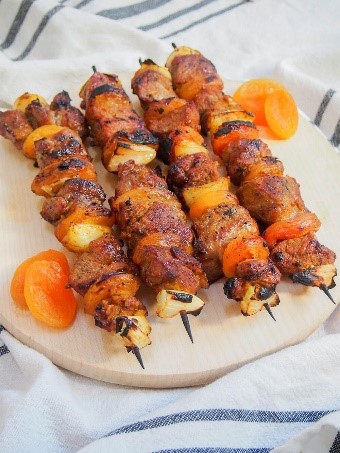 Sosaties are originally from the Cape Malay community. These settlers wanted to prepare a South African dish using only the local ingredients at their disposal. This way they came up with a dish that is easy to make. A traditional sosatie consists of pieces of lamb or mutton alternated with pieces of onion, bell pepper or dried apricots. The pieces of meat and vegetables are being thread on a skewer and the skewer will be places on the braai. A braai is a typical South African social occasion that takes place around the barbecue. It is very comparable with the Dutch 'barbecue'. I had a sosatie at a braai in Phalaborwa, located north of the Kruger Park. We ate all types of different meat. To this day, it is still one of the most tender meat I have ever eaten. Besides that, the overall experience of bonding while eating is something very unique en precious.
2. Potjiekos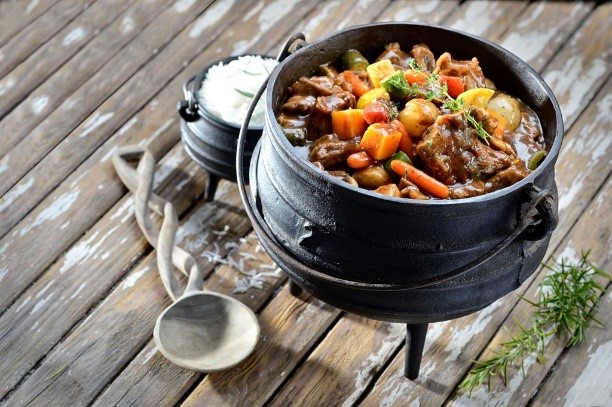 Traditionally, potjiekos is built op in layers. From hard to softer ingredients. Everything is slowly heated on the fire, but stirring is strictly prohibited according to enthusiasts. It is a typical South African dish which is literally translated in 'small eat pot'. The African dish was first introduced by Cape Colony farmers in 1830. They collected as much meat and vegetables as possible, and were thrown in a iron pot at the end of the day. Most of the time, Potjiekos exists of meat, rice, potatoes and different types of vegetables. Sometimes even fruit. The thing about potjiekos is, there are limitless ways to cook it. The cook decides.
The Potjiekos takes hours to make, so many South Africans make is a social occasion, just like the sosaties. They will enjoy side dishes or enjoy a glass of wine by the campfire. When I ate the Potjiekos for the first time, it was prepared by locals. We ate it in a big livingroom with many other families. The African dish is not really a very photogenetic dish, but it is definitely delicious.
3. Koeksister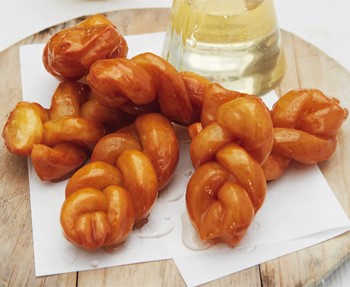 Another delightful dish from the South African cuisine is not only tasty for the stomach, but also a feast for the eyes. Although this cake is originally oval-shaped, South Africans knead it into a beautiful braid. The koeksisters were introduced to South Africa by the Malaysian slaves who brought Europeans to this country. By changing the shape, making it sweeter in taste and nice and crunchy, Africans have given it their own twist. In my personal opinion this is a delicious dish, for a snack as for a dessert. I would definitely recommend it during your trip to South Africa.
4. Chakalaka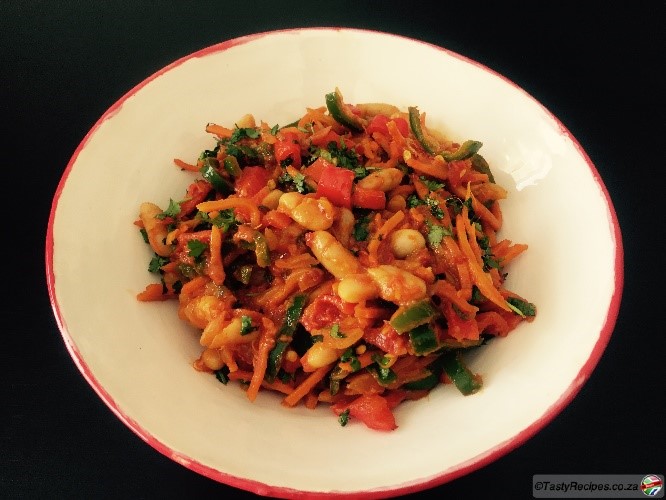 Chakalaka is a spicy side dish that usually consists of tomatoes, paprika, carrots, onions, beans, chili pepper and curry powder. The dish is simple to make. First the onion, different vegetables and spices are added to the pan in stages. Then the cook will let it simmer for a while.
Chakalaka is served with a main meal of, for example, rice and meat or bread. Also try this dish with a South African braai, where it is indispensable.
The first time I had Chakalaka it was at the same braai I had my Sosaties. It is a pretty spicy African dish, which you are able to handle. It might be a little bit too spicy for some people. Overall it is once again, a dish which is usually eaten at a braai, which South Africans turn into a social event.
I would say, Chakalaka is definitely worth trying when you will visit South Africa.
5. Boerewors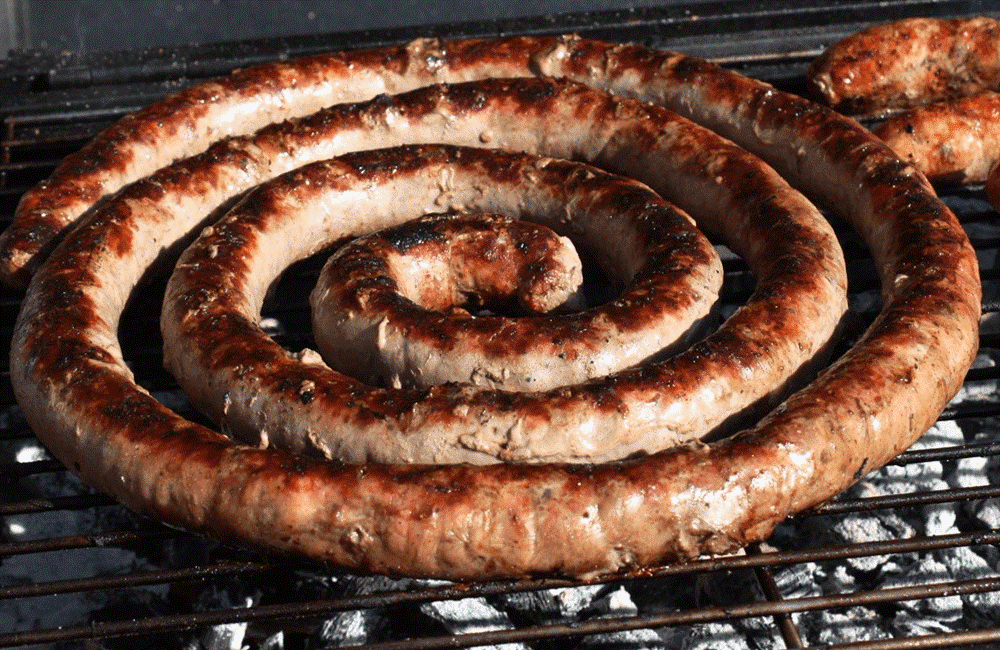 The next dish is an interesting one form the South African cuisine. First of all, the name boerewors, has a lot of common with the Dutch 'boerenworst'. This boerenwors is actually comparable to an American hot dog, but the South African way. Boerewors is a true South African bite. On the side of the road you will find stalls where the seasoned sausages are grilled over an open fire. The sausages are made from pork or ground beef seasoned with coriander, pepper, nutmeg and cloves.
After grilling, place the boerewors in a sandwich that provides you with mustard and tomato sauce. Feast! If you ask me!
6. Bobotie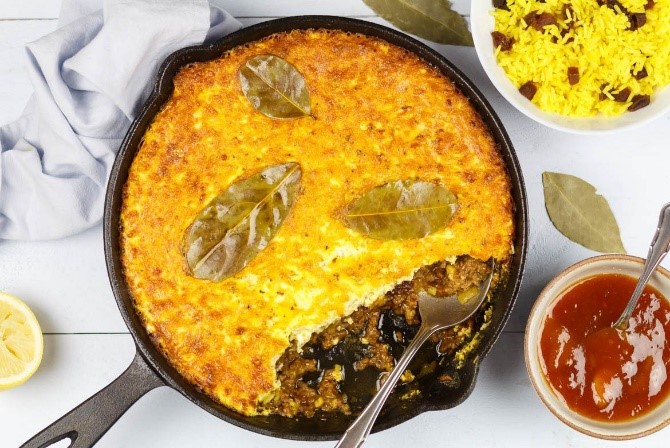 This South African dish will undoubtedly sound familiar to you. The western version can be found on the shelves of the Dutch supermarket. The first recipe for bobotie appeared in a Dutch cookbook in 1609. United East India Company settlers likely introduced this dish to South Africa.
Bobotie used to be made from a mixture of pork and mutton, but now contains ground beef. You hide this meat under a layer of egg, milk and turmeric. Just put it in the oven and it is good to go! This is a simple, but delightful meal!
7. Biltong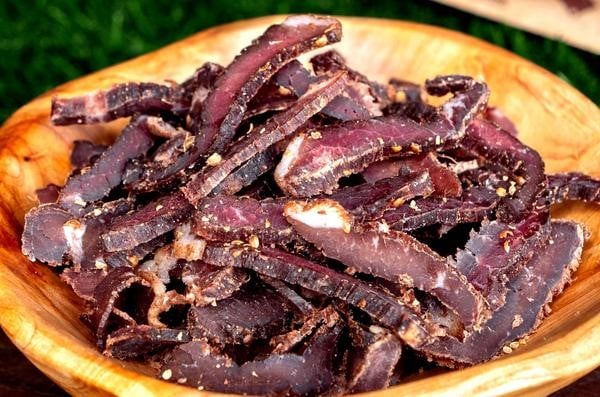 South Africa's most famous snack is biltong, dried meat. Eating dried meat originated in the time of the colonists. They took this perishable meat on their travels and enjoyed it for months. While there was plenty of game to hunt in South Africa, the original inhabitants had no way of keeping the meat for long. That is why the South Africans took over the preparation method of the colonists and biltong was born.
Biltong consists of strands of dried meat seasoned with coriander, pepper, salt and vinegar. Did you know that the buttocks of the animals are used to prepare this delicacy? Hence the name Biltong. Enjoy your meal!
8. Melktert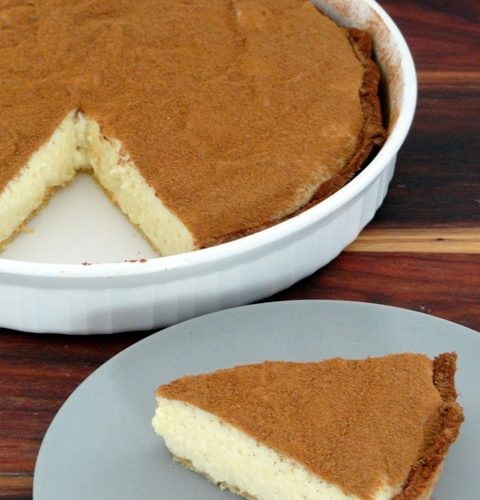 Melktert is a traditional South African cake and is often eaten as a dessert. The cake has a sweet base that you fill with a mixture of milk, flour, egg and sugar.
Melktert lives up to its name, compared to the European custard tarts, this dessert contains more milk than egg. This makes this sweet dessert lighter in texture and you can fully taste the taste of milk. I ate melktert as a dessert after some delicious meat I ate at a local restaurant in Umhlanga, at the coast of South Africa. I thought it was a lovely dessert, it was indeed very comparable to our Dutch custard tarts.
9. Cape Malay curry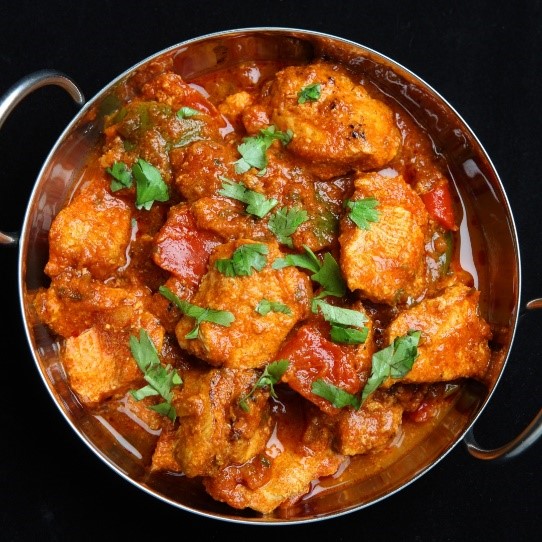 The next dish is another traditional dish from the South African cuisine. As the name implies, this is a dish from the Cape Malay community. The Cape Malays who came to work on farms in Cape Town in the 17th century are responsible for introducing curry into South African dishes. Cape Malay curry is characterized by the combination of sweet and savory spices. It is usually served with meat stew rice, but you also get a tasty dish in combination with mashed potatoes.
10. Bunny chow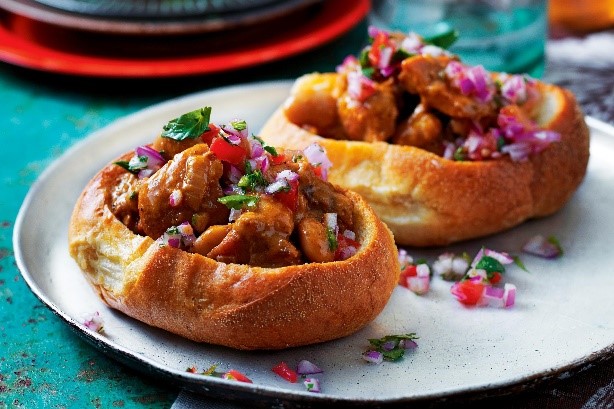 The last typical South African dish is my personal favorite. I ate it the last two days when I was in South Africa. Once in a lodge where locals made it for us. Once in Swaziland, a small country located in South Africa, but still have very edentical culture. Bunny chow is seen as fast food and consists of a hollow piece of bread that you fill with curry. This curry can consist of both spiced pork and chicken. But there are also vegetarian options, where the bread is filled with a mixture of lentils and beans. The bunny chow originated in the city of Durban, but is now extremely popular throughout South Africa. I would say; give it a try if you are in South Africa.
To conclude with, in my opinion is South Africa a beautiful country with various types of food and that all for an affordable price. For me, it was one of the most precious roadtrips I have ever made. Besides the food and the gorgeous nature, the hospitabily of the people is something we, Europeans, can learn from. If you can't get enough of South Africa and her beautiful features just like me. For more information and beautiful experiences of others, decribe to our newsletter. I hope you are as enthusiastic as me about this breathtaking beautiful country with the most delicious dishes you'll never forget. I would like to call it an once in a lifetime experience.
{{cta('67a2686c-6b40-413d-a072-0674e3a49509′)}}