Greek eating habits
Food is an important part of the day for the Greeks, which they take plenty of time for. Greeks also like to eat together with as large a group as possible.
The most important meals are lunch and dinner. The Greeks find breakfast less important and they often get some breakfast on their way to work. The Greeks lunch and dinner often consist of hot meals. They have lunch between 12:00 and 15:00, which is during the siesta. Their dinner start from 21:00. Dessert is also considered as less important to the Greeks, just like breakfast. Many Greeks rather end up with a drink in a café.
In tourist places, restaurants often open earlier than 21:00. These restaurants serve both 'typical Greek' dishes and European dishes. If you go out for dinner in Greece as a Dutch person, you will be amazed at the cost of the food. The food and drinks are a lot cheaper in Greece than in the Netherlands. There is also a difference in price between the different types of restaurants. Are you going to eat at a restaurant in a tourist spot? Then you are most likely to pay a little more than if you eat at a local restaurant.
Although every Greek island has it own specialties, the following typical dishes will not be missing from any menu: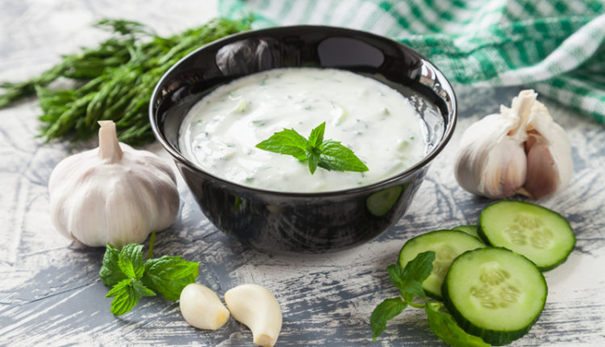 Tzatziki is a dipping sauce consisting of yogurt, garlic, cucumber, lemon, dill and olive oil. This can be eaten with meat or pitabread. 
The Greek salad


A simple salad, but oh so typically Greek. A salad consisting of tomato, cucumber, bell pepper, olives, onions, feta and of course olive oil.

Keftedes
Keftedes are Greek meatballs that are often served in tomato sauce. In the Netherlands, this is often on the menu as a starter.
Fun fact: Greeks don't do starters. They usually order a mix of starters and main courses, which they then share with the entire company.
Moussaka is a Greek casserole based on eggplant, minced meat and bechamel sauce.
Souvlaki
Not only popular among the Greeks, but also highly appreciated by tourists: souvlaki. Souvlaki is a grilled skewer topped with marinated chicken, lamb or pork cubes. In the Netherlands it is often eaten off the skewer, but in Greece, they eat it on a pita.
Typically Greek drinks
When we talk about coffee, it's hard to ignore Greece's national drink. This is the well-known frappé. This drink was created in 1957 and is still very much appreciated worldwide. For the Greeks, the more foam, the better.
Good to know: Greek coffee is very differect from Dutch coffee. Greek coffee is made frond ground 
coffee and hot water, unlike Dutch coffee, which is made from fresh coffee beans.
Greece has about 200,000 hectares of vineyards. You cannot ignore the fact that 

Greece is known for the many types of wines, or Krasi in Greek. One of the most famous wines is Retsina. Retsina is a 
white wine that goes well with typical Greek meals.
In Greece, almost no tap water is drunk. In some places the tap water contains chlorine. For this reason, you can buy bottles of water at almost every street corner, for a small price.
A well-known strong drink from Greece is Ouzo, which has the taste of anise and liquorice. Ouzi is often drunk neat, but can also be diluted with water. Since the drink contains about 40 to 45% 
Fun fact: the custom of toasting comes from the Greeks. A Greek host was always the first to drink to prove to his guest that they would not be poisoned.alcohol, diluting with water is not always a bad idea 😉
Olive oil
Greeks consume more olive oil per person than any other people in the world. Beside that, Greece also produces a lot of olive oil. The country becomes third place in the world ranking of oil producers. Small farms in the mountainous regions produce a crop of 400 or 500 kilos. The olives are transported to cooperatives, where they are put together and sold as blend.
Greece is the third largest producer in the world with 300,000 tons of olive oil per year. 70% of the total production in Greece reaches the extra virgin class.
The difference between olive oil and extra virgin oil is in the pressing. Extra virgin olive oil is made from the first cold pressing of the olives. The olives are therefore not heated yet, something that happens later to extract more oil. The colour and taste depends on the type of olive and can vary from light yellow to deep green and from buttery to grassy and peppery.
Fun fact: in Ancient Greece, damaging an olive tree was a crime.
Top 5 budget restaurants in Athens
Ouzeri Tou Laki Rest
Ouzeri Tou Laki Rest is a restaurant in the centre of Athens. The restaurant often gets called 'hidden jewel' or 'hidden pearl' because it is not very noticeable and outstanding. You can go there for lunch and dinner. The restaurants offers you fish and seafood, Mediterranean and Greek food for a very low price. Out of 2.299 restaurants in Athens, this one is ranked at number 204. The restaurants secret is that all there food is extremely fresh.
Diporto
Diporto, or better know as 'secret underground restaurant' is an underground restaurant in Athens. When you go down the stairs, you will experience a beautiful atmosphere, taken out of a mid-20th century movie. With retsina barrels against the walls, a very simple menu with 5 dishes and very friendly staff, this is one of the restaurants you can not walk past. Out of the 2.299 restaurants in Athens, this one is ranked at number 269. You can come in for lunch and dinner and get some Mediterranean or Greek dishes served. Don't forget to try some Greek wine from the big wooden barrels!
Oinopoleion
A cosy restaurant with a nice, spacious garden where you can sit and dine. You can enjoy your meal in this oasis of peace, while you are being in a quite busy neighbourhood. The restaurant has a really nice score. It is rated as number 87, out of the 2.299 restaurants in Athens. At Oinopoleion, you are being served from the Meditterenean, Greek and European cuisine. They also have some vegetarian options. In the weekends, you can enjoy your dinner with some great live music until the late hours.
To Triantafyllo tis Nostimias
To Triantafyllo tis Nostimias, a mouthful. At this hidden restaurant in the middle of the centre, you can enjoy your lunch or dinner among the locals of Athens. The restaurant offers fish and seafood, Mediterranean food and Greek food. The menu is small but the taste is amazing. To Triantafyllo tis Nostimias is rated as numer 400, out of the 2.299 restaurants in Athens. The value for money is good and the staff is very friendly.
To Paradosiako
To Paradosiako is a bit different than the restaurants mentioned before. To Paradosiako is a steakhouse, where you can get Mediterranean, Greek and barbecue food. The portion are very large
– you could eat it with 2 people and still have left overs- but the price is still very low. The restaurant is located in the quarter Plaka, which is close to the Monastiraki square. Even that the restaurant is located in a touristic place, it is loaded with locals. Out of 2.299 restaurants in Athens, this one is ranked at number 103. They even have gluten free options!