One of the most impressive routes in Europe is the Amalfi Drive SS163. 1The landscape is so impressive, that it belongs to the World Heritage now. The Amalfi coast is only 50 kilometers long, but it's so beautiful. It's a beautiful trip to add to your bucket list
The Amalfi Drive SS163 would only take you two hours to go through, but we would not recommend driving by this fast. It's the most beautiful road in Italy and even one of the most beautiful roads in all of Europe. You'll be surprised by its beauty, since there is so much to see and discover on this drive. Sounds good, doesn't it? We will tell you about all the best spots for the best holiday pictures!
The road trip
If you're not from around Italy, or do not want to drive all the way up there first to start this road trip, we suggest that you fly to Naples first. You can rent a car directly from the airport, so your journey can begin immediately. From here you can drive to Sorrento, a lovely city one hour away from Naples. From here you can drive to Capri, which has more luxury to offer. From capri you could drive to Positano, which is probably the most beautiful village on this route. Your fourth stop after Positano would be at Amalfi, which this route was named after. The fifth stop is at Pompeii, which is well known for its history. While in Pompeii you definitely can't miss the Vesu
vius volcano, which destroyed Pompeii centuries sago. The last stop will be at Naples.
This is just an option we recommend. There are many more little villages on this route, like Salerno, Ravello and Vietri Sul Mare, which are all very beautiful. It's up to you which places you find the most interesting to visit!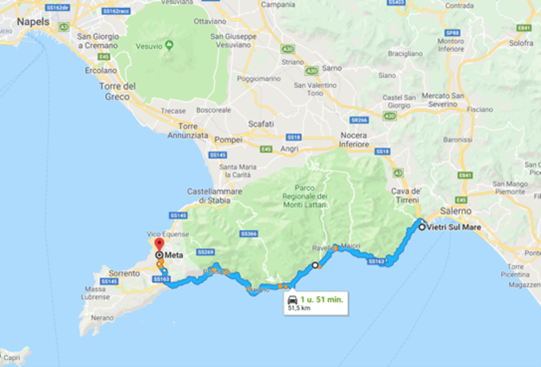 First stop: Sorrento, city of lemons
Sorrento is known for its lemon fields. So you could not miss out on the wide range of Limoncello they sell there. You could visit I Giardini di Cataldo. They have a beautiful lemon garden, wich is a good location for pictures. You could also see how they make their famous Limoncello there, and ofcourse taste it as well.
They also have a beautiful historic centre, wich is great for pictures as well. There are many narrow alleys, filled with bars, shops and trattorias.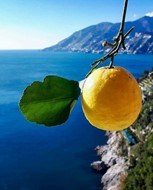 Second stop: Capri, the Jetset island
Capri is known as the 'jetset island'. It's full of little restaurants and luxury brand stores. It's not cheap to visit, but it's beautiful to watch. If you're there, you can't miss out on a boat trip around the island. Almost all the boats go through I Faraglioni, wich is a famous rock formation. If you go there with your love, they say that if you kiss eachother under there, you will have eternal luck in love.
You could also visit de Grotta Azzurra. This is a cave with a rare view. The cave is known as the blue cave. Since the water is so bright blue there, the water reflects a beautiful blue color all throughout the cave. This is a view you definitely would not want to miss out on.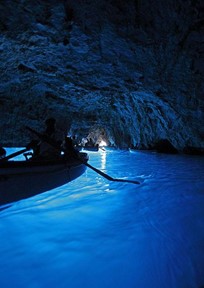 Third stop: Positano, the most beautiful place in the Amalfi coast.
If we are talking about places where you could take the most beautiful holiday pictures, Positano is the place to add to your bucketlist. It's a village built on a big mountain, so the view from the beach is beautiful. It has a large beach area and a lot of fancy restaurants. It's not cheap to spend the night or have diner, but it is definitely worth the experience.Positano is a colorful town, that has become a real Instagram influencer hotspot over the years. It's a perfect spot to strike a pose or get a great food shot for you social media page.A popular restaurant out there is Da Adolfo Restaurant. You could only visit the restaurant by boat, since it's on a private beach. It's well worth the experience and you will make the best food shots there.Another popular thing many people do there is hike the Path Of Gods, which takes 4 hours. It's a clifftop trail between Bomerano and Positano. You will have a beautiful view of the ocean once you're up there and a good view of the towns below. It's not an easy hike, it takes about 1500 staircase steps to reach the top. Once you're up there, it is an easy trail to follow. It's a beautiful hike, but we don't recommend doing it in between July and late August, because of high temperatures. If you're not fit enough, it will be hard to finish it. If you are fit, then it's definitely worth the view.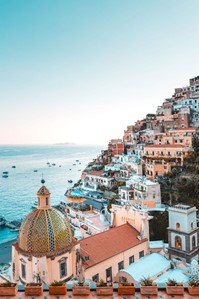 Fourth stop: Amalfi
Amalfi is the most historic town in the Amalfi coast. Instead of really colorful buildings up the hillside, Amalfi looks more graceful with mostly white buildings. Amalfi is also known for their primary product, lemons.
If you're into history, Amalfi has a wide range of historical buildings and a beautiful landscape which you can strole around in.
Fifth stop: Pompeï
This place in the municipality of Naples has an ancient history. The Roman port city is more than 2000 years old. Due to a volcano eruption, the city is buried with ash. The excavations have been going on since 1800 and now a large part has already been excavated. The city has been rebuilt and you can walk around the old Roman streets for a long time. The old Roman bathhouse is a nice location for a photo on Instagram. The ancient ruins can be reached by train from Naples in about half an hour. In the vicinity of the excavations you can find hotels if you want to stay overnight. Because there is so much to see at the excavations, it is recommended to go with a guide. These guides are often local people and speak good English. Because they know the stories behind the buildings and their inhabitants, it is very interesting. This way you pass the most beautiful locations and you know the story about it. You can post these fun facts below the photo on your social media. There is also a lot of information about the volcano. On October 24, 79, this volcano erupted and an eyewitness account of Pliny the Younger give a lot of information about it. The thick layer of ash covered the city for hundreds of years and because of this the city was well preserved. It is now a well-known tourist hotspot. The city of Pompeii also has a slightly less beautiful side. Many people were killed by the volcano eruption. A number of bodies of people who died have merged in the rock of the lava. Another strange fact about Pompeii is that erotic or insulting texts were written on the walls of several houses. So there are enough locations in Pompeii for original content. For a few euros you can reach this location by train.
Last stop: Napels
Naples is a port city in Italy and it has been designated a World Cultural Heritage Site by UNESCO. Because of the largest historic city center, there are many beautiful locations in Naples. It is located around mountains that give a beautiful view of the city when you walk up the mountain. With this as a background you score a nice photo for your feed. In Naples you can visit a large cathedral, which was built hundreds of years ago and has a beautiful architecture. The Palazzo Reale was built in the 17th century, this palace was for the royal court of Naples. At the moment it is a beautiful building in the center of the city. Inside the palace it is decorated with the royal styles of the past. You must visit this landmark. Naples also contains the 13th century towers of Castel Nuovo. It doesn't take much time to walk by here and take a picture. When you are in Naple you have to go to Pruneto 1944, in this chic restaurant you can enjoy delicious food. The interior of this restaurant is almost completely white, which gives it a nice atmosphere. The traditional food of Italy is of course served, this cannot be missed on your holiday photos. The following should not be missed during your city trip in Naples. Beneath the city are old corridors and catacombs called Galleria Borbonica. These corridors were built in 1853 on behalf of the king. The tunnel also passes an aqueduct from the Roman era and another tunnel from the 15th century. Until 1970, the police used the tunnel to store confiscated cars and Vespas. At the moment the vehicles are still there and that makes for a nice background in the photo.
In conclusion: the best photo locations
If you ask us, we think the Amalfi coast roadtrip is definitely the best road trip you could do in Europa. Italy has so much beautiful places and we've summed up the best places for you to visit in the south of Italy. In all of these place, you will get the most beautiful holiday pictures that are memories for life.