Tokyo is a beautiful city that has a whole lot to offer. From the rich ancient culture such as the imperial palace grounds and the Senso-ji Temple, to the super modern city center. It is in no doubt that Tokyo is one of the most versatile cities in the world. But seeing all that culture comes at a price. It may come as no surprise that Tokyo is very expensive. On average one day in Tokyo can cost up to ¥13,529 which is $126,- a day. When you are a student like I am, you don't always have this kind of money. So how can you save money? The answer is capsule hotels! In this blog I'm going to tell you all about the wondrous world of capsule hotels and why you should stay in them.
What are capsule hotels?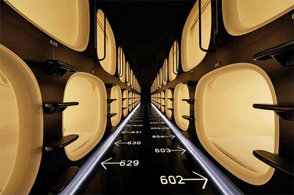 Capsule hotels originate from Japan and are a cheap alternative to hotels. So, what is the difference? In a capsule hotel you sleep in a small room that is the size of about one bed. This so called 'capsule' has everything you need. They can include multiple amenities such as air-conditioning, power outlets, lights and they can even have a small television. In the capsule you can create some privacy by closing the curtains at the end of your bed, or in some cases you can lock it. There is no room for your personal belongings in the capsule, all capsules come with a locker in a separated locker room where you can store your stuff.
Similar to a hostel, you need to share many services like the shower and toilet. There are a lot of price ranges within the different capsule hotels in Tokyo. So, if you want and can pay a little extra, you can choose for a bit more luxury like a shared sauna, pool, bar and many other facilities. But there are a few things to keep in mind. The culture in Japan is different and some capsule hotels are only for women or for men. There are Capsule hotels where men and women can stay, but not always in the same area. This all makes a capsule hotel the ideal accommodation for people that want to see a lot from Tokyo and don't want to stay indoors. In the following paragraphs I am going to talk all about the different capsule hotels and what makes them different from each other.
Capsule Inn Kishichou
The first capsule hotel on our list is the Capsule Inn Kinshichou. This hotel mainly stands out for its low price. At about $20,- a night this hotel is one of the cheapest hotels in this list. The Capsule Inn Kinshichou is located at 5 kilometers from the Tokyo city center. Don't worry if you (like myself) do not like walking all too much, because the Kinshichō station is only a 4 minute walk away. Like the rest of Japan, you are not supposed to keep your shoes on your feet when inside. So, near the entrance there are lockers where you can store them for the time you're inside.
This hotel sets itself apart from the rest because there are almost no western aspects it is all within the traditional Japanese style. Just like the washing area, this can be a real shock to some but in this Capsule hotel you actually don't have the showers that you are used to. The shower room exists out of a couple mirrors next to each other where you can sit in front of and wash yourself with a mirror. If you're like me, you don't really have a problem with that. But I can understand that not everyone is ok with sitting naked next to each other while washing yourself.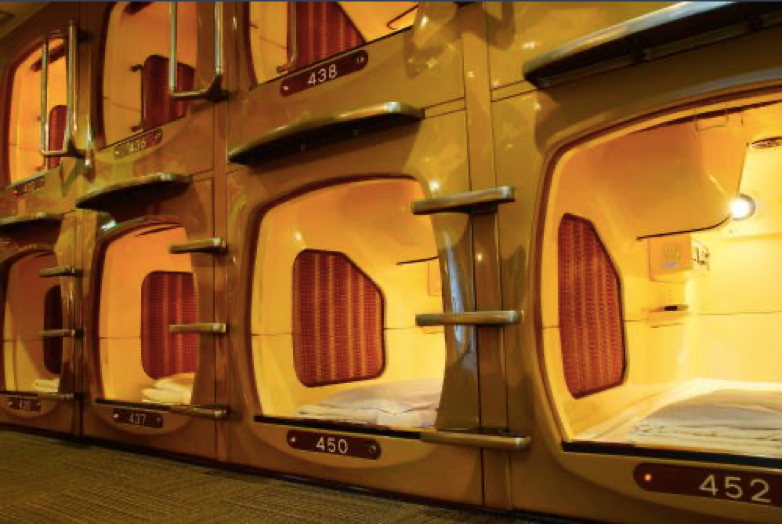 The layout of the shared lounge area is a bit weird. There are massage tables next to the bar, and the chill room consists out of a few comfortable chairs with a television and some books you can read. And at last the capsules, maybe the most important aspect of this hotel. The capsules are not the most modern or the most luxurious capsules you will find in Tokyo. But what can you expect from $20 a night? It is fitted with a light, mirror, radio, television and a hole that makes is look like you have air conditioning (but there isn't any). The bed in the capsule is not too bad, it consists out of 2 thin mattresses it may not be the comfort that you are used to at home. But it is all you need to sleep.

I would recommend the Capsule Inn Kinshichou to all the travelers that are on a tight budget, and don't care to much about the luxury of their sleeping place. It may be a bit old and not to western. But I think that for $20 this Capsule hotel is more than worth it's money.
Hotel Zen Tokyo
Hotel Zen Tokyo is one of the newer capsule hotels in Tokyo and completely redefines the term capsule hotel. It is located at only 1,6 kilometers from the city center. So, you could take the public transport or see 1,6 kilometers of the beautiful city while you are walking. This capsule hotel is about $30,- per night which is more expensive than our first capsule hotel. When I think about a capsule hotel, I usually see futuristic small rooms that make you feel like you are living in the future. But in the Zen Capsule hotel they are taking a totally different approach. Here you feel like you are staying inside of a wellness center.
Just like in a wellness center when you check in you get a goodie bag with all kinds of stuff you may need when staying here. The bag contains items like slippers, a comb, a washing cloth, slipper, a toothbrush and toothpaste. To top it all off you even get 2 towels so you can have a little extra room in your luggage.
There are multiple shared areas such as a shower area where you can freshen up after a long day of exploring. In the shower area you can grab all kinds of items like Q-tips, shampoo, a razor and so on. It really feels like the hotel is taking proper care of you. I may have scared you at the first capsule hotels when I said that there are no normal showers. Then it is a relief that in the Hotel Zen Tokyo there are western style private showers. There also is a laundry roomwhere you can wash your dirty clothes, a small working room if you need to work on something important in tranquility. A dining room they serve free coffee and bread in the morning. And last best a bar where they sometimes organize different events to entertain the guests.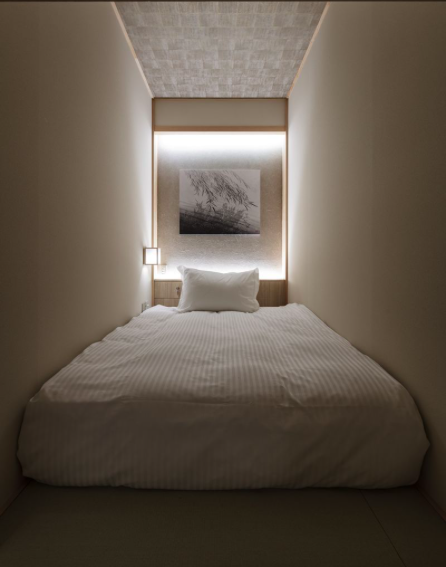 When it comes to the capsules itself, they are very different from the other capsules in different hotels. Where usually there are 2 or 3 capsules on top of each other in the Zen Hotel there only is 1. Which makes the capsules incredibly tall where you can even stand in your capsule. There is no television or radio but there is air conditioning, and you can keep your important things close in your own lockable small dresser. The rest of your luggage sits safe at the end of the hall in your locker.
Hotel Zen Tokyo is accessible to women and men. You can choose different floors depending on if you want to sleep with only people of the same gender, or when you are traveling with somebody from the opposite gender there is an option to sleep in a mixed floor.
The Millennials Shibuya
If you are seeking luxury The Millennials is the capsule hotel for you. The rooms cost about $22,- to $60,- (depending on the season) a night which makes this surprisingly cheap for the luxury you get. The Millennials is located in the neighbourhood Shibuya which is about 7,7 kilometers from the city center of Tokyo. But don't worry, Shibuya has a lot to offer like big stores, many restaurants and a beautiful park to relax in.
When you enter this capsule hotel, you're immediately surprised with your key. And I can hear you thinking, "how can you be surprised with a key?". Well it is quite a surprise when your key is an iPhone. You need this iPhone so you can access your room and the facilities in the hotel. The Millennials has facilities like a lobby / lounge, communal kitchen where you can cook your meal yourself, so you don't have to buy expensive food at restaurants. A working lounge where you can work and relax in peace and a terrace for the smokers or if you just want some fresh air. Just like Hotel Zen you get a goodie bag with items like a toothbrush and toothpaste, a comb and even a free pajama. The interior is in a very modern dark style, where if you are in the lounge you get an amazing view of Shibuya.
Like all capsule hotels the showers and bathrooms are shared with the other guests. Again, you can shower alone in a normal shower which you are probably used to. And when the normal capsule hotel gives you a claustrophobic feeling, but you don't have the money to spend on a bigger room The Millennials could be the best option there is for you.
So, what is the best capsule hotel for you?
The truth is, there is no best option for everyone. It totally depends on what you like and what you want when you are staying in Tokyo. If you're on a tight budget I would recommend the Capsule Inn Kishichou or The Millennials because they are the cheapest on this list. And if you want to stay in the center Capsule Inn Kishichou is probably the best option for you.
What if after reading this you still don't know which one is the best option for you? Well, I have written this blog with the help of some vloggers on YouTube. They have made super helpful vlogs about their stay and how they liked it I'll link the videos below!
Thank you for reading my blog! If you liked this blog, make sure you subscribed below!
{{cta('17727d7f-f147-4160-8aed-9d4061a98a3a','justifycenter')}}
Capsule Inn Kishichou by LivingBobby: (0:55-7:17)
https://www.youtube.com/watch?v=qxdsPjHoD7I
Hotel Zen Tokyo by Miss Mina:
https://www.youtube.com/watch?v=XM4LnhDuF1Q
The Millennials by How many holidays:
https://www.youtube.com/watch?v=PdM5oRop7Zw