Not every destination is even fun and accessible for students. Many destinations in Europe are uninviting, criminal or just very expensive. Fortunately, Europe also has a number of very beautiful destinations that you should really visit during your student days. We at StudentTrippin preceded you and have already explored those cities. A must for your list: Nice, Cote d'Azur!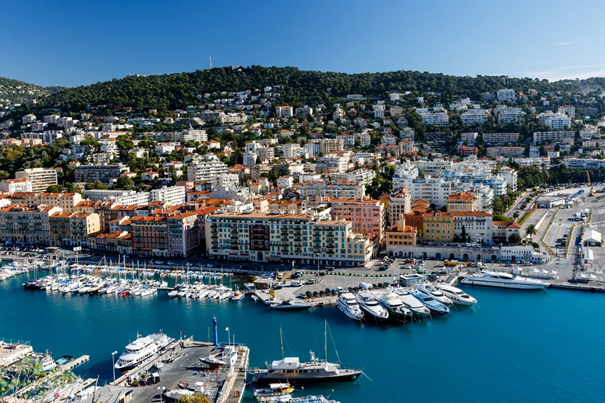 The Cote d'Azur is one of the most famous holiday destinations in Europe. It is a coastal region in the wonderful sun-drenched France and very popular with many – including Dutch – tourists. That is not for nothing, because it has a lot to offer and is relatively close, or at least easily accessible by car.
This coastal region is known for being very expensive – a reason for many students not to even look at this. During a road trip through France with this region as final destination, we checked whether this was really the case. But with a few tips you can also enjoy a wonderful holiday here with a smaller budget.
Nice is a very lively and pleasant city and fully equipped. It has a large train station, its own airport and is easily accessible by car. You could easily go by car like us (especially in Corona time, when flights are scarce, highly recommended), but airline tickets to Nice are also very affordable and even a lot cheaper (from 50 euros p.p.).
Sleeping in Nice
When looking for hotels in Nice, prices vary enormously. You will see that these quickly become a bit expensive for a student. We would therefore advise you not to book a hotel, but to make smart use of AirBNB. This way you can stay for a low budget, even in high season. This is also a tip for more destinations. We stayed with two people in a luxury apartment, fully equipped in the heart of Nice. And that for 70 euros per night (35 euros per person). So if you want to save even further, you can also cook for yourself.
There is plenty to see and do in the city of Nice. We could walk everywhere from our apartment. Nice consists of an old and a new part, just like many other cities on the French south coast. This is highly recommended for students who want to experience some culture (no, no coke). There is plenty to see of the old trading spirit that still lives in the city. In addition, this beautiful center is full of delicious restaurants and bars. Despite the fact that we were here in corona time, there was plenty to see, do and taste here. The hunga bunga cocktail that can be enjoyed at the small tent behind the beach is highly recommended. France is not known for its cocktails, but for its delicious wines. They also taste a lot better in sunny France than in the fresh Netherlands. It is noticeable that France is a wine country, also wants a cheaper wine in a local restaurant is a lot better in France than in the Netherlands. You also get a hangover a lot less quickly!
But, France is not only worthwhile for the food and drink. As mentioned, it is a coastal city, and Nice has a beautiful beach with a lovely blue sea. It is also a lot nicer in the sea than in the Netherlands, for example. So, if you're already wearing it, be sure to bring your swimsuit! Something to keep in mind: where most coastal cities in France have a sandy beach, this is a pebble beach near Nice. If you go swimming, do not do it barefoot, because you will regret it.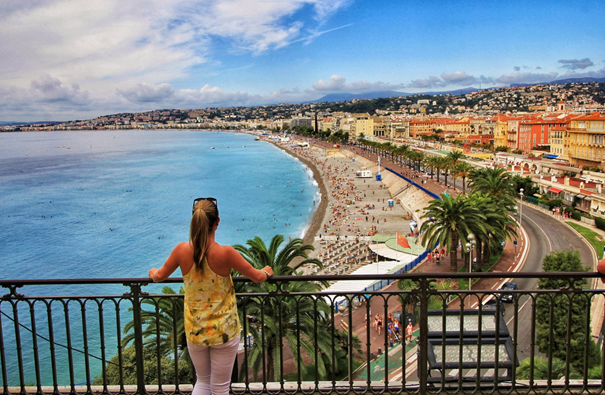 Idyllically Nice
If you walk further down the coast you will soon notice that Nice is actually quite large. The place is, as it were, spread over the coast. If you move along the coast, towards Italy (that's nearby!), You will see that Nice has a kind of island. This island is also definitely worth a visit, if it really wants a paradise vibe. Very beautiful nature and easy to walk. In more than 2 hours you are around and you come across all kinds of things. There are several small beaches, a number of cliffs and streams and a beautiful view of the sea. There is a lot of vegetation so when it is warm here you can even look for shade.
Besides this beautiful island, Nice has numerous small spots and viewpoints that are worth exploring. For example, you can climb the large mountain with a natural waterfall, perfect for a warm day where some cooling is desired. Above there are several viewpoints over the coast of Nice and you can even – if you have good eyes – see Cannes, where many famous people can be found when they are on holiday.
Nice shopping center
In Nice you can not only enjoy nature and the food and drink, shopping is also possible. Nice has countless shops where you can go crazy, even with a smaller budget. Unlike Cannes, Nice is a lot cheaper when it comes to shopping. You have clothing stores for all target groups and there is a large Fnac store – the largest electronics concern in France where they sell the latest gadgets.
Adjacent to the center you walk to the coast, where various shops can also be found. You will also find a post office from where you can send a card to those who stay at home. With the lovely weather here, getting an ice cream is also a good idea. There are many ice cream shops in Nice, but Arlequin is a famous ice cream shop that is worth visiting and we can definitely recommend.
Getting around the city
There are several transport options in Nice. What you will immediately notice is the large amount of electric scooters that drive around; almost everyone uses these to get from A to B. In many French cities you can also rent them (shared scooters), only in Nice unfortunately not (yet). Nice does have good bus connections and much more convenient: shared bicycles! For a small fee, you can rent a bicycle all day long, with which you can easily move around the center. There are parking facilities every few hundred meters where you can store your bicycle. Ideal for a day out at the beach, for example! And you don't have to worry about parking, for example. Renting a bicycle is usually free for the first half hour, after which it is approximately one euro per half hour. A credit card is a requirement for registration, but it is always useful to take one abroad. They accept this payment method almost everywhere and sometimes even only.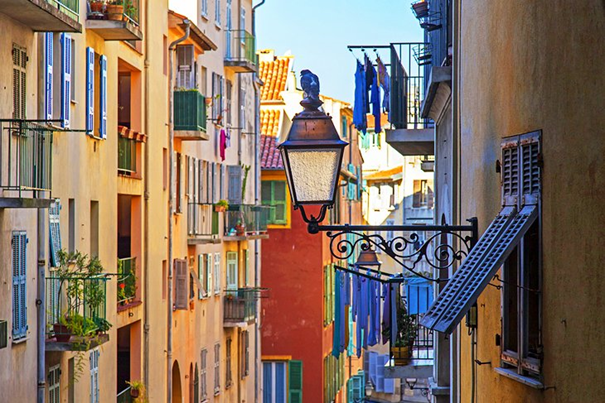 Comparison with Cannes
Cannes is located just under 40 kilometers from Nice. This city is world famous for the international film festival that is organized here every year. The Cannes film theater has already appeared in countless films, articles and productions and will remain so for the time being. Many celebrities regularly visit Cannes for their holidays. This city is characterized by large villas, a busy center and very expensive hotels. We have also been in Cannes for a while, but this is less student-friendly in terms of budget. A dinner will cost you 100 euros, you will not find a pleasant stay at AirBNB below 110 euros per night. Cannes does have a lovely beach and a vibrant center and nightlife, but if you are traveling on a budget, it is better to travel to Nice (or directly to Nice).
Dealing with corona
Of course you also have to deal with the corona virus during your holiday in France. When we visited Nice in the summer, Corona was just a lot quieter. A car holiday was justified in almost all of France and the country was marked yellow by the Dutch government. Almost everything was accessible and the catering industry was open. Something to take into account during our visit was the duty to mask. This applied in all shops and in the catering industry, so a cap had to be worn up to the table. Most French coped smoothly with this. Before visiting a holiday destination, always check the regulations first and take any travel restrictions into account.
Is Nice your next holiday destination?
In fact, there are no reasons not to visit Nice – good weather, delicious food, beautiful nature, good accessibility and suitable for all budgets. Air travel to Nice is currently largely on hold, but there are positive prospects that tourism will soon be desirable and permitted again. As soon as the weather is possible, Nice is a really good option to go! Make sure you are immediately informed of all developments around corona and register for our reminder, then you will be one of the first to know that this destination can be visited again!
{{cta('f0944b08-0aef-4741-9934-684a00819b56')}}