2018 was the first year for me that I went to Spain. If you can guess by the title, I didn't went to the popular places like Barcelona, Madrid, Valencia or the party island Ibiza. One of the reasons we went to Benidorm was the fact that my friends (Vincent) his parents had moved to Spain from The Netherlands after their retirement. They live in a house in the hills of Altea. We didn't have to pay for a hotel or hostel because his parents did have a small room for us to sleep, so we only had to pay for our flight. We visited lots of places, because his parents had a car we could lend. One of the first places we went to with the car was Benidorm.
I didn't know a lot about Benidorm, but one thing my parents and other friends told me is that Benidorm is a very crowded place filled with retired people that moved from The Netherlands or the United Kingdom to enjoy their retirement in sunny Spain. So, I was prepared for the worst. But it was a bit different than what I expected. As a matter of fact, we enjoyed it so much that we went back in summer of 2019 with two other friends. This time we booked an apartment in Benidorm.
One of the main reasons we went back is that Benidorm can offer you lots of beach-time and the weather is far better than in the UK. In the summer it is mostly around 30 degrees. Unfortunately, for someone that comes from The Netherlands we can only enjoy these temperatures for a small amount of time, but in Benidorm it's different.
So, let's have a look at the attractions in Benidorm and things you can do around this area.
1. Levante Beach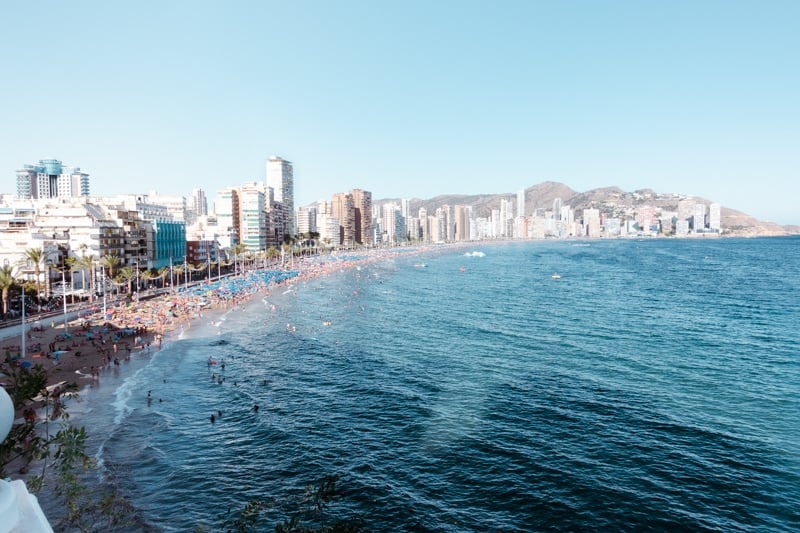 This beach was a walking distance from our apartment. People associated this beach with Benidorm. This, because the beach is formed as an arc and is filled with parasols. The boulevard is packed with restaurants, hotels and North European style pubs. So, after your beach day you could get some food. There is enough variety for everyone.
One tip I would like to give you, is to bring your flip flops to the beach because the sand is so hot that you might burn your feet before you even find a place to lay down. As well as a parasol to protect you from the burning sunrays.
2. Jet Skiing
If you're not a fan of swimming and want to do something more breath-taking I recommend you to rent a Jet Ski. Enjoy tours on the jet skis around Benidorm and see the skyline and the astonishing cliffs. We didn't rent the jet skis, because we found out about it too late. So, don't be like us and use this information to your own advantage. Want to read more about the possibilities of this attraction? You might want to check out this link with some additional information about the pricing.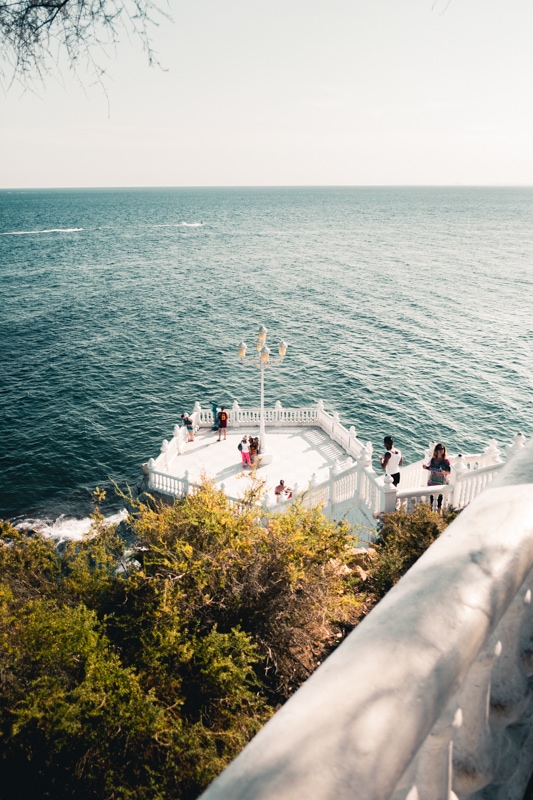 3. Balcon del Mediterraneo
Plaça del Castell is a location with a chessboard and white railings and is located at the old part of the city. On my first trip to this location, I was blown away by the breath-taking view and the architecture. A thing to look out for is the number of tourists that also will visit this attraction in Benidorm.
If you look around you will find a staircase that will bring you to the Balc ondel Mediterraneo. In the middle there's a lamppost, underneath it you can take a seat and enjoy the scenery and look at the skyline of Benidorm.
A tip you might like, is to bring a camera with you to take some beautiful photos of the scenery, your friends or even yourself. The best time to visit this location might be at sunset to get the best experience and images that you can show to your family or friends through Instagram.
4. La cruz de Benidorm
Another thing we did was a hike to La cruz de Benidorm. We saw this cross all the way from our apartment and from the beach. So, one of my friends decided for us to check it out. In 1961 the wooden cross was carried to this location to redeem the city for its sins.
The cross is located to the west of Benidorm and is about 45 minutes away from the city. But be prepared for this hike. Bring some sunscreen with you and lots of water and start in the morning when it is still cool outside. It will be worth it, because of the unbelievable overlook of the city. When we were there, there was no tourist to be seen. Which is strange now that the cross became a tourist attraction in Benidorm.
5. Altea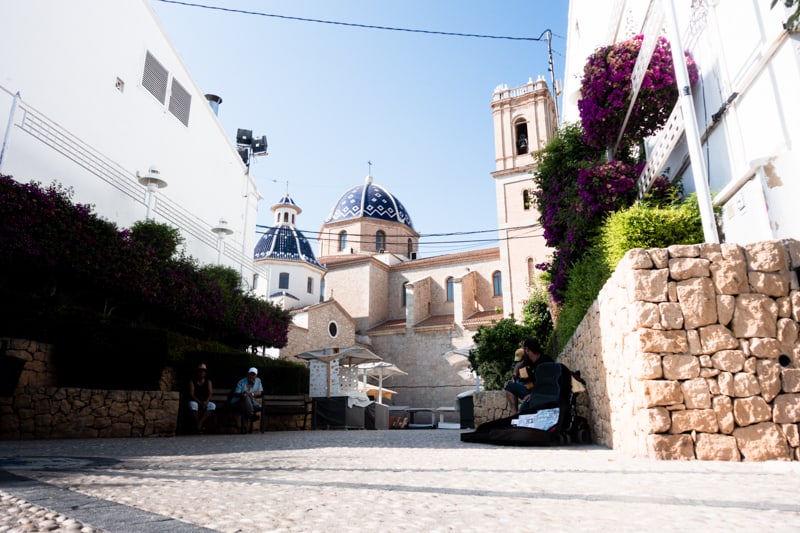 If you have the time and transportation you should definitely visit Altea. It is also a city located along the cost and is only a few minutes away from Benidorm. Compared to Benidorm, Altea has a calm atmosphere and is also a lesser packed tourist attraction.
The city centre is located on top of a hill and you will need to use the stairways to get to the top. On your way to the top, you will find small alleys, surrounded by the old white painted houses. The whole city will give you an old vibe, because of the Mediterranean architecture.
One thing that will definitely catch your eye, is the old church, with his has two bright cupolas patterned with white tiles. Next to the church there's a market and a little overview of the city, were you could take some nice photos of the Altea skyline. Additionally, there are some nice local shops where you can buy ice cream for example.
6. Algar waterfalls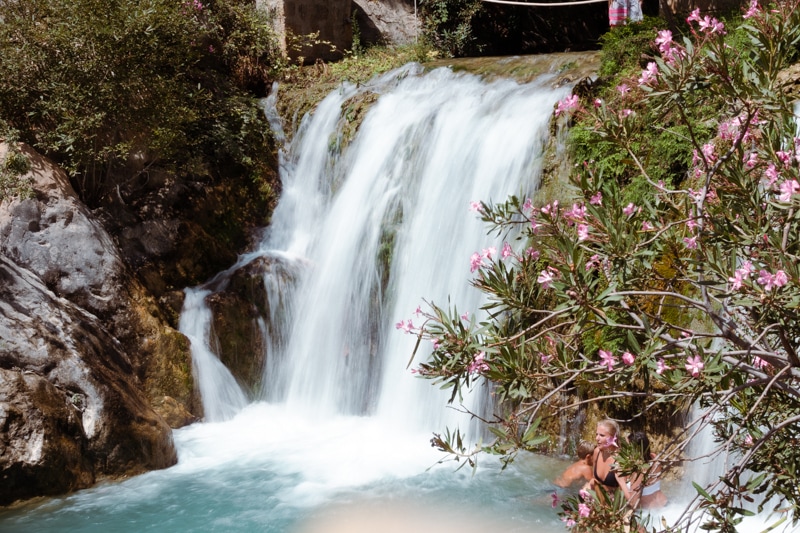 If you like some refreshment this is the place to go. It's located inland and is surrounded by a green landscape filled with nature.
A tip that might be useful is to bring or buy watershoes beforehand. If you want to take a dip in this fresh and cold water, you will need to be prepared. Due to the rocks underneath the water you may need the watershoes to prevent from slipping away. Trust me, I speak out of experience.
This place is a real tourist attraction. So you might want to be there earlier in the day to avoid a big crowd and also to find a good parking spot. Furthermore, you may as well bring some cash to pay for the entrance, because you can't pay by card and the nearest ATM is a few kilometres away.
7. Nightlife of Benidorm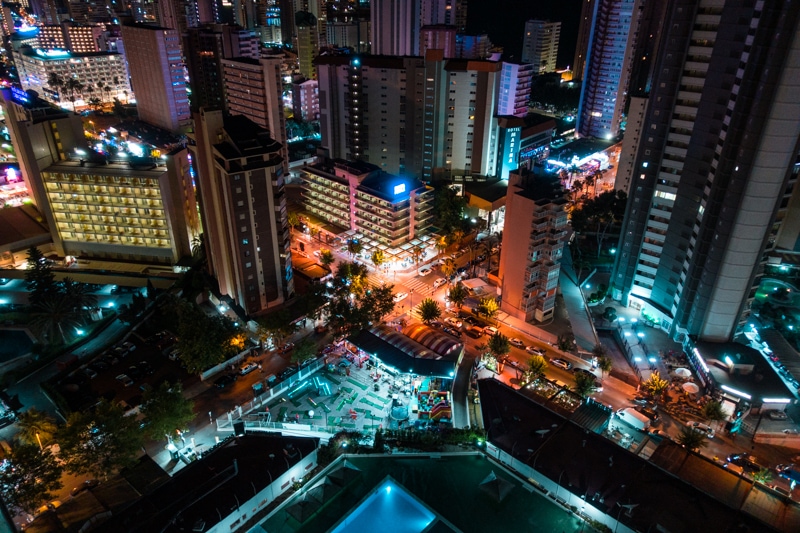 One thing that stood out for me, is the nightlife in Benidorm. On the second trip to Benidorm we arrived at night at our apartment. After we dropped our stuff, we went out to get some food. It amazed me how many people were still walking around at night.
Benidorm is filled with bars, clubs, pubs and restaurants all tailored towards North Europeans. There are all sorts of restaurants scattered around the city. There are Chinese, Thai, Italian and even Japanese sushi bars.
But if you like to try more authentic dishes, I recommend that you visit the old part of the city. In these alleyways you will find the tapas bars and restaurants that serve authentic Spanish dishes like paella. One of things I noticed is that these restaurants are packed around nine or ten o'clock. That's was a real shock for me, considering the fact that most people from The Netherlands eat around 6 or 7 o'clock.
There is plenty to do and see even in the evenings, a good excuse to stay up all night.
To sum it up
To sum it up, if you like to go to Benidorm for a holiday, it's up to you what you will make of it. There's plenty of stuff to do, even for students like me. I must say, I really enjoyed my stay with my friends, and I suppose that this also plays big factor of how nice your holiday can be.
We did a lot. but there are certainly numerous attractions that we didn't had the time for to visit or to do. This article is solely based on my own experience. I hope some these attractions will give you inspiration for your own trip.
If you would like to receive updates about the other attraction in and around Benidorm area, I would highly suggest that you subscribe to the newsletter. Considering the fact that I can't describe all the attraction in this post.
{{cta('6b253abe-2c45-4d87-bdf7-99f5b6d386b6′,'justifyleft')}}