Where to stay in Ibiza?
You decided to go on a holiday to Ibiza, but you've no idea where to stay or what to do. In this guide I'll provide you with the right information to make the right choice! It's very important for you to know what you (and your company) like to do on Ibiza. Do you want to relax, enjoy the culture, tan on a beach all day or party as much as you can? All of these things are possible on Ibiza!
5 parts of Ibiza
To make it easier for you to navigate through this post I've created a list, so you'll know exactly where to look to find out where to stay in Ibiza. I divided Ibiza in 5 parts with keywords for these parts behind them, so you'll know what to expect from each part. There will also be answer to what to do in Ibiza!
Northern Ibiza: Nature and peace
Eastern Ibiza: Relaxed and away from the crowd
Southern Ibiza: Party, hotspots and crowded/ popular
Western Ibiza: Beach clubs, relaxed and crowded/ popular
Central Ibiza: Peace, hippy markets and near everything
Where is ibiza?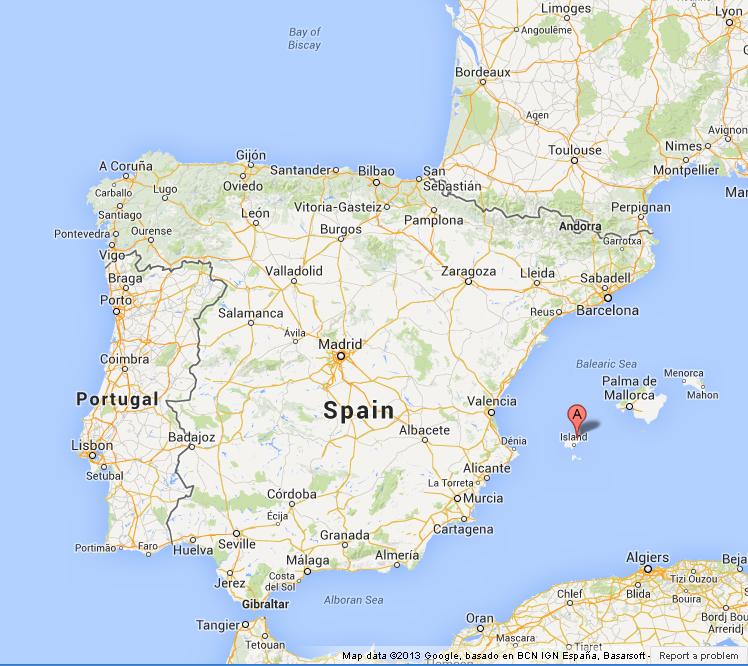 Northern Ibiza
Why Northern Ibiza?
If enjoy the nature and peace, this is where to stay in Ibiza!
Who should visit the north?
The north is perfect for everyone who really wants to relax and escape from the crowds on their holiday.
Don't know what to do in Ibiza? You'll be able to do some sports, go for a hike, read a book, visit a beach and/ or enjoy all the small restaurants around the small villages.
A lot of hippy's went to the north in the 60's and 70's, which makes this place a bit more alternative but also more peaceful. The north is surrounded by beautiful nature. It's hilly which makes it more of an adventure to go around and enjoy the nature. When you decide to go for a hike, cycle or drive through these hills you'll see old farms, some locals and a beautiful view of the sea.
The north has less tourists, doesn't have a lot of stores (in comparison to the rest of Ibiza) and the nearest big supermarket is 15 minutes away (by car). Also, the airport and all the big clubs are half an hour away from you.
During the summer you should visit the Benirras beach. The sunset there is amazing and each Sunday a bunch of drummers "drum down the sun". A must see in my opinion!
Eastern Ibiza
Why Eastern Ibiza?
if you want to relax and get away from the crowd, this is where to stay in Ibiza.
Who should visit the east?
If you don't really care about partying and like the old Ibiza with their family beaches more. You are still able to party, it's just a 30-minute drive to the big clubs.
The east is a very relaxed place, where it might seem like time stopped ticking sometimes. There doesn't happen a lot in the east, which gives you more space. This is really nice if you are someone that just enjoys relaxing on a beach for example. For this reason, people tend to forget about the east and the north. Ibiza is mostly known for its nightlife; this isn't a problem since this keeps the bigger crowd away. In my opinion it's underserved, because this is where you want to be without real tourists around you.
If you don't know what to do in Ibiza, I recommend visiting San Carlos, which is known as a hippy village. Most hippies that moved to the north and east decided to go live in a farm, which they call finca's. They really try to stick to the old style with their architecture, which makes it a nice village to visit. While you're visiting San Carlos, you have to go to the Las Dalias market on Saturday. The Las Dalias market is a hippy market, where you could buy nice souvenirs for example.

Southern Ibiza
Why Southern Ibiza?
If you want to party, visit hotspots and be close to Ibiza town this is where to stay in Ibiza.
Who should visit the south?
If you want to be near or at the biggest parties and popular hotspots you have to visit the south of Ibiza. The south is a lot more crowded than the rest of the island. When visiting the south, you don't have to worry about what to do in Ibiza.
The south is the most popular part of the island. This is where all the famous clubs and beach clubs are. When you visit the south, you have to go to Ushuaia. Everybody that has visited Ibiza should at least once been to Ushuaia to see what it's like. Right next to Ushuaia is Playa d'en Bossa, which is the longest beach of Ibiza (and one of the nicest in my opinion). Playa d'en Bossa is only 15 minutes away from the airport so no reason not to go here. Besides partying there are a lot of things to do.
The south is where Ibiza town is. It's the largest city of the island and when you're there you should visit the old town. In the old town are great restaurants and bars where you can enjoy a lot of different meals and drinks. There are also a lot of stores where you can go shopping, from small boutiques to high-end fashion stores. Once you're done shopping you can climb the wall of the old city. The wall of its own is beautiful, but when you reach the top you'll be surprised with an amazing view over the sea and whole town. This is also a great spot to take pictures.

Western Ibiza
Why western Ibiza?
Do you want to visit beach clubs, relax and enjoy the sunset, this is where to stay in Ibiza.
Who should visit the west?
If you like peace, beach clubs and the nicest sunsets you should go to the west.
This part of the island is beautiful, both the coast and the inland and the sun sinks into the sea on this side. What more do you want?
Don't know what to do in ibiza when you're visiting the west? I recommend going to the beach Cala Vadella. This is a large beach surrounded by hills, which makes a great view. The water at this beach gradually deeper which makes it nice to swim in. In the bay you'll also find some yachts, which I think creates a nice view from the beach. Cala Vadella also has some restaurants right next to the beach, so when you get hungry, you'll be able to eat something in no time. The only downside is that it can be hard to find a place to park your car, since the parking lot isn't the biggest.
The biggest city in the west is San Jose. Here you can go shopping or go to a restaurant. There is a lot of variety in the food at these restaurants, so I'm sure you'll be able to find something you like. When you're in San Jose it might be worth it to check out their church, it looks beautiful and it's the only one on the island with a sundial.

Central Ibiza
Why Central Ibiza?
Want to enjoy the peace and the cozy restaurants. Also, to be near every hotspot and the hippy markets? This is where to stay in Ibiza!
Who should visit the center?
If you haven't figured out what to do in Ibiza before your holiday, visit the center.
Do you want to be near every hotspot and still want to enjoy the peace? This is your answer to where to stay in Ibiza. Every hotspot will be a max of 30 mins away from you and once you're done you can return to your apartment and enjoy the peace or visit the north.
The center is ideal if you can't decide on what to do in Ibiza or if everyone in the group wants something different. You could go to the clubs on one day and visit the north the next (or even the same day, since Ibiza isn't that big). The center is also flatter than the north.
When you're staying in central Ibiza you should go to Santa Getrudis. Santa Getrudis is a small and charming village in the center of Ibiza. This makes it an ideal place to stay during your visit or visit during your stay. While you're here it's worth checking out Bar Costa. Bar Costa used to be well known under the locals, but it's getting more popular. While you're at Bar Costa I recommend ordering a ham and tomato sandwich.
What I would recommend
I recommend staying near the center, especially if it's your first time visiting. This allows you to explore the island faster, since you'll be everywhere you want to be in half an hour or less. You can go to the busy south to enjoy the clubs, go to the east for the beach clubs and sunset, find some peace in the north or visit the hippy markets. This way you'll find out what you like. I enjoy it all, which is why I like Ibiza, there is something for everyone! This must've answered your question on where to stay in Ibiza. If it didn't make sure to subscribe to find out more about Ibiza.
If you enjoyed this post and want to learn more about the island, subscribe to our newsletter and become an Ibiza expert!
{{cta('14a532d4-25f4-4741-aa45-0eed05e391dc')}}