Going on a trip to Iceland and taking your drone with you? See my list of the top 10 locations you need to visit, including some facts about why you need to visit these locations for awesome drone footage.
Here's an example of the footage you could make when visiting Iceland with your drone:
Iceland is equivalent to heaven for shooting drone footage. This country is full of beauty with astonishing nature covering the whole island. Here's a list to guide your trip to Iceland and shoot the drone footage you always wanted to shoot.
1. Snæfellsnes
Snæfellsnes is a peninsula extending from West Iceland, Also known as 'Iceland in Miniature' due to the wealth and diversity of natural features found there. It is part of the Snæfellsjökull National Park.
Snæfellsnes can be reached by those travelling north from Reykjavik. You can also visit Snæfellsnes on a day tour, but for drone shooting I recommend visiting alone so you can take your time for shooting.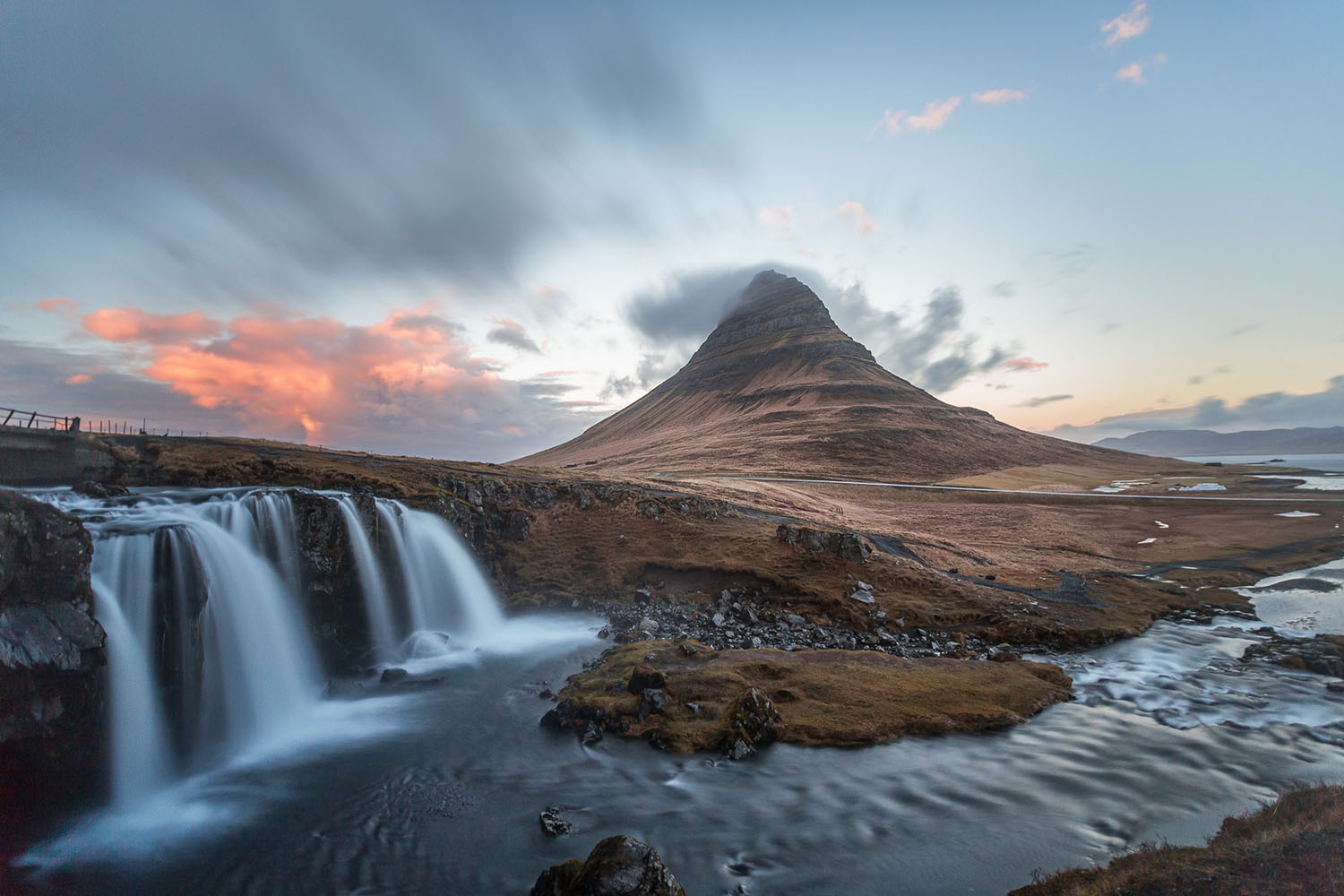 Located at the centre of the peninsula, a subglacial volcano reaches out over the scenery, this peninsula is home to waterfalls, rock formations, beautiful beaches and historic villages. These are all locations where beautiful drone footage can be shot. My favorite location is the black church of Búðir. This shot, in combination with the northern lights, is one of the coolest I've ever seen.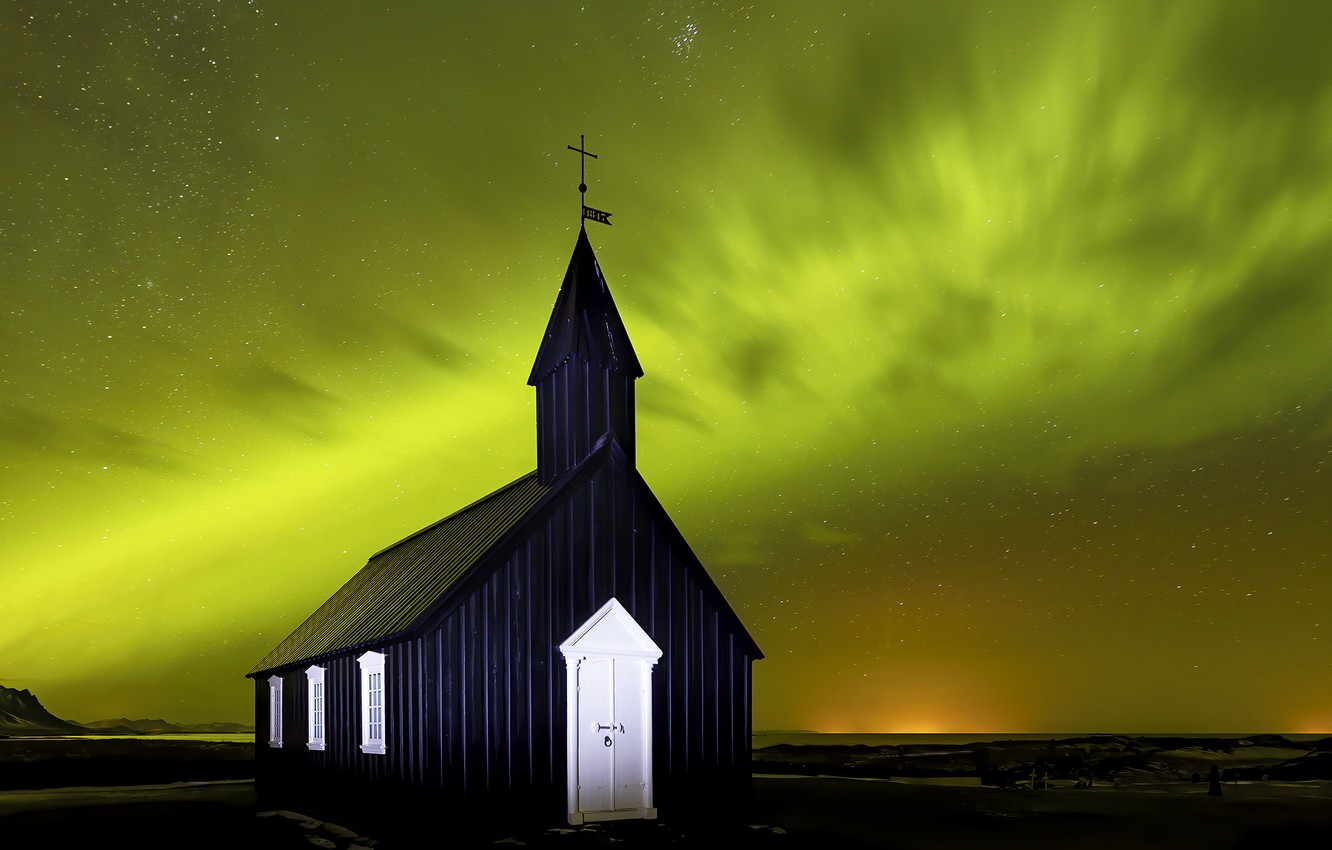 2.

Kerið

Kerið is a red rock volcanic crater with a crystal clear, blue lake in the middle. Displaying a stunning contrast of colours and captivating scenery. Which can be captured beautifully on your drone especially if you use a filter lens.

3. Gullfoss
One of Iceland's biggest waterfalls, often gets ranked in the top 10 most beautiful waterfalls in the world. Gulfoss is part of the Hvítá river and falls into a 70-meters deep canyon. It is recommended to visit on sunny days, because rainbows will arch over the waterfall. Be careful flying your drone over the waterfall as there is a risk of getting it wet. Also be careful landing and taking off as there aren't much suitable places for these actions.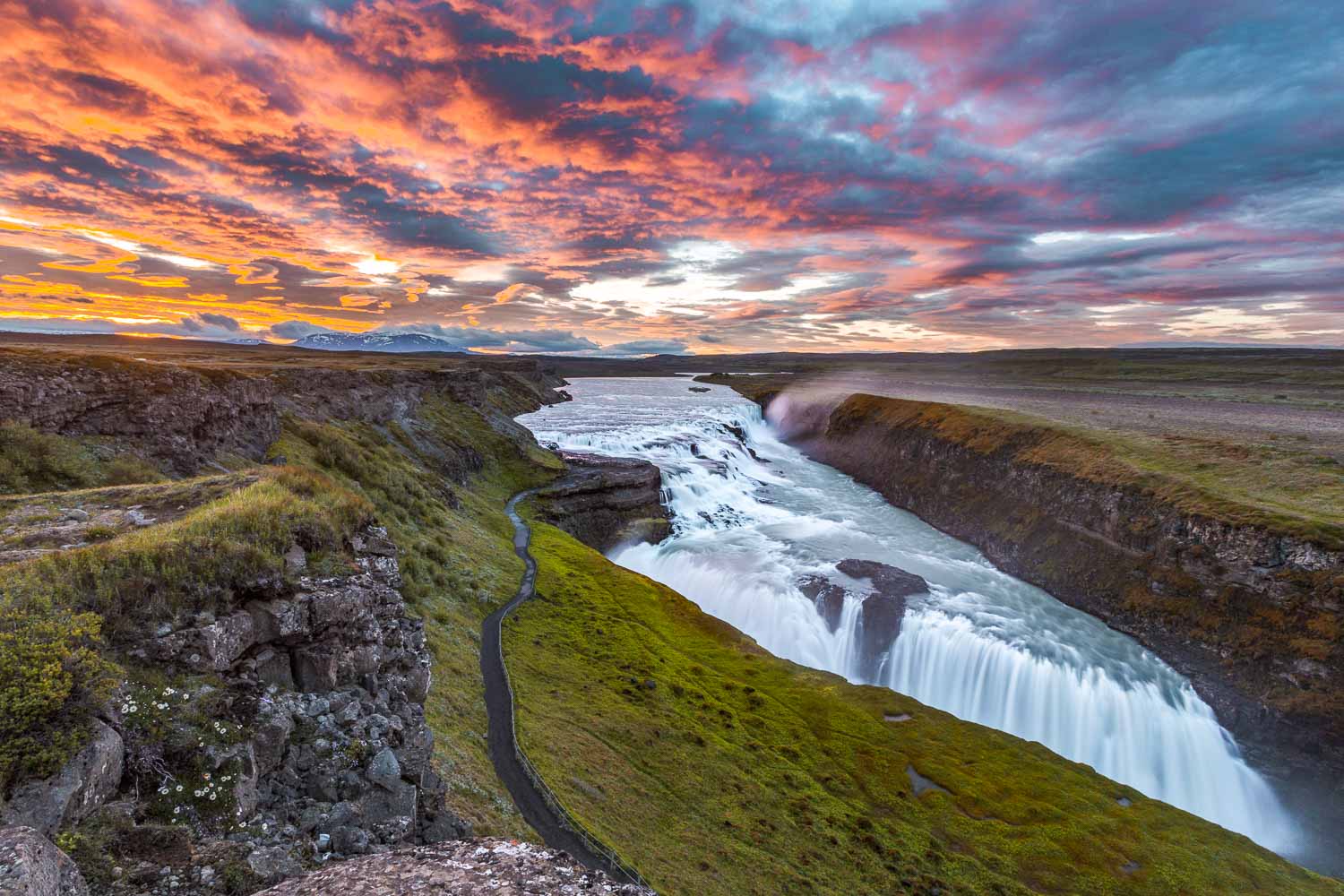 4. Kerlingarfjöll Mountains
In Iceland's Highlands you will find the Kerlingarfjöll Mountains. Kerlingarfjöll mountains are not a very popular stop, as they are located in Iceland's highlands and only accessible during summertime. This means that you will likely be the only person there. Kerlingarfjöll finds itself about halfway between Reykjavik and Akureyri. When driving the Kjölur route, it is a great stop to stretch the legs of anyone on a summer self-drive tour. This location lends itself extremely well for some 'Game of thrones-inspirated' shots.
One thing to note here is that although 4WD cars are recommended for all highland tours, it is actually possible to drive Kjölur in a 2WD – but it's gravel for most of the way and it will take you a while to reach your destination.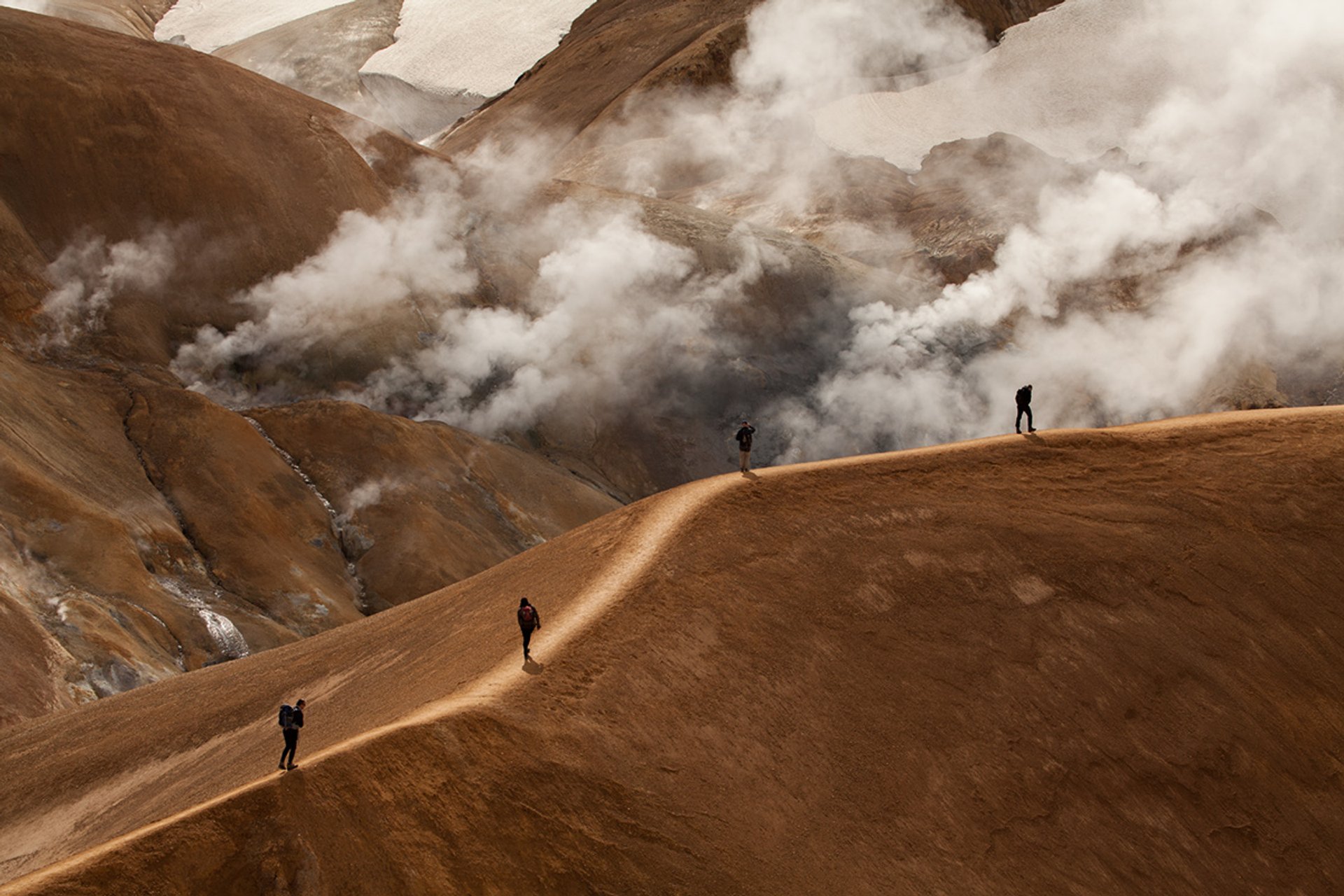 5. The Geysir Geothermal Area
Iceland's geothermal activity is fascinating and beautiful, but none of the features it creates are as dramatic as the geysers. Iceland's geysers are so noteworthy that all of them in the world were named after this nation's largest one, Geysir itself, which means 'to gush' in Old Norse.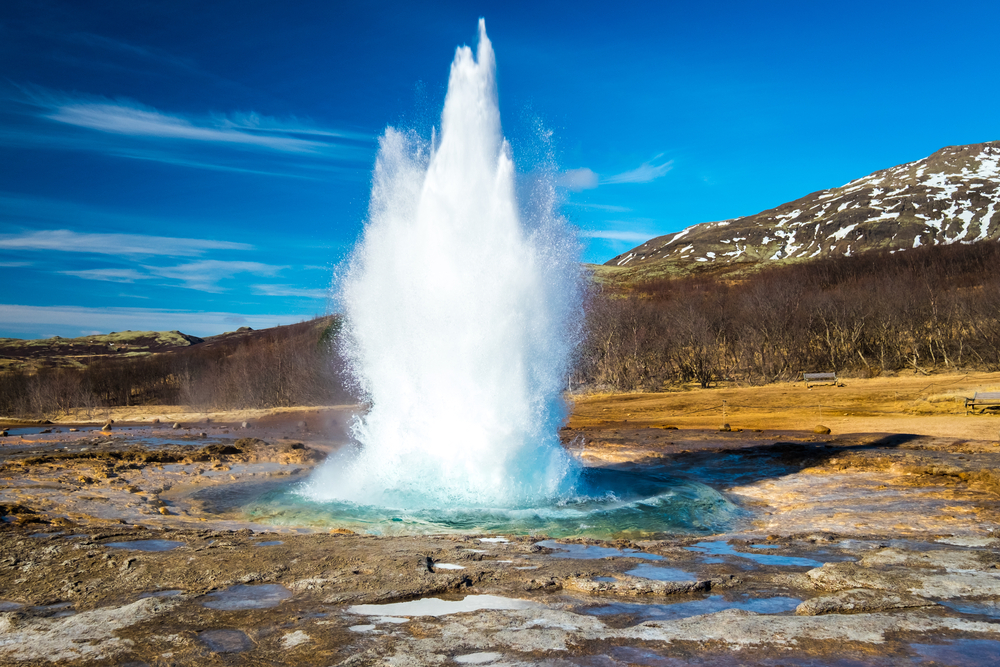 This image, however, is of the geyser Strokkur, which goes off much more regularly than Geysir: every five minutes or so, to heights of around thirty metres. IThis photographer managed to catch it the moment of its eruption, and you will be able to get a similar image with a bit of patience and a quick shutter speed. But I personally recommend to film te eruption. One thing to look out for is to not fly your drone above people and above the geyser ofcourse!
The Geysir Geothermal Area is one of three points on the Golden Circle, Iceland's most popular tourist trail which means you're probably going to encounter a lot of tourists. I advice you to go out early In the morning as there will be less people and a nice sunset to capture with the geyser.
6. Vatnajokull National Park
Crowned by the seemingly endless ice fields of its eponymous glacier (the largest on the continent outside of the Arctic Circle), the Vatnajokull National Park makes its home over more than 13,000 square kilometers of south-east and central Iceland. The area is famed for the great variation in landscapes, rolling from the flower-packed meadows and roaring waterfalls that run through the Skaftafell lowlands to the windswept glacial fields on the mountaintops. The wetlands here play host to roaming reindeer, while Hvannadalshnukur, the country's highest point stands high and the rugged interior of the Eldgja canyon showcases some truly wondrous volcanic geology – there's loads to see!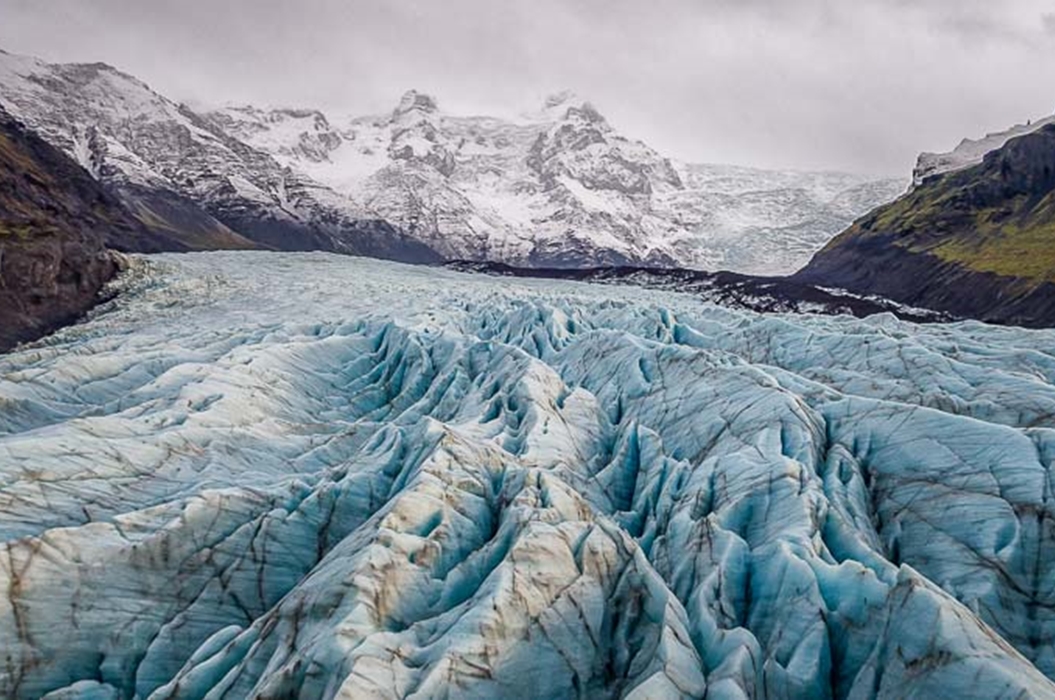 To make some 'Insterstellar' shots, just like the movie, you definitely should head there. When I saw my drone footage back afterwards, the first thing what came to my mind was that this could be on another planet. When visiting this, try to here when it is overcast because an overly sunny day will create more shine on the ice which will be harder for the camera to capture.
7. Asbyrgi Canyon
Carving its way out of the rocky inland of north-east Iceland, the chiselled gorges and ridges of Asbyrgi will definitely be gifting you some drone shots. In all, the sheer-sided edges of the canyon runs for more than three kilometers and comes in at 100 meters in height at some points. Hiking trails can be found deep into the river-carved, glacial valley, weaving past tussock meadows, willow and birch groves and the ancient features of Ice Age cliffs. The spot is also shrouded in Norse legend; thought to have been created by the footfall of Odin's mythic horse, Sleipnir.
The hiking trails will give you a change to travel further inward with your drone. Make sure to bring a good case for it cause the trails are pretty rough. On the trails loads of birds can be spotted also.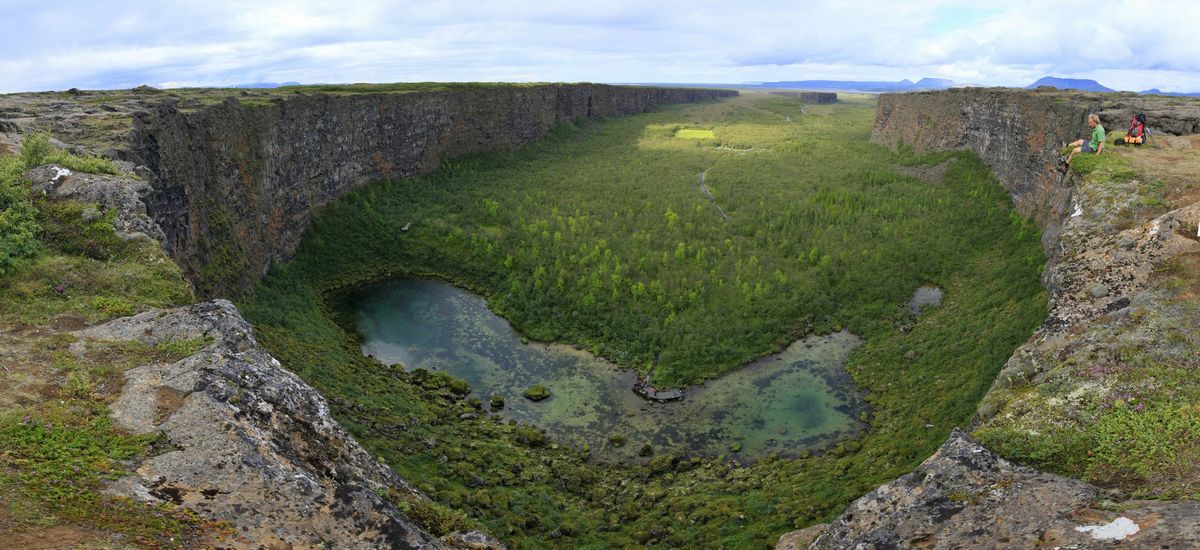 8. The Westfjords
The various tendrils of the Westfjords peninsula are surely amongst the most startling and worthy natural wonders in all of Iceland. Very good place for shooting drone footage while on foot. They come complete with spots like the Hornstrandir reserve, with its Arctic foxes and seals. Then there is gloriously-set Isafjordur, found clinging to a spit of sand on the edge of the ocean and boasting a history going all the way back to the 9th century!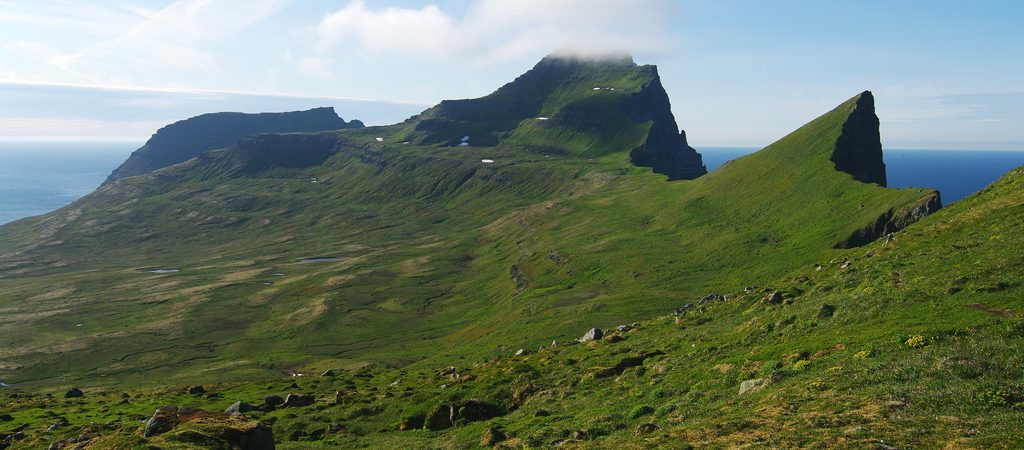 9. Hofn
A truly dramatic location on the small islets and finger-like peninsulas that linger in the Atlantic waters off the Hornafjordur, Hofn is a prime example of a southern Icelandic fishing town. As one of the favoured gateways to the wilds of East Iceland and the Vatnajokull National Park, the spot is a great choice for some 'town drone shooting' with a folk museum, the Ice Land Glacier Exhibition and arguably the best lobster eateries in all of Europe (which you should definitely visit after all that hard drone flying.) Make walking around here for a day or two a fantastic way to get a feel for the calm vibe of the seafaring locals.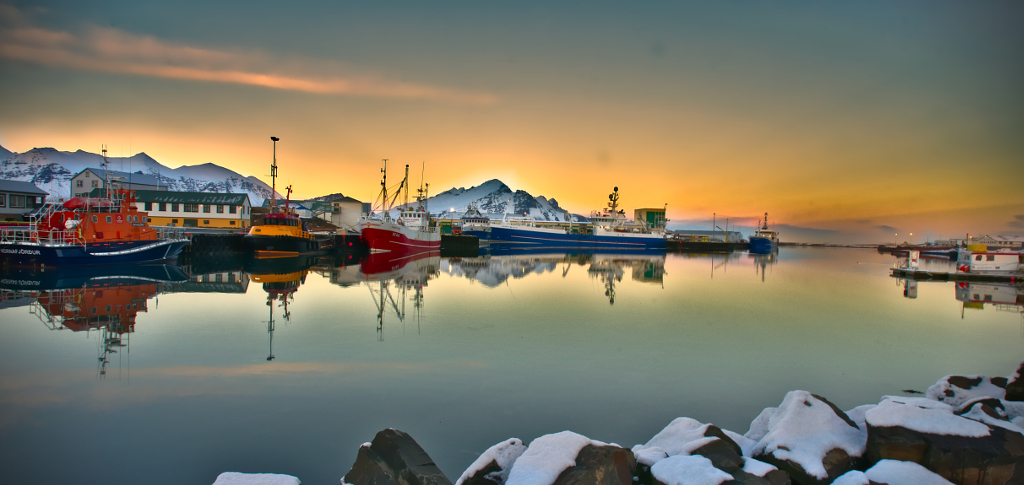 Be aware of the drone rules in residential areas in Iceland. Do not fly within 150 meter from public buildings and do net get closer than 50 meters to residential buildings and premises.
10. East Fjords
East Fjords, or Eastern Iceland, although not so crowded by tourists, is an enigmatic part of Iceland and is home to the largest forest in the country and only 3% of the island nation's population. Characterized by great hiking trails, enchanting lighthouses, jaw-dropping vistas, and rugged fjords, this part of the country is blessed with some of the best shorelines. Búðarárfoss Waterfall, a real hidden gem, stays tucked behind Reyðarfjörður town and can only be enjoyed if you hike up the waterfall. For something fun and exciting, drive to the small town of Seyðisfjörður and look for a not-so-big, blue church – if you have seen The Secret Life of Walter Mitty, you will know what we are talking about.
Herds of horses can also be found along the way. If you can get them running, You could make beautiful fly-over shots.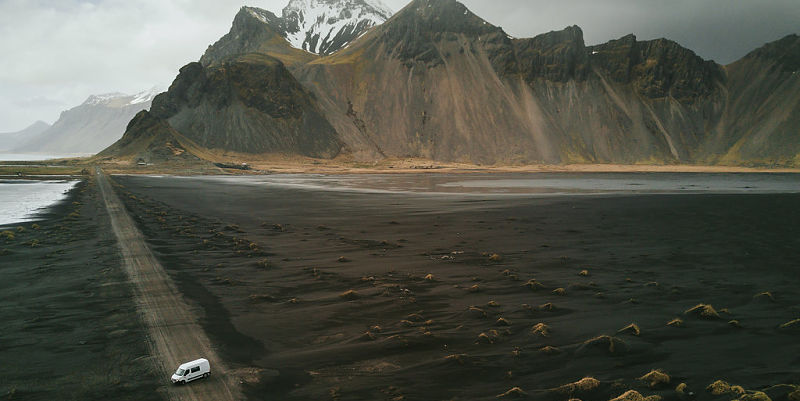 Iceland is one of the most photogenic countries on the planet. There are a lot more places in Iceland to discover with your drone. Want to know more about these places? Subscribe to the newsletter!
Recommended: If you're interested in caps and hats and are curious about the most special hats worn around the world, definitely take time to read this blog and this blog.
{{cta('b22287e3-d13f-4702-9988-228ff4722aa5')}}