Introduction
The Full Moon Party in Thailand is one of the biggest all-nighter celebration which happens before or after the end of full moon night every month in Thailand. With this blog we'd hope to inform you more about the Full Moon Party itself and the best party hostels in Koh-Phangan, enjoy it!
Backpacking
You've probably heard of backpacking in Thailand and you might not be the only one. Beautiful beaches, waterfalls, hiking places, temples, trendy bars and last but not least delicious street food makes Thailand the most wanted/visited backpack destination around the world. The excellent infrastructure and thereasonable amount of Thai people who actually speak English makes this country very accessible for backpackers. Thailand is one the countries in the world that admires Buddhism the most, Temples can be found everywhere in the country. Beside temples, Thailand's nature is admirable as well which makes it a country you should visit. Before we continue with the 5 best party hostels in Koh Phangan, let's start with some general information about Thailand.
Thailand Basics
Currency: Thai Baht
Capital City: Bangkok
Population: 69 Million
Main Religion: 95% Theravada Buddhism
Main Language: Thais
Telephone Code: +66
Time: GMT +7 Hours
Emergency Number: Ambulance: 1669, Fire:199, Police: 191
Let's be honest, the only reason you're reading this blog is because you're looking for the best hostels for the full moon party. For the ones that have never heard of it: The full moon party is one of the biggest and craziest parties in Thailand. It's so well appreciated by backpackers that some trips are specially planned among the full moon week.
The Full Moon Party
The full moon party was created three decades ago in the Paradise Bungalows around Haad Rin Beach. At this time the full moon party had only 20 till 30 visitors. Mainly due word-of-mouth advertisements the location became very famous. Nowadays the full moon party has no less than 30,000 visitors every time. The full moon party is also known for its variety in music styles, including reggae, R&B, drum and base, house and many more. Each bar has its own sound system which results in a narrow transition between music styles as you walk through the beach. The beach itself is full of locals trying to sell alcohol, food and sometimes even drugs. Thailand has a very strict regulations regarding drugs possession and/or use, so I would recommend you to be careful and never buy or use something. Painting your body with neon paint is a tradition during the full moon party. The more paint, the better is what locals will tell you. So don't be shy and just throw it all over yourself! So we're talking about an enormous party where alcohol, drugs and sex are the main ingredients. I can't even imagine why this party shouldn't be on your bucket list!
Great party, but when is it actually?
Good question! This is a common mistake made by a lot of backpackers. As the name 'full moon party' already suggests, it takes place with every full moon. You should be aware that sometimes the date of the party can be changed a couple of days because the original full moon is during the local holidays. This means that the full moon party could actually not have a full moon, a little bit weird isn't it?
A lot of backpackers don't take this into account, which means that they are not on-time for the full moon party. So if you ever miss this party due to lack of time, don't even worry about it! Koh Pha-ngan has it all. One of the amazing things about this place is that there are numerous other party's during the full moon week, like the half-moon party, quarter moon party, black moon party, jungle party and many more. Believe me, there are enough reasons to party day and night!
As I mentioned before, you're here to read more about the best hostels in Koh Phangan. After telling you about the country and the full moon party itself, we should continue to the best Hostels in Koh Phangan. As the name already suggests it's all about parties, that is the reason why I will give you a list with the best 5 PARTY-hostels in Koh Phangan.
Number 5 – Cats in Space Hostel

In order to keep some tension and excitement, we'll start with number 5. The number 5 is earned by Cats in Space Hostel. This hostel is best known among young backpackers. So, do you love to party, go out with other backpackers, play drinking games and party like there is no tomorrow? This is YOUR Hostel! Cats in Space is one of the newest hostels in Koh Phangan. Besides that this hostel has one of the best reviews on TripAdvisor. But what makes this hostel so unique? It's clean! This doesn't sound very important to you right now but believe me, when you travel through Thailand you'll come across hostels where hygiene isn't the main focus. So you'll learn to appreciate hygiene! Besides the fact that this hostel is very clean, it has theme parties literally every night during full moon weeks. Although Cats in Space doesn't have a pool itself, there is a free pool just around the corner.
Number 4 – Dancing Elephant Hostel
Number 4 is the Dancing Elephant Hostel. This hostel is
officially the first hostel that came in Haad Rin Beach. The Dancing Elephant is located in the heart of the well-known full moon village. For those who don't know the full moon village: it is a hip, energetic and multicultural party location surrounded by beautiful beaches. It is within walking distance of the full moon party location, around 1 minute. This distance is very convenient when you have had too much alcohol during the full moon party and want to dive into bed as quickly as possible.
The main reason why this hostel belongs here is because it is known for their crazy street parties. These street parties take place most of the during the full moon weeks. As already explained in this blog, there are a lot of parties before and after the full moon party approaches. This crazy street party including the hundreds of part visitors that come along, is one of them!
Number 3 – Baan Tai Backpackers
The number 3 hostel is named Baan Tai Backpackers. Baan Tai is one of the best party hostels in the country. The price/quality ratio is really good. Backpackers usually don't have a lot of money and always choose the cheapest hostel. Baan Tai is perfect for them. The sleeping places and bathrooms are spacious and clean.
In preparation for the full moon party and also for other big events, this hostel organizes great pre-party's with a lot of alcohol, drinking games, neon painting and UV lamp. The staff members are made up of a young group of backpackers wanting to earn some extra money. Baan Tai is located close to the full moon party location.
Number 2 – Phangan Arena Hostel
The number 2 hostel is the famous Phangan Arena Hostel. Phangan Arena is well known for its crazy warm-up parties! Do you ever wonder why some of the backpackers actually never make it to the real full moon party? It's mainly because of those pre-parties. But hey, 'Go hard or go home!'.
Besides the crazy warming up parties this hostel also has great pool parties. But enough with talking about parties now. This hostel is the most sportive hostel in Thailand. With facilities such as a giant outdoor pool, several professional soccer fields, pool tables, as well as beach soccer as beach volleyball fields and even a giant outdoor gym with several free weights. So if you are one of the fit boys/girls out there, then this hostel is definitely your best choice!
Number 1 – The Phanganist Hostel
Before I start writing about this AMAZING hostel, I have to inform you that I slept here myself for two nights, 2 years ago. In my opinion, this is the best hostel I ever stayed in. It has a chill and relaxed ambiance during the day, so you can chill at the pool and have some drinks.When the sun goes down The Phanganist turns into a party hostel. During the full moon weeks there is literally a theme party EVERY night. Those themes are mostly musical themes. For example the first night I stayed there the theme was Salsa. Besides the parties, this hostel has a great location as well. The Phanganist is located in the heart of Koh Phangan, so everything is easily accessible. Another big feature of this hostel are the shuttle cars, available for all big events. This shuttle option will bring you and pick you up whenever you want. This ensures you always have a ride home. I would definitely recommend this one, I'm quite sure you'll love your stay here!
Personal Experience
About two years ago I toured around Thailand myself and I can assure you, Thailand is AMAZING. It was the best trip ever. Besides the full moon party hype, Koh Phangan is truly amazing as well. I wish that I had the opportunity to extend my trip at that time, so I could explore this beautiful country even more.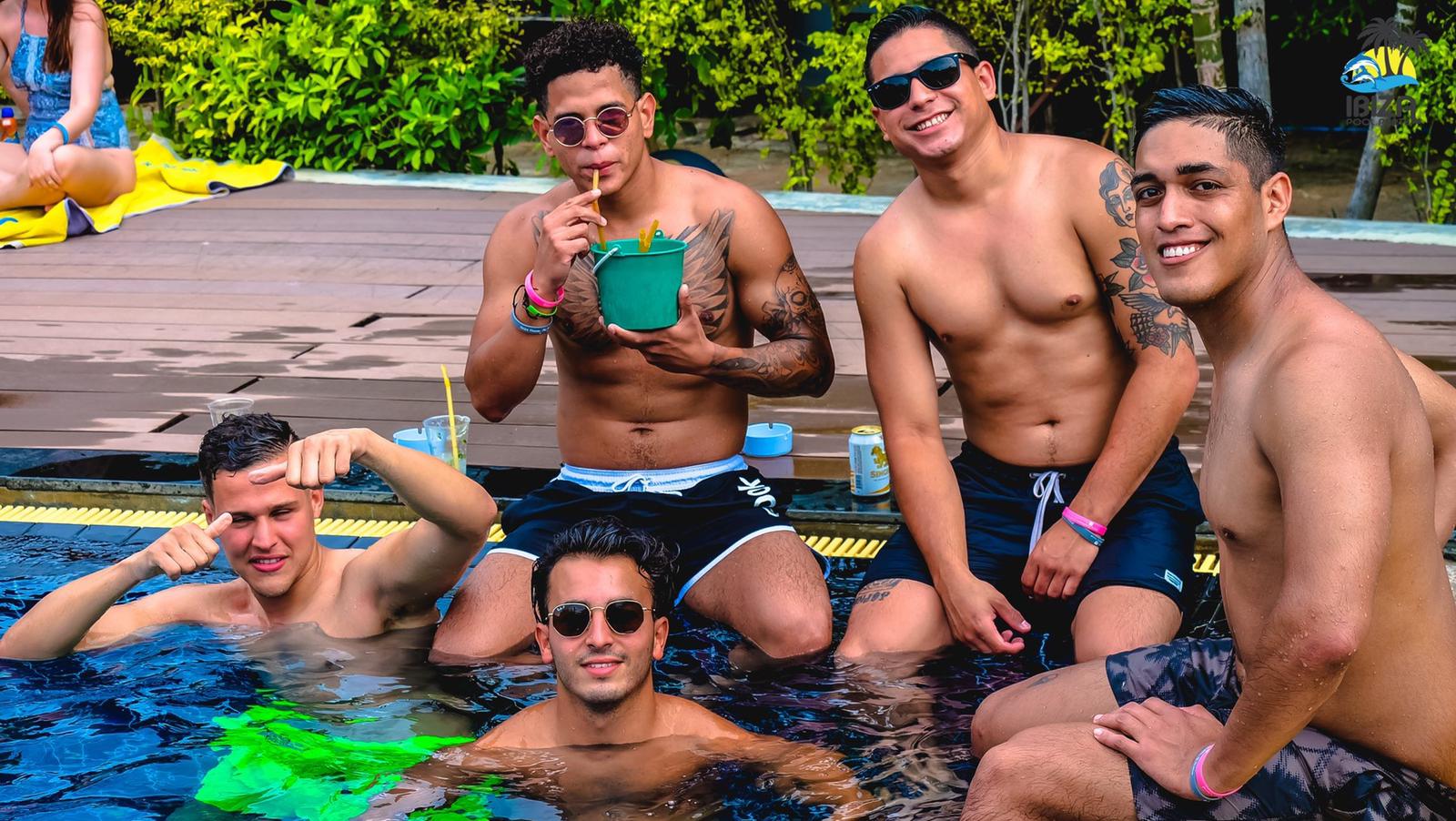 The End
And here we are, at the end of this blog. I sincerely hope that with this blog you'll be able to choose wisely between the countless available hostels in Koh Phangan. If you need more information, please do not hesitate to contact me! I'll be more than happy to tell you more about it.
Craving for more stories like these? Sign up right now!✍️
⬇️
{{cta('1ceff10e-eaae-4cd4-b81c-be3dd47957c8′,'justifycenter')}}