If you are planning a nice solo travelling trip, Bali is one of the best destinations that you shouldn't miss. Bali has activities for all kinds of travelers, the adventure seekers, people who are on a spiritual quest, the foodies or food lovers, nature lovers and surely the beach lovers and last but not the least, swimming lovers. Bali is a hotspot for tourists and because of the tropical climate it welcomes travelers all around the year. Sea, sun and sand you can find at the warm beaches, travelers just love this unique combination of beauties in Bali. You cannot miss the opportunity to enjoy swimming in Bali most buautiful places in Bali. There are many beaches that offer exciting swimming facilities for travelers. Let's check the best places in Bali where you can enjoy swimming.
Suluban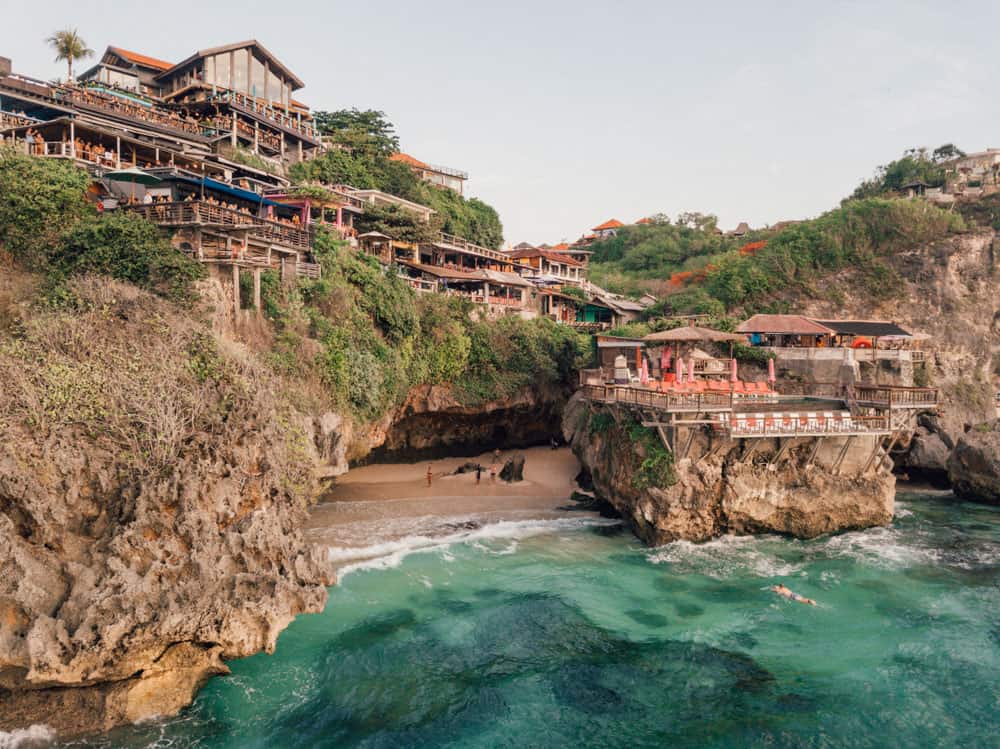 This beautiful beach of Bali is known as the treasure trove for all the surfers and swimmers. This place has a majestic beauty appeal with the cliffs, hidden caves and the natural limestones. You will find the true leisure, thrill and excitement here at the lap of the natural mother. This beach is near Uluwatu and this is one of the unique beaches of Bali. The nickname of this stunning beach is 'Blue Point". This beach is located at the very endpoint of Jalan Mamo.
Oneeighty
When you are looking for something different to do in Bali, then Oneeighty is the ideal place for you. There is a glass bottom lip that is hanging over the cliff edge. There is a sky pool with excellent natural beauty. You can enjoy swimming for longer period of time when hanging out with friends. This swimming pool is a part of The Edge resort of Uluwatu.
Pasir Putih
To get the right hues in life, Pasir Putih is the ideal place for you. lush green, pure white and sparkling blue, this place is ready to mesmerize you with beautiful colors of swaying palms, sea and sand. When you are escaping from the busy tinsel town and looking for your own peace, this slightly off route place can be your destination. You can enjoy swimming here too. take a long drive from the Ngurah International Airport of Denpasar and it takes only 40 minutes to reach there.
Padang Padang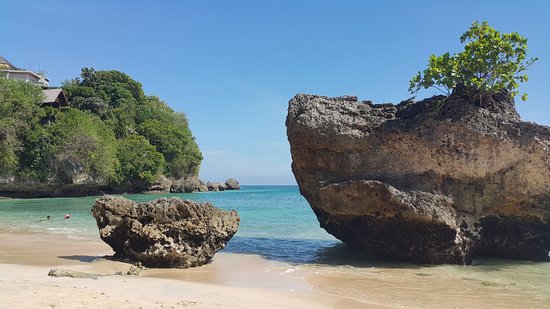 This is a little bit small beach in Bali but if you like to capture some stunning picture with a beautiful backdrop, this place is the right one for you. It may swirl your mind with spectacular beach view. You can enjoy the gorgeous setting while swimming in the crystal clear water. For a beautiful pit stop, this beach is just ideal and also to enjoy a refreshing swim.
From Ngurah Rai International Airport, this place is just 35 away if you go by your car.
Bias Tugal Beach
This is an undeveloped place of Bali but the white sand beach can welcome you with a refreshed mood. You can take a short walk down from the Cliffside. Not just swimming but you can sip on the sweet coconuts or can enjoy tasty foods there too.
Balangan
Surfing, sunbathing and swimming, this beach can fulfill all your wishes. Frothy waves can spice up your vacation too. Picaresque backdrop, isolated locale and beautiful surroundings, this place is all in the solution for you. This place is also very far from the Airport and just 40 minutes drive.
Tulamben & Amed
Snorkelling, diving or swimming, you can try all of these activities at hand there. Freediving is the best adventure and sport in this Tulamben and Amed. For dive lovers, there are also coral reefs. This is a rocky beach and you can visit nearby beaches also. But you take a drive from Ngurah Rai International airport, but it can take 2.5 hours.
Bingin Beach
This is a well-hidden, beautiful beach. This beach is beautiful but it is difficult to reach there. You can relax and you can enjoy the small waves also while enjoying refreshing swimming. Here you will find many home-stays and hotels to enjoy pool swimming.
Lovina
Bali is known for its white-sand beaches, this beach comes with the small blanket of the black volcanic beautiful sand. This is not a crowded place so just right for swimming or wading. Some dolphins can even join you in swimming when you are enjoying the beach during sunrise. You can find the colorful fishing boats also and the thermal hot springs to enjoy spring.
Nyang Nyang
This is another small beach and this is the key reason that most of the tourists away from this beautiful beach. But this is a hidden gem of Bali and need to go few extra miles for that. Stunning rock pools and the fresh white sand beach can captivate you best. If you are a sea lover then this is the right place for you. You need to carry an adequate amount of water or food when you are visiting this place.
Omnia Dayclub
In Uluwatu, this is just the right place to cool off. This is not a party destination only but comes with the swim-up bar. You can enjoy the nearest beach for swimming but the infinity pool can give you a complete relax feel. For exclusive feel and experience, this is one of the best places in Bali that offer swimming expedition too.
Soka Beach
Apart from white sand beaches, black sand beaches are also very common in Bali and these beaches can bring some unforgettable moments for you. this picaresque beach is located in Tabanan, which is on the northwest coast of Bali and the most beautiful place. green palm trees, clusters of the huge boulders and the obsidian shores can offer the most beautiful view. All-day swimming is allowed here but you can get the best view of the beach during sunset, it becomes more dramatic and romantic too.
Green bowl beach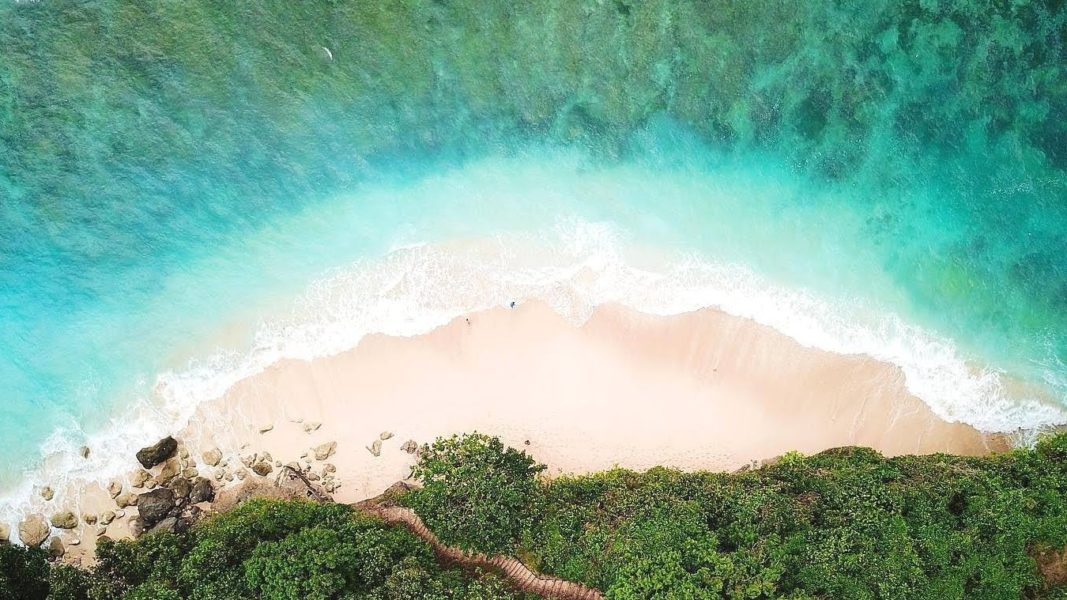 Green Bowl Beach is one of the best white sand coarse beaches of Bali. This beach comes with immense natural beauty. What is the most interesting fact of the beach is the hidden cave of the beach. To visit the cave, it is important to take the steep descent. This way can be an adventurous option for you if you follow the route. When you are looking for an untouched beach of Bali for swimming, this can be the real destination for you. You will find only the adventure-loving surfers here. Waves are high here, so be careful during your surfing challenges. This is surely hidden and touch the beach to explore, but the location is only 45 minutes drive away from the Airport.
Sambangan Secret Garden
This is a river system of North Bali that comes with a complete series of beautiful waterfalls. From natural water slides to cliff jumping or swimming in the beautiful pool, you can enjoy everything here in this garden. There are some risky places around where you will not get permission to enter but for exploration, the small falls or blue lagoons in the surroundings is best.
Banyumala Twin Waterfalls
If you are in Central Bali and tucking away behind the beautiful Lake Buyan, you will find a well-hidden stunning waterfall waiting for you. This waterfall comes with two different water streams that come as the curtains down a picaresque sprouting rock-wall. Take a 30-minute drive from the Munduk and take another 15 minutes of small walk within the forest and the beautiful oasis is ready to enchant you.
Sekumpul Waterfall
This is surely one of the most beautiful, magnificent waterfalls located in north Bali. But reaching there can cost you a lot of effort, a tough trek. The trekking way can offer you most picaresque views when you pass the coffee plantations, rice fields even before the jungle open its door for you. When you enter the jungle, you will find greenery just like you find in Jungle-book story and so the waterfall. You can enjoy flawless swimming experience too.
Kutasunset double six beach
There are many expatriates and residents visit this beach. This beach is ideal for taking a sun-bathe, swim, and play football or just to relax with family or friends. In this white sand beach, you will find many restaurants from where you can order your favorite foods and drinks. Not just swimming but in those restaurants or beach bars, you can dance for the entire night.
Petitenget Beach
When you are looking for an offbeat beach in Bali, which is free from all the busy noises, you can visit this one. There is also a temple on the beach, Pura Petitenged. local people visit this place mostly for swimming. This beach looks very mysterious but you cannot miss the beautiful sunset there
not just the beaches or waterfalls but there are many villas, hotels or homestays that offer the excellent swimming experience to the tourists like the Bloo Lagoon Village, Alila Uluwatu Villas, Omnia Day Club, Ayana resorts etc.