The Ultimate travel guide for Mexico (Yucatán) + tips

Are you ready for a sun, sea, beach and babyblue water (read: absolute paradise) holiday but do you want to see and do a lot of cool things in between? Then Yucatán in Mexico is the your perfect destination. This peninsula is about 3.5 times the size of the Netherlands and surrounded by white bounty beaches. You can swim with whale sharks, spot flamingos, enjoy delicious Mexican food but especially enjoy life to the fullest with a Corona under the swaying palm trees. We have spent 2,5 weeks here looking for the most beautiful places and best things to do. The result is this ultimate (bounty) travel guide for Mexico full of adventure and the most beautiful destinations. About almost all destinations on this trip we have also written some tips for what to do, where you can eat, special addresses and many more useful tips. This way you can easily compose your entire trip yourself without having to scour the entire internet. Enjoy!
How many weeks do you need for this trip?
Fortunately, the distances between the destinations in Yucatán are not that great and the infrastructure are very good. This makes it very easy to make a small tour between the different hotspots. For this route trip we recommend you to take at least 2 weeks and an extra week is certainly not a punishment. Many people who go to Mexico stay in Cancun or Playa del Carmen but that's a shame because this region has so much more to offer than these extremely touristy seaside resorts.

The ideal itinerary through Yucatan in Mexico.
We have put this itinerary together so that you have a perfect mix of relaxation and fun activities. Do you want to get a good idea of the destinations below? Then you're in the right place. Scroll and enjoy this ultimate paradise travel itinerary.


First stop; touchdown Cancun
After a (probably) long flight, you made it; touchdown Cancun Mexico. Cancun is the starting point of your trip because very often it is an cheap flight destination. This is a huge city with many giant hotels and malls and therefore also a expensive city. Our advice is to leave Cancun as soon as possible and travel to more paradisiacal places with nicer prices. Of course you want to relax after the long flight so it is advisable to sleep in Cancun for one night. Then you can travel the next day rested and at ease. We highly recommend; Selina. They have both beautiful double rooms and a dorm and even a real suite for when you want more luxury. Also you have a nice swimming pool. T
he location of Seline is ideal i
f you travel Mexico by public transport. Selina is 200 meters from the ADO bus station. Take the ADO bus at the airport and you will be right in front of the hotel. Then the next day you can walk back to the bus station to travel on. Easy, right? Book on time because Selina is often booked quickly.

Second stop; Isla Holbox


On Isla Holbox you start your journey through Mexico right away. On this paradise island everything goes a bit slower and you come here mainly to relax. You'll find some cool beach clubs and the vast beaches are really amazing! Around the island there are several places where you can spot flamingos and between May and September you can even snorkel with whale sharks! This tropical paradise will be reached by boat from a small village called Chiquila in an half hour. A single trip is about 140 pesos (5.60 €). Isla Holbox is the paradise of Mexico that you definitely don't want to skip. Walking on the sandbanks you can imagine yourself in the Maldives for a minute. The island is also ideal for exploring by bike. And by the way; eating pizza at Roots is something I certainly wouldn't skip ;).
Travel time Cancun to Isla Holbox: 2 hours by bus or car to Chiquilá and then by boat to Isla Holbox; this takes another 15 minutes. If you have a rental car, you can park it in one of the paid car parks in Chiquilá.

Stop numero tres; Valladolid
After a few days of enjoying at Isla Holbox it's time for a new adventure. Travel on to Valladolid, Yucatan's oldest colonial city. This is the perfect base for visiting the world famous Mayan temple Chichén Itzá and Cenote Samulá. These two beautiful places could easily be visited in one day.
Probably now you think Cenote what? If you've never been to Mexico, you've probably never heard of the word cenote. A cenote is a cave or pool with very clear water that is usually created by underground currents of groundwater. Cenotes were holy places for the Mayans because, according to them, it was the entrance to the underworld. The cenotes were used at the time to make sacrifices, sometimes including human sacrifices. Fortunately, you won't see any of that now!
Besides, you don't want to miss the wonder of the world, Chichen Itza. Impressively beautiful!

In Valladolid, I felt like I was in Mexico for the first time. A beautiful town where you can really taste the history of Mexico. Delicious dropout base for some beautiful cenotes and the wonder of the world Chichen Itza. Valladolid, however, is not very big. A stay longer than 3/4 days is more than enough.
Travel time Isla Holbox to Valladolid: 15 minutes by boat to Chiquilá and then another 2 hours by bus or car to Valladolid.


Bacalar
We love Bacalar! Laguna Bacalar is a giant freshwater lake near the border with Belize. Due to the constant supply of groundwater, the water here is extremely clear. You can seriously compare it to the water in the Maldives or Bora Bora. Perfect for an afternoon of sailing or kayaking and getting a tan!
Bacalar in Mexico is a hidden paradise that has not been discovered by mass tourism. Of course you will find a lot of paradisiacal beaches in Mexico with beautiful blue water but in Bacalar this goes a step further. Although this is a lake, the water here is even brighter and bluer than in most beach destinations. You can really compare the water to that in the Maldives or Bora Bora. Fortunately, this destination is only about 10x cheaper. It's really cool that you have 7 different colors of blue water because of the different depths.
But you may be wondering what to do in Bacalar? Tourism in Bacalar is still in its infancy and therefore there is not so much to do. You come here mainly to admire the lake and relax. On two full days most travellers have enough so count on a stay of 3 nights. Tip; go sailing with Bacalar Sailling. Oscar shows you the most beautiful places of the lake and knows how to tell you a lot about the history of this beautiful lake.

Travel time Valladolid to Bacalar:

4.5 hours by bus or car.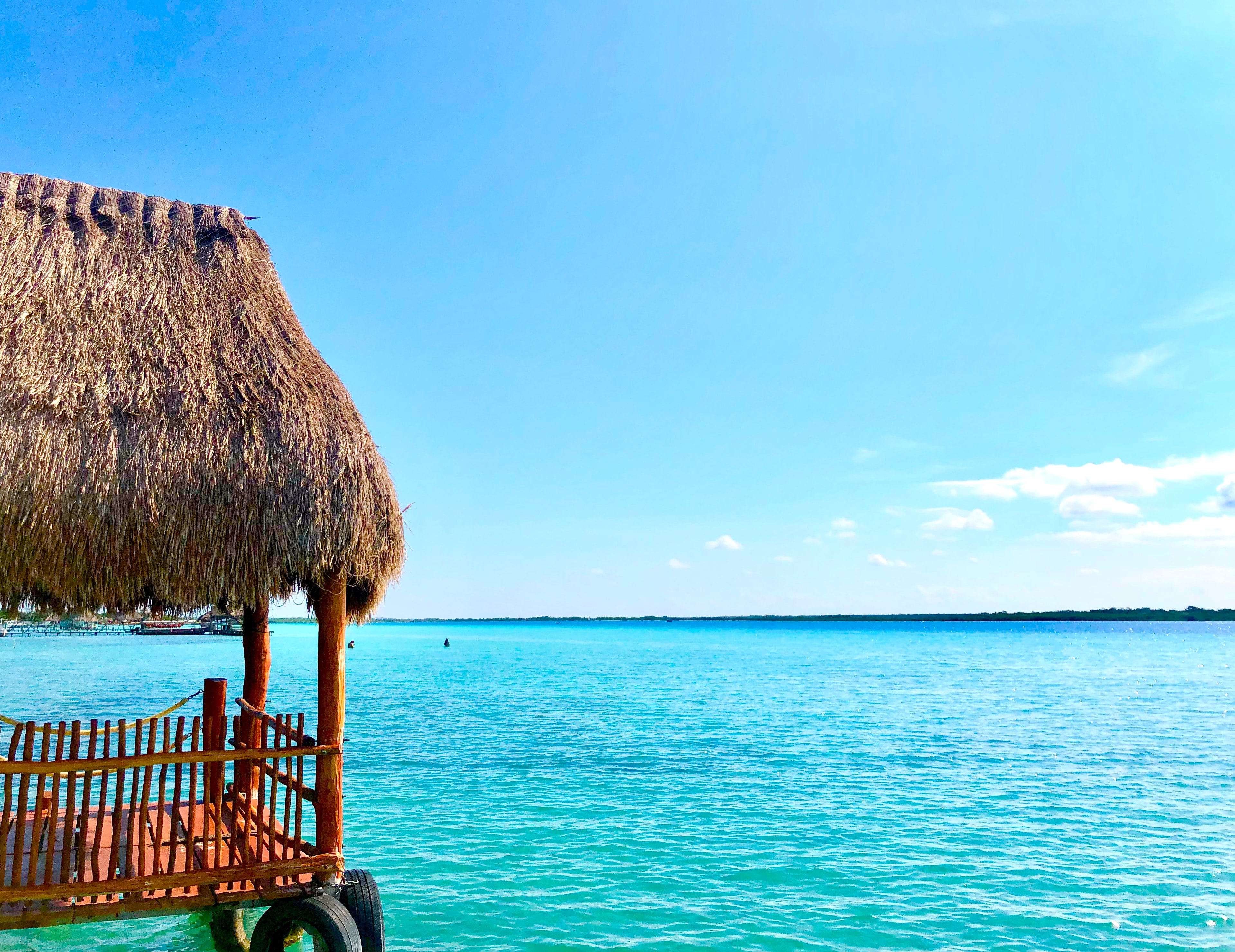 Tulum; end your trip with paradise

Tulum is a laidback town with a lovely atmosphere and miles of white sandy beaches full of palm trees. We liked Tulum so much that we ended up staying 2 days more (could have stayed 3 more week ;)). We have started looking for the best hotspots and nicest places and have packed these tips into a cool cycling route where you visit all these places. Cycling in tropical temperatures may not sound appealing but believe us, it's fine to do! Especially when you leave early and also because you only have to cycle a little bit to the next hotspot. Along the way there are several places to take a fresh dip in the sea or in a cenote.
Tulum is one of the hippest and most enjoyable places in Mexico. You have many cozy tents where you can enjoy delicious and healthy food or a fresh smoothie. The atmosphere in Tulum is very relaxed and fortunately not as massive as in Playa del Carmen or Cancun. In addition, the beach is fantastic with fine white powder sand and azure water. This is definitely a place where you linger longer than planned! Some people visit Tulum as a day trip from Playa del Carmen or Cancun but in our view that is eternally a shame.



Travel time Bacalar to Tulum:

3 hours by bus or car.

Playa del Carmen
You may have already known that we are not a huge fan of big tourist resorts. Somewhere under Cancun you'll find Playa del Carmen. This is a kind of copy of Cancun, but a little less massive. We didn't think it was anything special because we'd rather not share the beach with another 1000 people but it's a great place to spend the last night of your trip. It is close to Cancun airport so that is ideal. Did you just travel a little too fast and have a few days left? Then you better stay in Tulum for a few more days and really only sleep the last night in Playa del Carmen.

Travel time Tulum to Playa del Carmen: 1 hour by bus or car.
All in all, Yucatan is one of the best places to visit in Mexico! Enjoyed reading this article and would you like to receive more tips about this beautiful trip? Subscribe below for more tips on restaurants and fun things to do and may more things in Yucatan.


{{cta('ee48821f-d67e-4c69-8e09-3bcfe0f69eff','justifycenter')}}