If you're looking for a good time in Lisbon, search no further. Lisbon is an awesome city, with a great nightlife.
The best parts of the nightlife in Lisbon are the several different types of bars and clubs, and the great atmosphere in these bars/clubs. The people in Lisbon love to party and anything serve as an excuse to go out and have a drink.
These are the 9 best student bars and clubs in Lisbon!
Erasmus Corner
In the night the Erasmus Corner really comes alive! The Erasmus corner are small streets packed with bars and music. APOLO XII is the biggest bar in the Erasmus Corner.
In the night the streets are filled with Erasmus students who drinks super cheap beers, sangria's and shots.
There is one thing what makes the Erasmus Corner really unique. Most students buy their beer inside, and then all stand outside. This gives a hole different atmosphere. This way you get to know a lot of new people, what makes the Erasmus Corner very special!
Short: In this place you can meet Erasmus students and explore the endless nights in the Lisbon nightlife!
Adres: R. do Teixeira 2, 1200-211 Lisboa,
Espaco Academico de Lisboa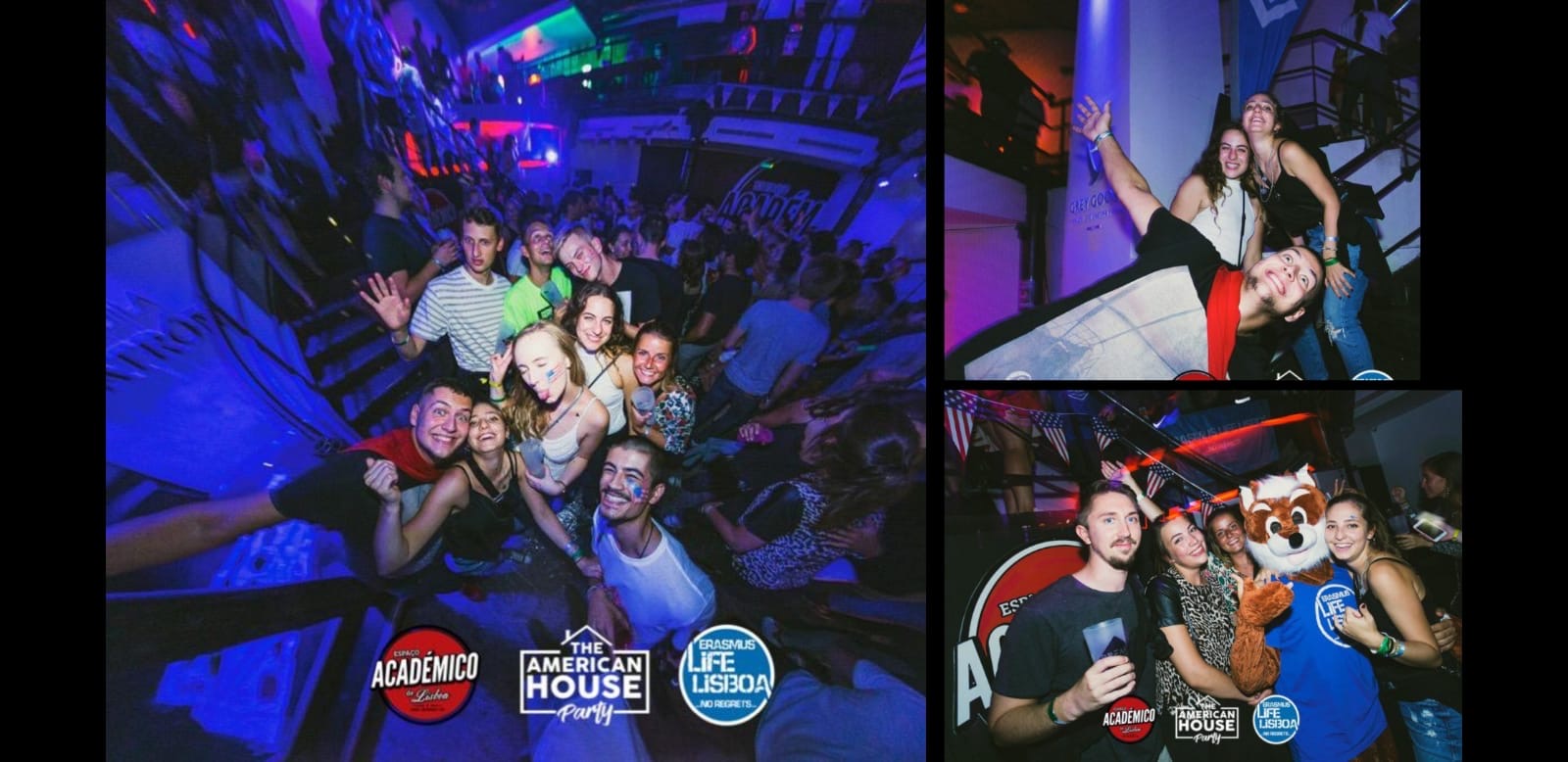 Espace Academico de Lisboa is a restaurant and a Bar/club in one! In this medium-sized restaurant you can eat your evening meal, but at 11 pm the staff take the tables out and turn it into a bar/club.
Espaco Academico de Lisboa has 2 different floors wich makes it extra fun. This club also organized theme party's specially for Erasmus students. At a theme party, they cover the entire club in this theme. Examples of these theme parties are the American House Party and the '90-Party.
Adres: Tv. dos Inglesinhos 50, 1200-223 Lisboa
Shots-bar
The shots bar is very close to the Erasmus Corner. It is a very small bar, where you can buy a lot of shots. All the shots are very cheap, €1 per shot! It's the perfect bar where you just can drop by with your friends, take some shots, and walk back to the Erasmus corner. It will give your night a lot more pleasure 🙂
You can see the card of shots in this picture –>

Adres: R. da Bica de Duarte Belo 77, 1200-109 Lisboa
Bolero
Did you also get the awesome first impression by watching the video?
The location of Bolero is beautiful. It is located near the Tagus river with the overwhelming view of the 25 de Abril bridge.
Bolero organized al lot of party's with different music genres. From Funk to Reggaeton through Hip & Hop to R&B. A various (national and international) artist already visited Bolero. Bolero has a very diverse and comprehensive style for all tastes.
Adres: Rua Cintura do Porto de Lisboa, Armazém H, Naves A e B, 1350-353 Lisboa
Rio Maravilha Rooftop Bar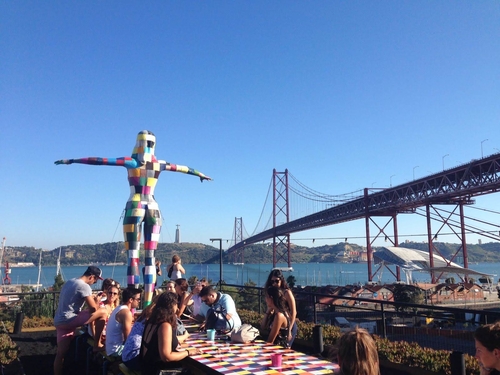 The name says it all. Rio Maravilha is a Rooftop Bar with an outstanding and breathtaking view of the river Tagus and the 25th April bridge. During the summer months the terrace is a hot spot in Lisbon and often organize rooftop parties until 2am.
The indoor bar is also very special. The interior is a mix of a Brazilian and Portugal style. You can play inside al lot of boardgames and drink bears, cocktails etc. Perfectly for the few rainy days in Lisbon!
There is also a stage by the entrance for concerts and DJs.
Adres: R. Rodrigues de Faria 103, 1300-501 Lisboa
K Urban beach
Urban Beach is a very trendy place, perfect for a warm summer night. It starts as a dining destination thanks to its two restaurants – one for sushi, the other one for steaks and grilled meat. Around midnight, Urban Beach turns into a nightclub, where you can find special parties with national and international DJs.
There are three rooms with three different types of music, a VIP area and an amazing outdoor patio with a swimming pool and sofa-beds around it! The alcohol prices are also not that high for a place like this.
Adres: Cais da Viscondessa, 1200-109 Lisboa
Vikingbar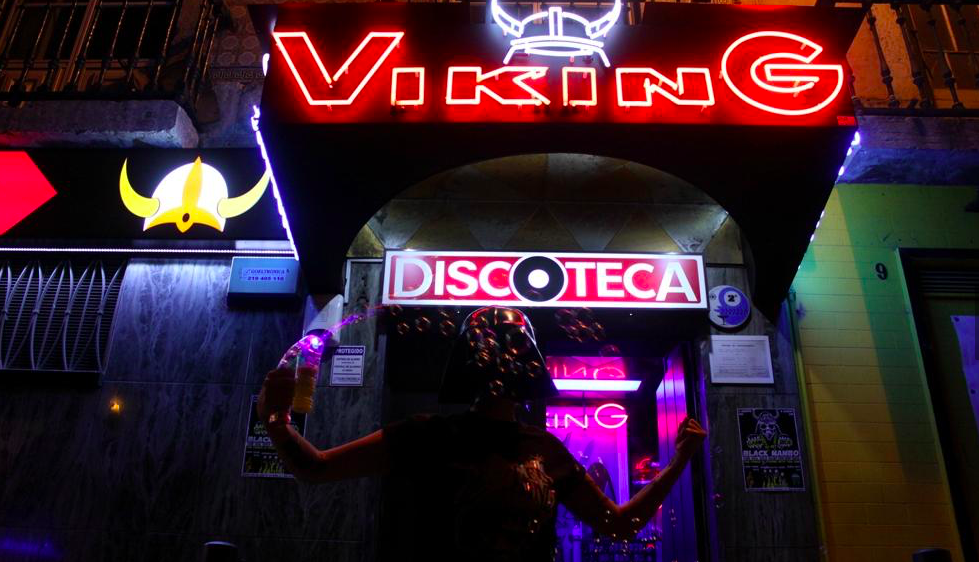 The Vikingsbar is the most popular nightclub of Cais do Sodré (The green metro line). The music is very varied, so they can please all types of customers!
The Vikingsbar also organized several themes-parties. Here you can dance on the best music of DJ Paulo Abreu and al of the invited DJs.
Adres: R. Nova do Carvalho 7, 1200-161 Lisboa
Irish Pub

The Irish pub is the perfect play to watch sports and drink some beers. They have over 8 tv's were you can watch a lot of different sports. If you're looking for unmissable action, more fixtures and exclusive live matches all from the comfort of your local pub, grab your mates, a pint of your favourite beer and watch the sport that really matters to you in this pub.
The Irish pub also organized the creaziest karaoke nights. The website of the Irish Pub describes the karaoke evenings perfectly:
"We start at 9.30 pm, and we go on and on until you realize you have no place in the show business. We are masters of illusion and we like it! We can combine in the same space two of the nation's greatest evils: we join people who think they can sing and people who should not sing ever. But, when you love doing something, who cares? Do not worry if you have not sang yet, our karaoke only ends when no one else wants to do it." (https://www.pubthecorner.com/karaoke)
Adres: Tv. da Queimada 9, 1200-285 Lisboa
Duque Brewpub
This is the only Beer Brewer on the list, it's also the first Brewpub in Lisbon. Here you can try a lot of different beers with your friends!
Duque has 12 taps, with different beers. Many of them are brewed by themselves. They also have more than 50 different labels in bottle.
There is one thing what makes Duque Brewpub special. You can order a plate, and you get a chalk with it. On a chalkboard you can find the 12 different beers, and they're numbered. You have to write 5 of these numbers on your plate, so you can taste these special beers! The left picture below shows how this concept looks. The right picture below shows the 12 different beers on taps.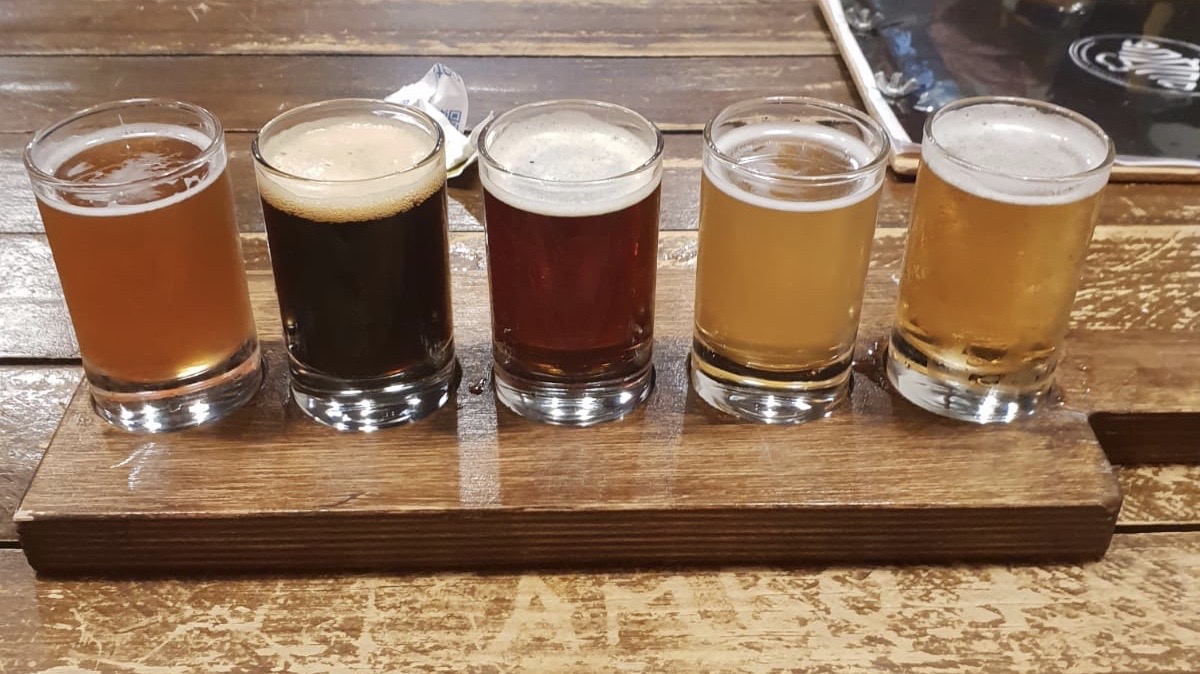 Looks fun right?
Adres: Calçada do Duque, Nº 49-51
In short
You have a lot of different bars, clubs and pubs in Lisbon. There is for every person an amazing facility!
If you want to go to a big club to party like an animal, you have to go to Espaco Academico de Lisboa, Bolera, Urban Beach, or the Vikingsbar
If you want to catch up with your friends with a beer, you have to go to the Erasmus Corner, the Rio Maravilha Rooftopbar, the Shotsbar, or the Duque Brewpub.
And if you want to watch your favorite sports team with a beer you have to go to The Irish Pub.
I hope you can have a wonderful night in one of the clubs/bars on this list. It would make my day!
Do you want to keep updated about all ins and outs of amazing trips? Join our newsletter!
{{cta('d3384066-13d6-4895-b31f-2a6cf366ec74')}}