You are in a young couple, and want to make great memories together other on a romantic holiday. You are looking for a holiday where you can do several active activities but also have some rest and chill out on a nice beach. In the evening you want to have a romantic dinner and end the day sleeping in an fantastic hotel.
Is that what looking for? Then you must consider Mallorca. It is the best holiday destination for young love couples who are advengerous but also want to recover from stress. But how does a holiday in Mallorca should look like?
Choose your location and residence.
First of all you need to know where you want to go in Mallorca. But that is not easy, because Mallorca has lots of cute small villages where you can find many romantic restaurants. But I will tell you about my 3 favourite villages combined with 3 nice and cheap hotels in Mallorca.
Cala d'Or.
This is my favourite village in Mallorca. Why? Because Cala d'Or is de perfect place to start your chilled and romantic holiday. There is a very nice centre with numerous shops. But the best part of the centre is that you can find at least 40 different romantic restaurants, where you can eat very well for a great price. If you love to go out for dinner than this is a great place for you!
Besides that there are 6 magnificent beaches where you can make the most beautiful pictures in the ocean blue water. There is always a beach on walking distance and the cute thing is that you can walk from beach to beach through small lovely paths.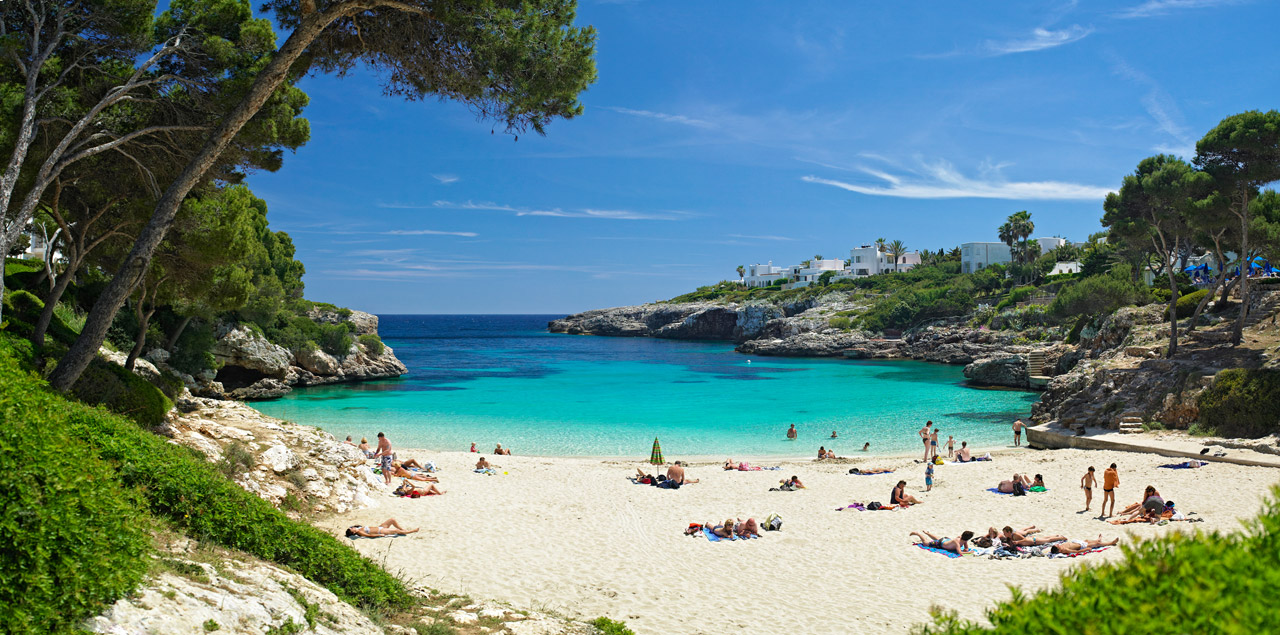 In Cala d'Or you can find all the rest you and your partner need. Besides that every other city or village is less than an 1,5 hour drive from Cala d'Or by car. If you are adventures then I would suggest to discover the whole island from Cala d'Or by car, and visit all the beautiful Beaches of Mallorca.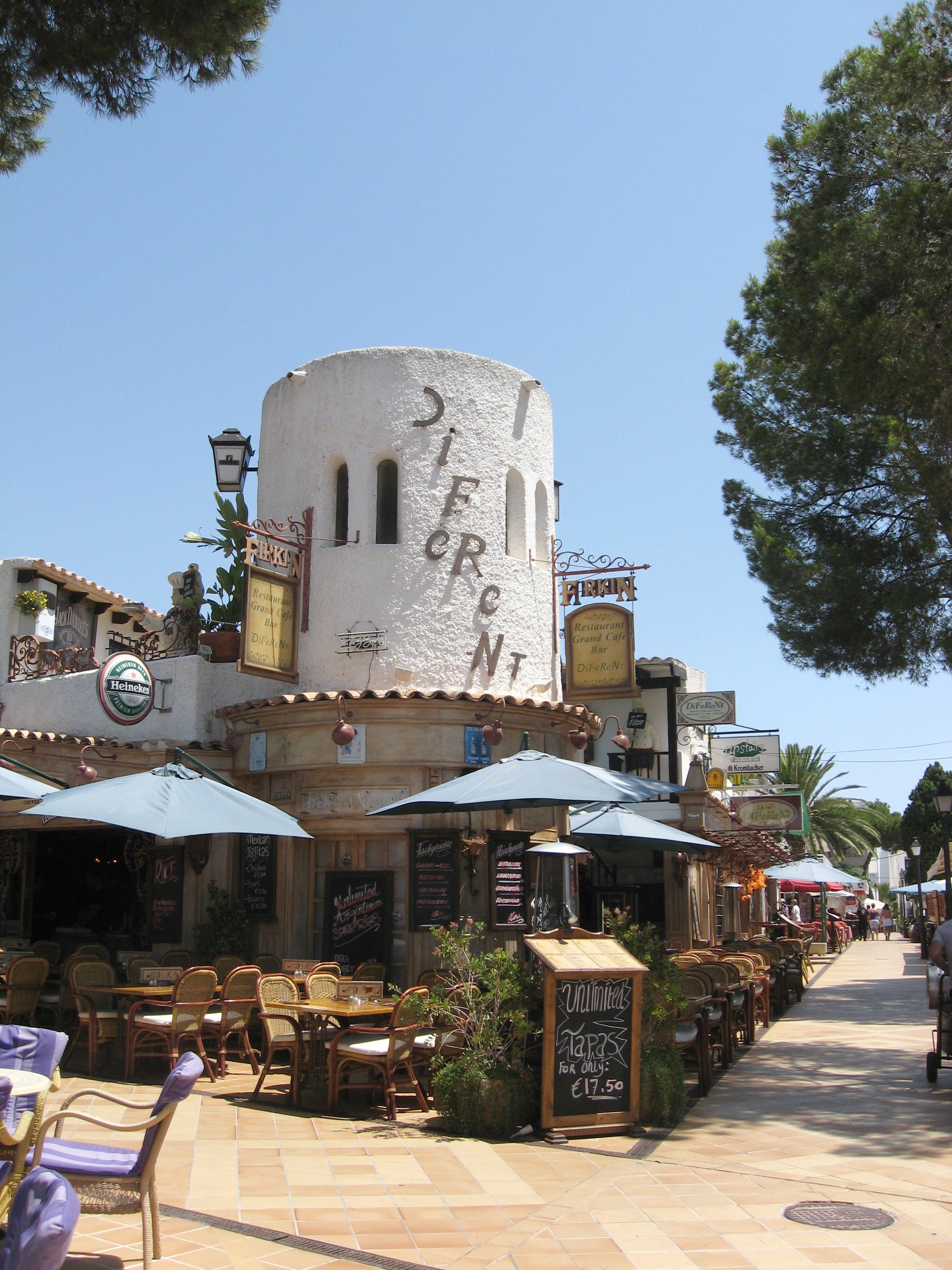 Inturhotel Sa Marina is a great place to stay. It is not expensive but is has all the facilities you need, like swimming pools and clean and cosy rooms. Besides that, the walking distance to the centre of Cala d'Or is two minutes and the road connection to other villages is great when you stay in Inturotel Sa Marina
Palma de Mallorca
If you like to stay in a city, this is the place to be. In Palma de Mallorca is the capital and most popular city of Mallorca and here you can find hundreds of designer shops, local stores and other shop abilities. There are also plenty of restaurants and if you like to visit cultural hotspots then Palma de Mallorca will fit for you. You can visit entirely museums or other historical monuments. One of the famous hotspots of Palma de Mallorca is the cathedral de Mallorca, it is beautiful. A great upcoming district in Palma is the Harbour. There you can give a look on the mega yachts, and have a cocktail in one of the bars.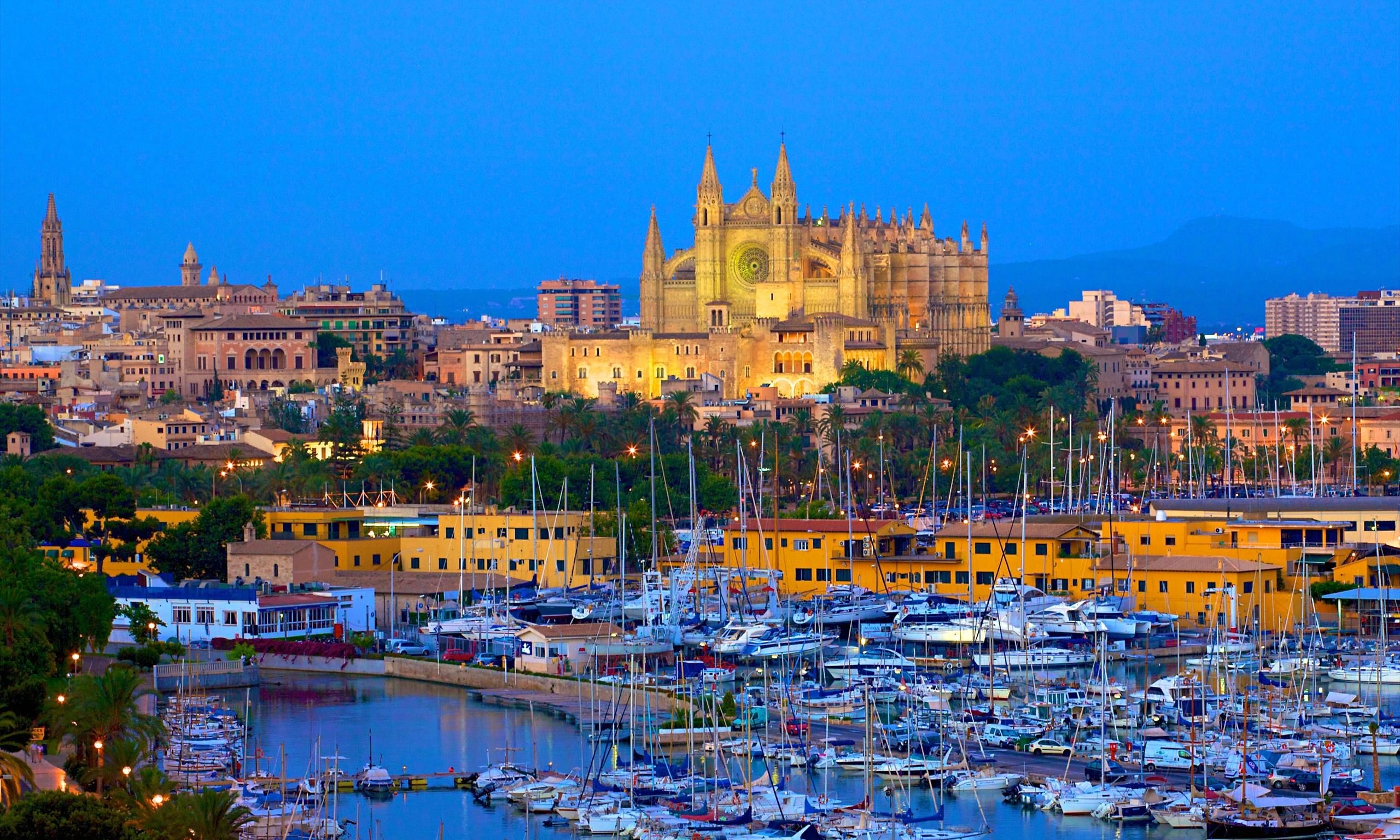 Palma de Mallorca is great if you love the facilities of a city, the only thing that you don't have in Palma is a nice, quit, tropical beach. For that you have to take at least a 30 minute drive. But for the rest you could do anything in Palma de Mallorca. Even if you want to go out with your soulmate than you just take the bus to El Arenal where you can find all the beach clubs of Mallorca.
If Palma de Mallorca is the place where you want to go to than I would give you the advice to book at BO Hotel Palma. Of all the Palma de Mallorca hotels, will this hotel fit you best. Here you can choose between different rooms, so you find always a room that you like. You can book a more cheap room or you can go for a room with an private Jacuzzi or king-size bed in it. BO Hotel Palma checks all the boxes for an romantic holiday, it even has a gym so you could train and take care of your body.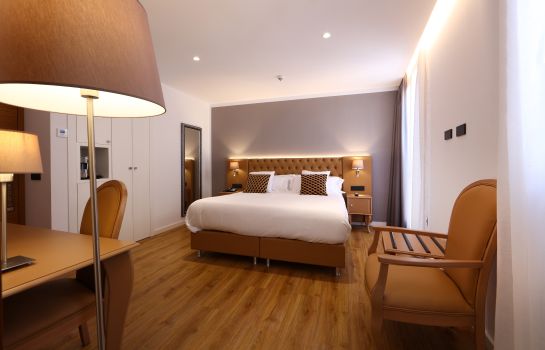 Port d'Alcúdia
In this city you could find one of the most beautiful beaches you've probably ever seen. The beach is surrounded by palm trees and is the perfect place to make beach photos and show everyone your amazing summer body on Instagram. In addition it has a cute centre with several restaurants, shops and a nice boulevard where you can walk along the harbour of port d'Alcúdia.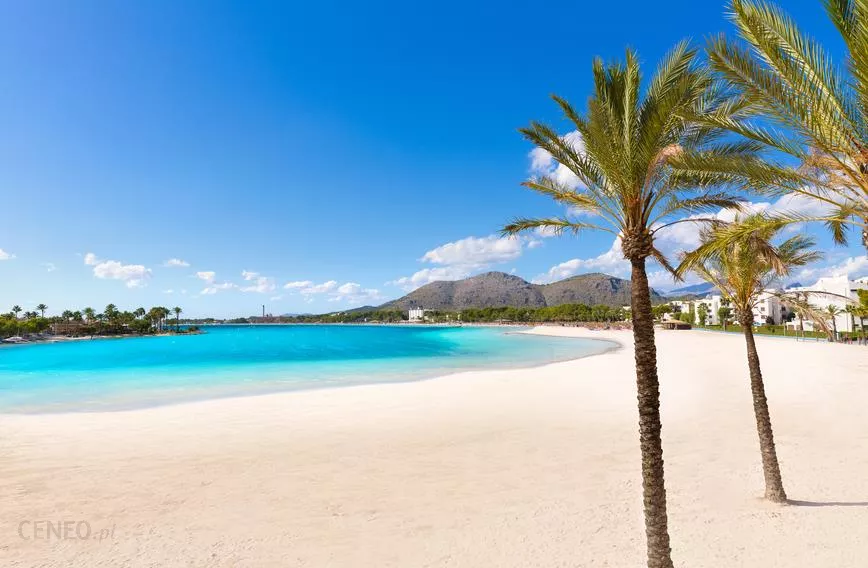 Alcúdia is great to have a relaxed holiday but you could also do plenty of water sports and do something active. You also could visit the old city of Alcúdia where you can walk through small streets and authentic houses. If you want to have a break, then you can enjoy a delicious pitcher sangria while sitting on old terrace in the middle of the centre.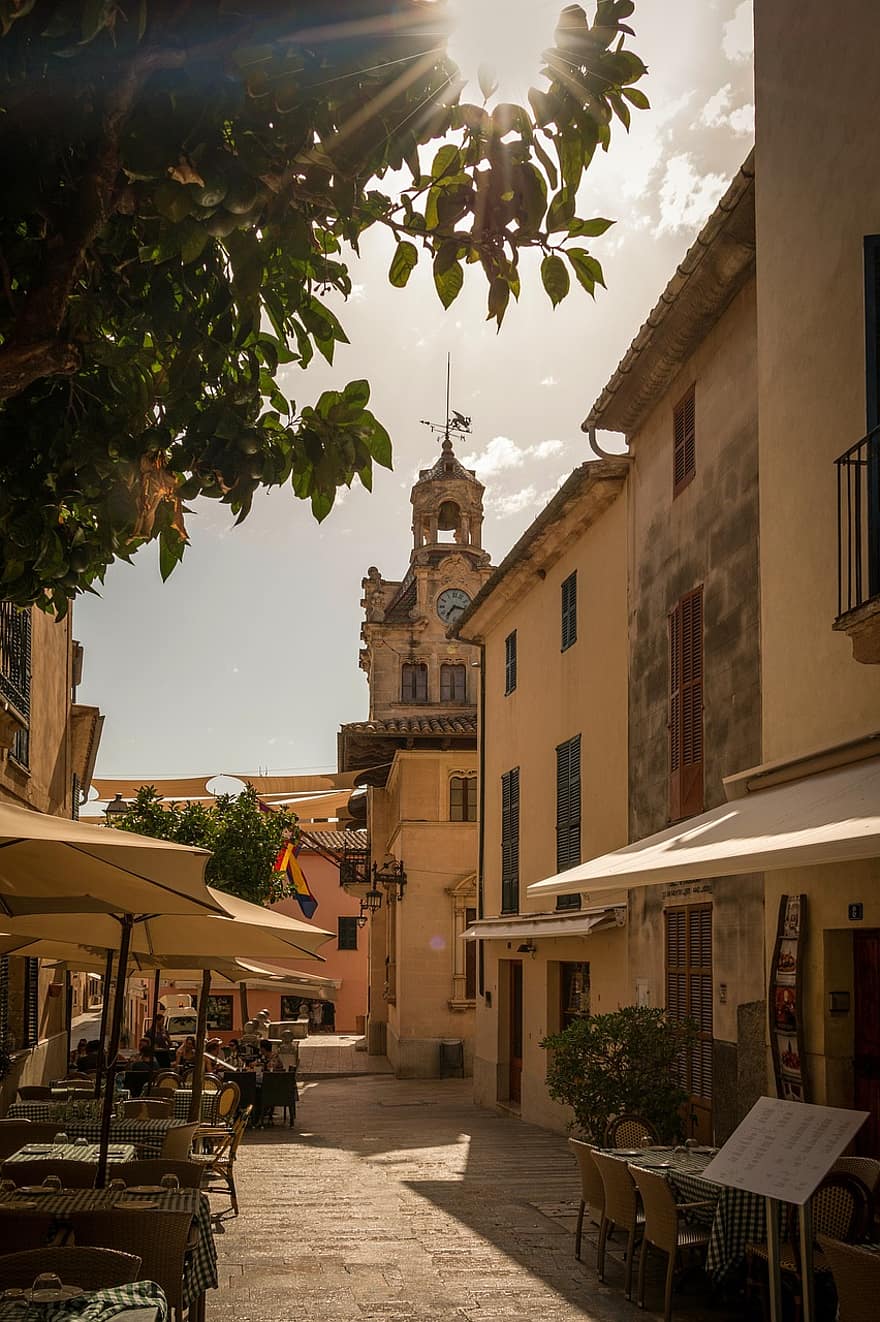 In Port d'Alcúdia you have countless hotels that have been placed on the strip behind the sea. But if you want to stay in a Hotel in Alcúdia, then I should recommend Vanity Hotel Golf. It is a 18+ hotel so there will be no annoying crying kids who would interrupt a romantic moment.This accommodation is a Hotel with sea view, where you can enjoy a beautiful sunrise. What is more romantic than seeing the sun coming up while enjoying a room service breakfast?
Plan some romantic activities
After that you choose your recommendation it is time to make some plans what you want to do when you are in Mallorca. I have set up 3 romantic activities that you and your partner will remember for many years.
A romantic train & tram trip to Port de Só
In Mallorca there is a railway from the main capital Palma de Mallorca to a small old village Sóller. This railway is made in 1905 and is still working. The trip begins in an old train station in Mallorca, Ferrocarril de Sóller. This train station connects with a 27 kilometre railway to Sóller. This is a really romantic trip, because your riding in an old train and drive through the beautiful alpine landscape with a couple of bridges and 13 tunnels. Next to that you drive on top of the hills and have an amazing view over the city where you could take some beautiful photo's. Once you have arrived Sóller you can stay there and have a look in the old church or have a drink on a nice terrace.
But you also could hop on to port du Sóller, the harbour village of Sóller. You could go there by tram. This is also a really fun, romantic and adventures trip. Once you've arrived in Port de Sóller you see a charming bay with a lot restaurants around the water where you could have an romantic lunch or dinner.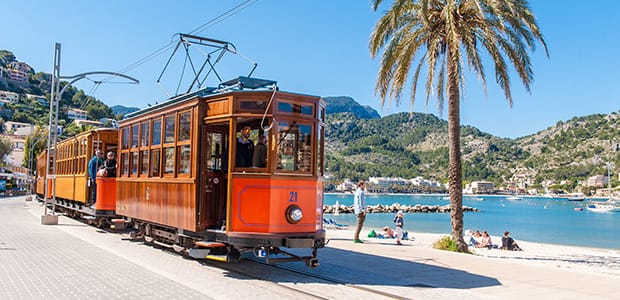 Visit the Drach Caves in Porto Cristo.
Porto Cristo is located east of Mallorca and there you could visit a natural wonder, namely the Drach Caves of Porto Cristo. These are caves more than 11 million years old. There are 4 caves who are combined with each other. Because of this you can do a 1 hour tour over 1200 meters so you could see one of the most impressive drach caves on the world. But there is more! In this tour you will listen to a classical concert given on the largest underground lake in Europe by musicians riding a gondola across the lake. These gondolas are covered with lights, so you can set your eyes on one of the most breath-taking landscapes you will ever see. After the concert you will drive with one of the gondolas across the romantic lake by yourself, so you and your partner can enjoy a romantic ride.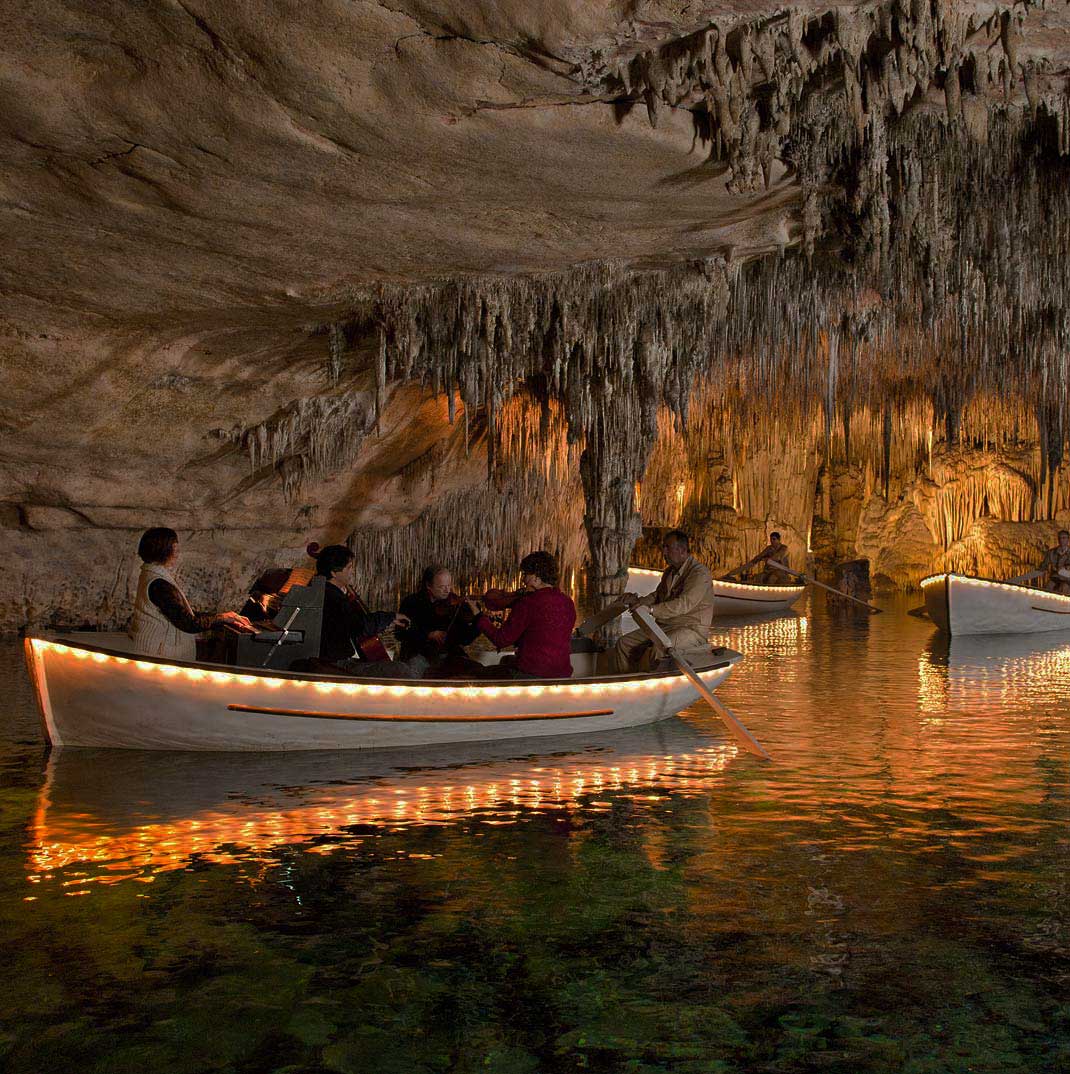 Snorkelling at the most beautiful beaches
Mallorca has extremely many beaches where you could spend a whole day of relaxing, chilling, swimming and snorkelling. This is de perfect balance between doing something active and relaxing. One of the most romantic beaches is the hidden beach Cala Varques. If you want to enter the beach you must take a 25 minute walk through woodland, while climbing down a hill. So the trip to the beach is exhausting but it will be all worth it when you enter the white beach and the blue ocean. On top of that you can spot many different types of fish. There is also a small bar where you could order some drinks and food.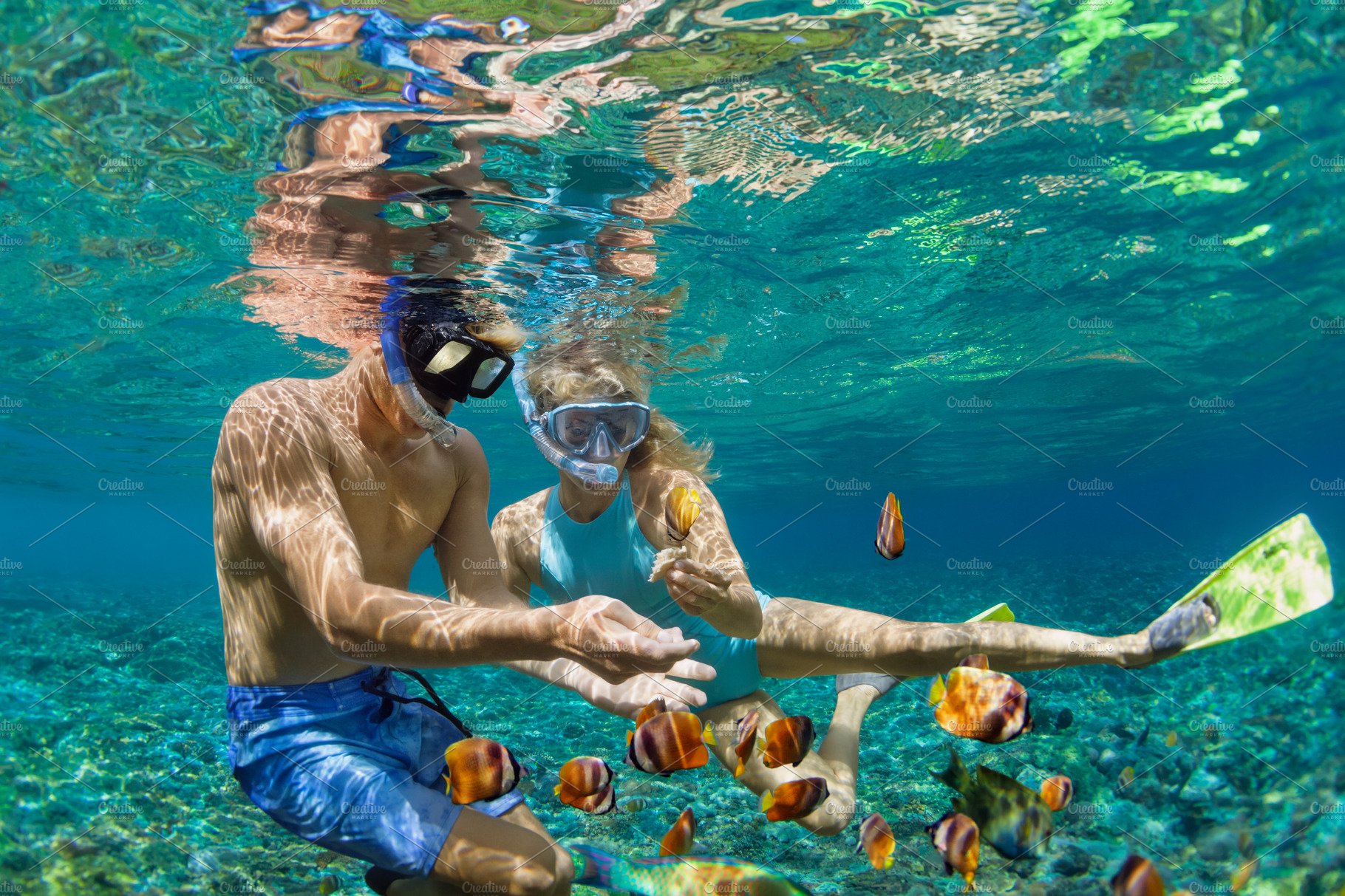 How to end your perfect day on Mallorca with an romantic evening?
In Mallorca you have multiple options for things that you could do in the evening. I shortly will sum up some ideas for you, about how to experience a romantic Majorcan evening.
Go out for a romantic dinner by candlelight.
Ride to a city where you can find more local people, like Pollença or Santanyí. Here you can enjoy of typical Spanish food as tapas or paella and share it with each other. Than you must order a pitcher or sangria as well, and your romantic evening can begin.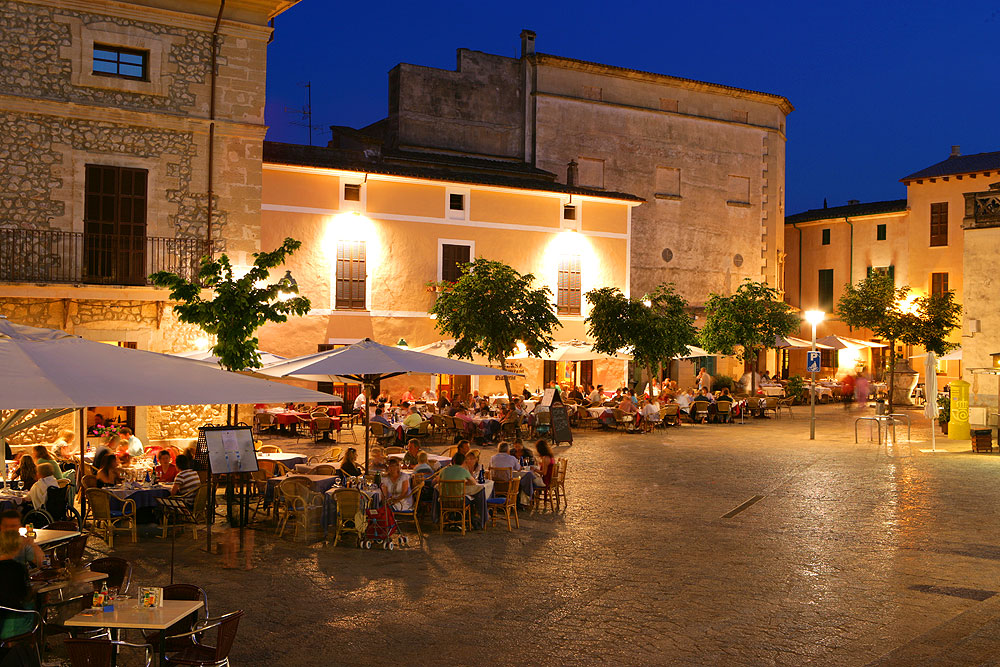 Go out in El Arenal
Maybe it sound not romantic, but I am sure you will have a great time in al de different clubs El Arenal has to offer. Drink some alcoholic drinks, walk over the long boulevard of El Arenal and dance the whole night together with your lover. How romantic sounds that?
Watch the sunset on a magnificent beach
Mallorca is surrounded by beaches. It doesn't matter where you book your holiday to find a nice place to see the sunset. But to inspire you, here are a couple beaches who are belonging to the most beautiful beaches of Mallorca. Cala Pi, Cala Sa Nau, Es Trenq, the beach of Alcúdia and The several beaches of Cala d'Or.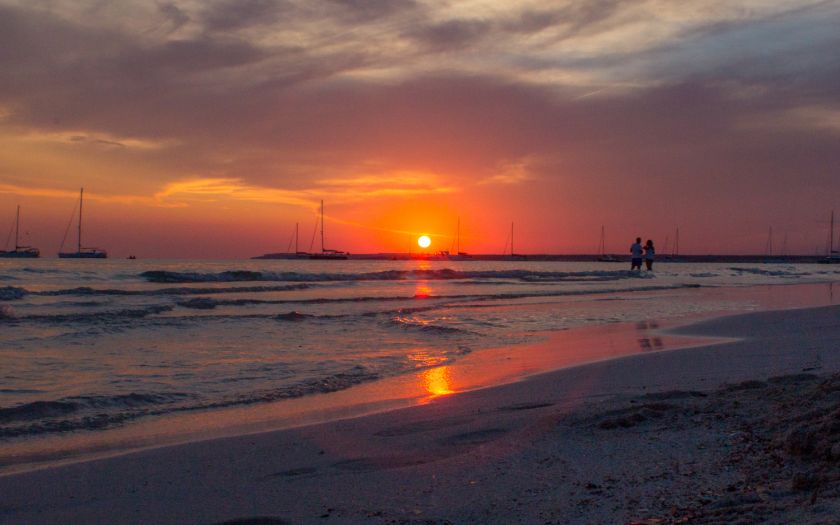 Now you are ready to plan your most Romantic, active, adventures and relaxing holiday to Mallorca. I hope you and your crush have the most wonderful time out there. Thank you for reading the blog and if you want to know more about Mallorca subscribe to our email newsletter.