In this blog I will give you the secrets of Alanya!
The Turkish city of Alanya is really packed with sights, activities and delicacies. You could write a book about it. Or well, in our case a blog. These are the best things you should not miss when you are in this Turkish city.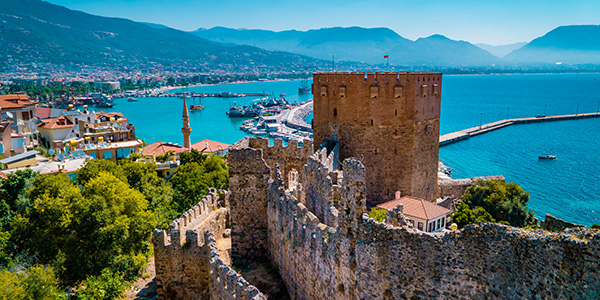 The Red Tower
The symbol of Alanya is Kizil Kule, or: the Red Tower. This octagonal tower was built in the 13th century and is 33 meters high and has a diameter of 29 meters. Where this sturdy tower once served as the shipyard's protector against the enemy, it is now used for an exhibition and as a tourist attraction. From here you have a beautiful view over the harbour. Wear good shoes, because you can reach the tower by first climbing 85 (!) Steep steps.
Admire the castle and views of Alanya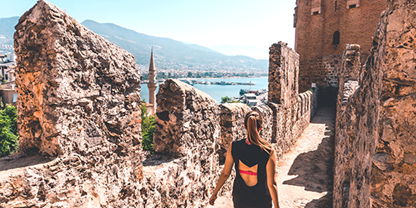 About 40 minutes' walk from the Red Tower is Alanya Kalesi: the medieval castle of Alanya. Something you should definitely not miss when you are in this city. Like the Red Tower, it was built in the 13th century. Not only the castle itself – which consists of 140 turrets – is an attraction, the view is also beautiful. On one side you have a view over the Cleopatra beach and on the other side you look out over the harbour. So bring cameras!
Cool off in the caves of Dim
12 kilometres east of Alanya are the caves of Dim. These caves are the second largest accessible in Turkey and are over a million years old. In the cave you can choose from two walking routes: a short route of 50 meters and a longer one of 350 meters. Walking along these paths you will see thousands of beautifully lit stalactites and stalagmites. At the end you come to a lake. A nice trip for a few hours and great for cooling off on hot days.
Visit the harbour, the old center and the Friday market
The harbour of Alanya is without a doubt the liveliest part of the city. It is cozy with a beautiful boulevard, terraces, shops and a view of large pirate boats. The old center is located around the harbour. Here you will find more authentic restaurants, shops and small tea houses. Walking through the old town is a good way to get a taste of the daily life of the very hospitable inhabitants of Alanya. On Fridays, the popular Cuma Bazaar is located here (cuma means Friday). A market with herbs, fruit and textiles that is well worth a visit. And … don't forget to bargain.
Relax in a Turkish hammam
When you are in Turkey, a visit to a Hamam should not be missed. Here you will still find the traditional baths where you can enjoy delicious scrubs, massages, saunas and steam baths. Throughout the city you will see plates of different hammams. From smaller and cheaper hammams, to larger ones just outside the center where you can easily spend a whole day.
Go paddle boarding at sunrise
Enjoy an amazing view on the water of the Red Tower and the Castle in their dawn: go SUP! With this activity you stand upright like a surfboard and paddle yourself forward. All you need is a rented paddle and board, a bit of balance and an early alarm clock. And we guarantee you: it is more than worth that early alarm clock!
Taste the Turkish cuisine
A typical Turkish custom is to stop for coffee or tea several times a day. You can get (strong!) Coffee everywhere for next to nothing. Turkish coffee is served in a small cup with coffee and coffee grounds. Like it or not, you have to try it once.
Do you want to try a Turkish lunch in a cozy environment? Then go to Dimcayi Pinarbasi restaurant outside the city. A floating Alanya city park. With a tea garden, with several cozy seats that float on the water. The ultimate place to paddle after lunch or take a power nap on the soft cushions.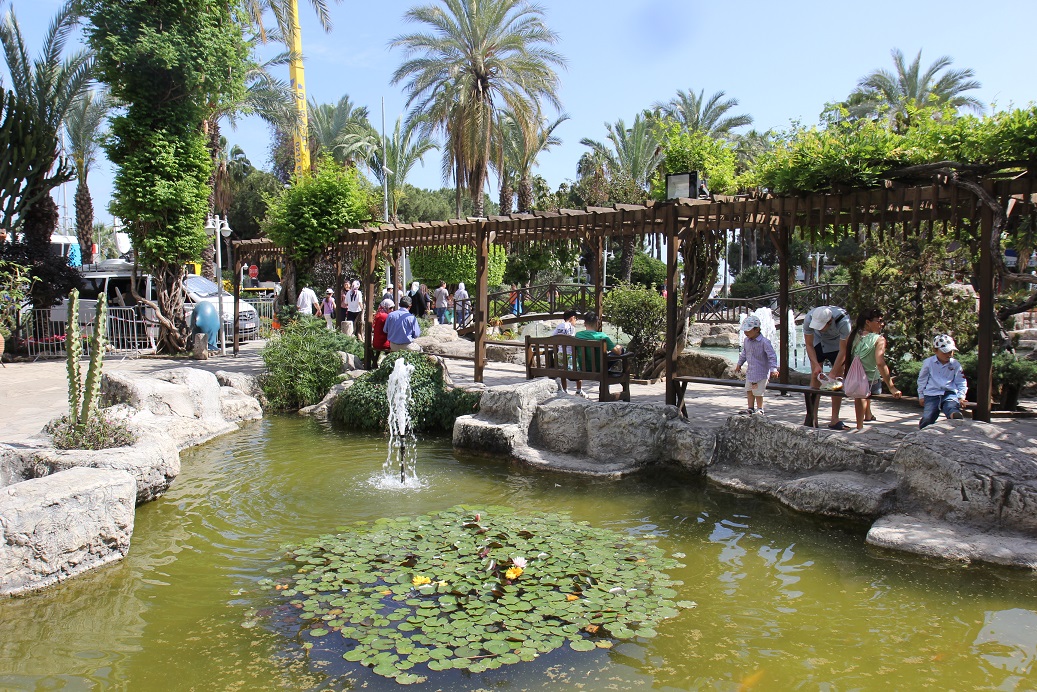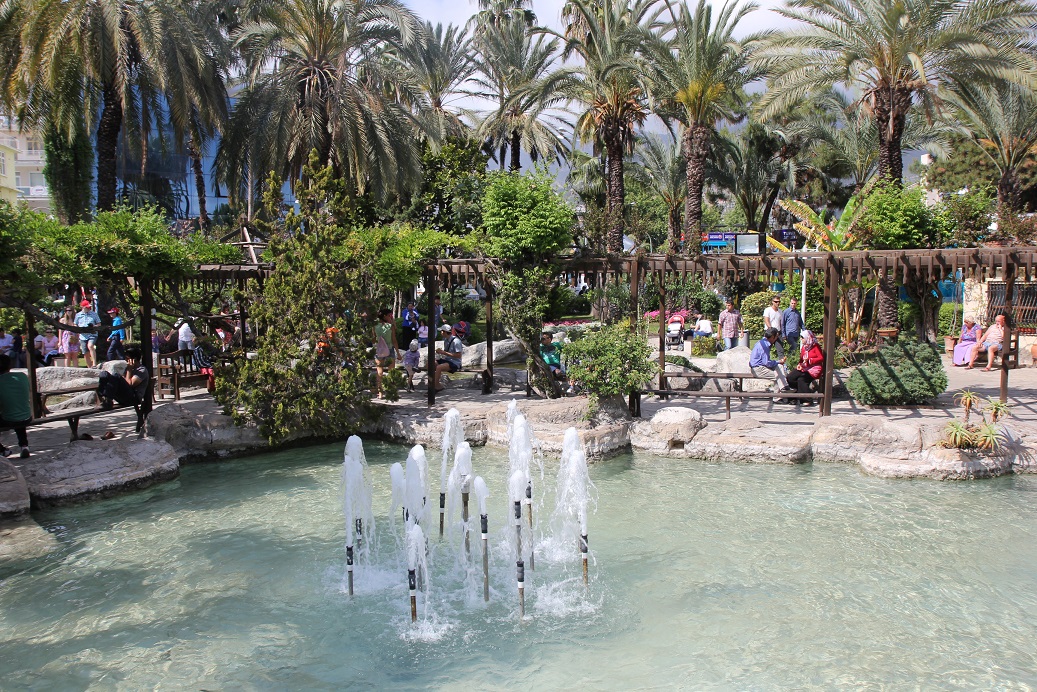 It is a hidden lovely place in the middle of the loud centre of Alanya. You can get there if you go right from Atatürk's monument (towards the harbour). From Monday till Friday it is a really quiet place but on the weekends there are many people spending time together there. Most of them are Turkish men and women (mainly elderly people) who go there to meditate in silence. It's a good observation point 😉 I like this place also because Kedi Evi – "Cats' home" is located just next to it. Kedi Evi was built by the Alanya municipality and it aims to help stray cats from Alanya. If you are a cat person like me, go visit this park now! 🙂
Alanya's beaches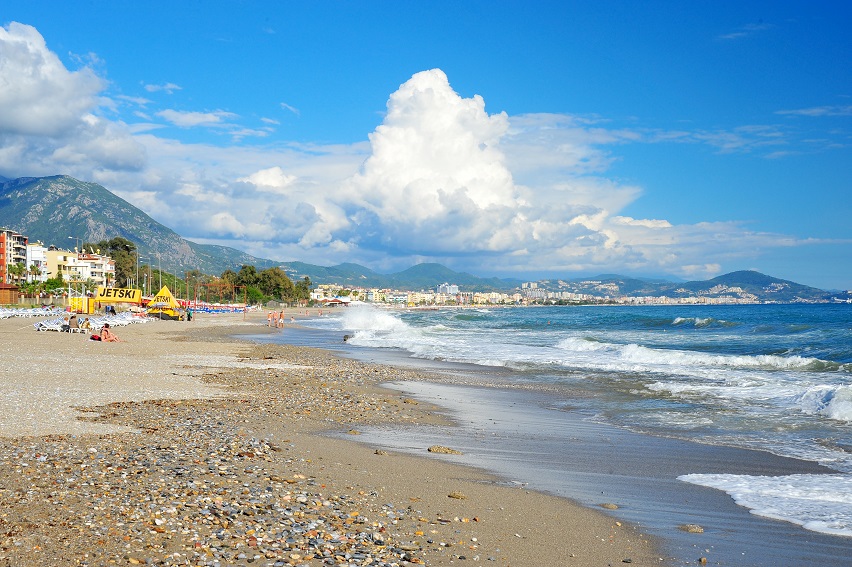 It is hard to name a beach a place to visit but it is worth to write little about them because they are amazing. They are not sandy (like in Poland or in Maldives :)) but fine-rocky and gravely.
They are quite wide with gentle descent to the water, and the water is so clear! Especially the four-kilometre-long Kleopatra Beach (west side of Alanya) is very picturesque. It has a Blue Flag sign – an international symbol of quality beach.
For the east parts of Alanya there is a Keykubat Beach, also a pleasant one.
Beaches are public and free, only umbrellas and sunbeds are not free of charge.
A sunbed + an umbrella cost about 12 TRY per day.
Local Bazaar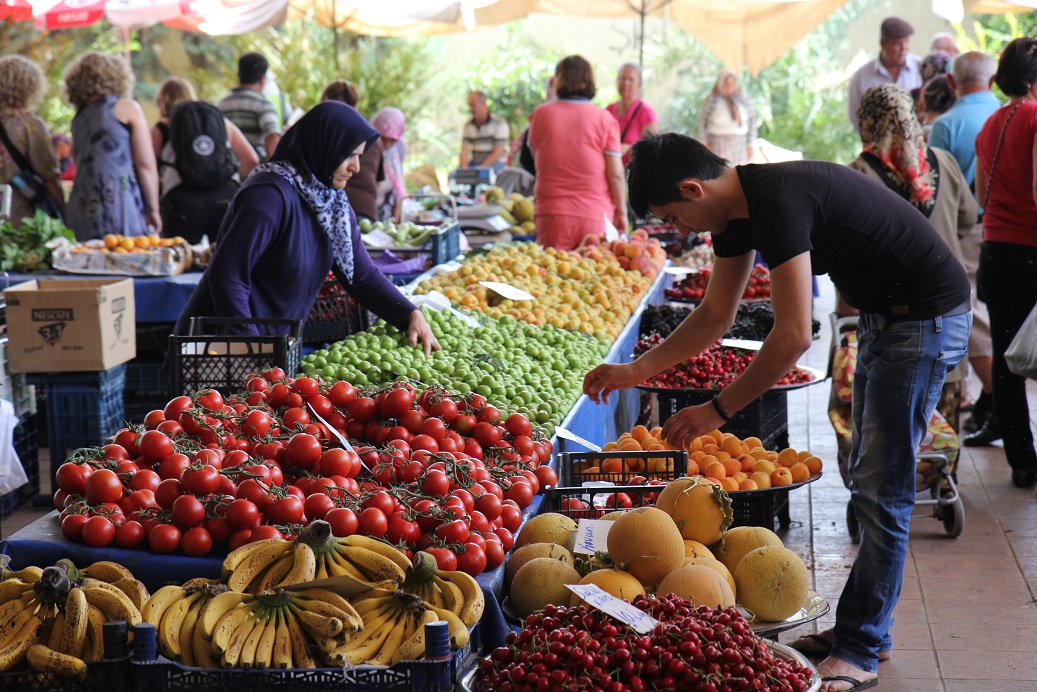 I really recommend visiting Turkish markets, for example the one in the place called Hal. The best bazaar is on Tuesday in Hal and on Friday in the city centre when the vegetable tradesmen comes there too. It is worth not only to walk in the open-air area and buy fresh products there but also to go to places under the roof where villagers stands with lots of goodies on the ground and where small cafes with fresh produce (in reasonable prices!) are. It is open from morning till evening.
Terrace
(Seyir terası)
The landscape of Alanya is really different from this perspective. It is hard to not to fall in love with that city when you are there 🙂 You can also see the real size of this city there.
This terrace is popular especially among single girls that come there with Alanya's Boys who want to impress them.
Normally, tourists can get there with package tours or alone with the bus line 8.