July 2017, together with my best friend, we boarded a plane to fly to Los Angeles. We found it scary but we were excited. I think the anticipation of a trip is one of the most fun things to do. Because what are you going to discover on the other side of the world? Based on my discoveries in LA, I have some tips for you. But make your own twist on your own adventure.
In Los Angeles, you can have the city life and feel like you're on holiday at the same time – Isabel Marant, Designer
#1 Santa Monica
Of course, I start with my best experience. Santa Monica does not officially belong to Los Angeles. You probably wonder why I would appoint Santa Monica while I was writing about Los Angeles. Well, Santa Monica feels like an outsider in Los Angeles. Santa Monica is located twenty kilometres west of downtown Los Angeles on the coast. In Santa Monica you can go for anything, the inhabitants of Los Angeles go there for the sea and beach of course.
Santa Monica is also often used as a film set, you have probably watched the films Baywatch and Forrest Gump on Netflix?
The pier is the biggest attraction in Santa Monica. This pier exists since 1909, more than 100 years old! And the biggest attraction on the pier is Pacific Park. This is an amusement park with 12 attractions. Enough to keep you entertained. I was sitting in the Ferris wheel driven by a sun (enough sun you can see). Super cool to see the most beautiful view of Santa Monica!
After that we went to explore Santa Monica beach in the most Dutch way. That is on a bike! The bike paths are beautiful because you cycle on the specially constructed bike paths on the beach. I'm really not a fan of cycling in the Netherlands but hey in Santa Monica with the sun, sea and beach it is a lot of fun. You can cycle from Santa Monica to the north in the direction of Malibu. If you cycle south you will be the first to reach Venice beach. I'll tell you about it in a minute. At Santa Monica beach you can see athletes working out on the beach and even people walking on a rope. By the way, it looks like the lifeguards walked right out of Baywatch, not bad, right? 😉
Did you know that most Americans can't cycle? We have seen that in Santa Monica!
After cycling we enjoyed a corndog. That is a sausage with a fried layer of dough around it. I don't understand why they haven't invented it in the Netherlands yet in the snack bar around the corner. It's not just cycling and visiting the fair in Santa Monica. You also have a nice shopping centre where you can buy cool stuff. Santa Monica is highly recommended and I would stay there for at least 2 days because you can get there from Los Angeles in less than half an hour.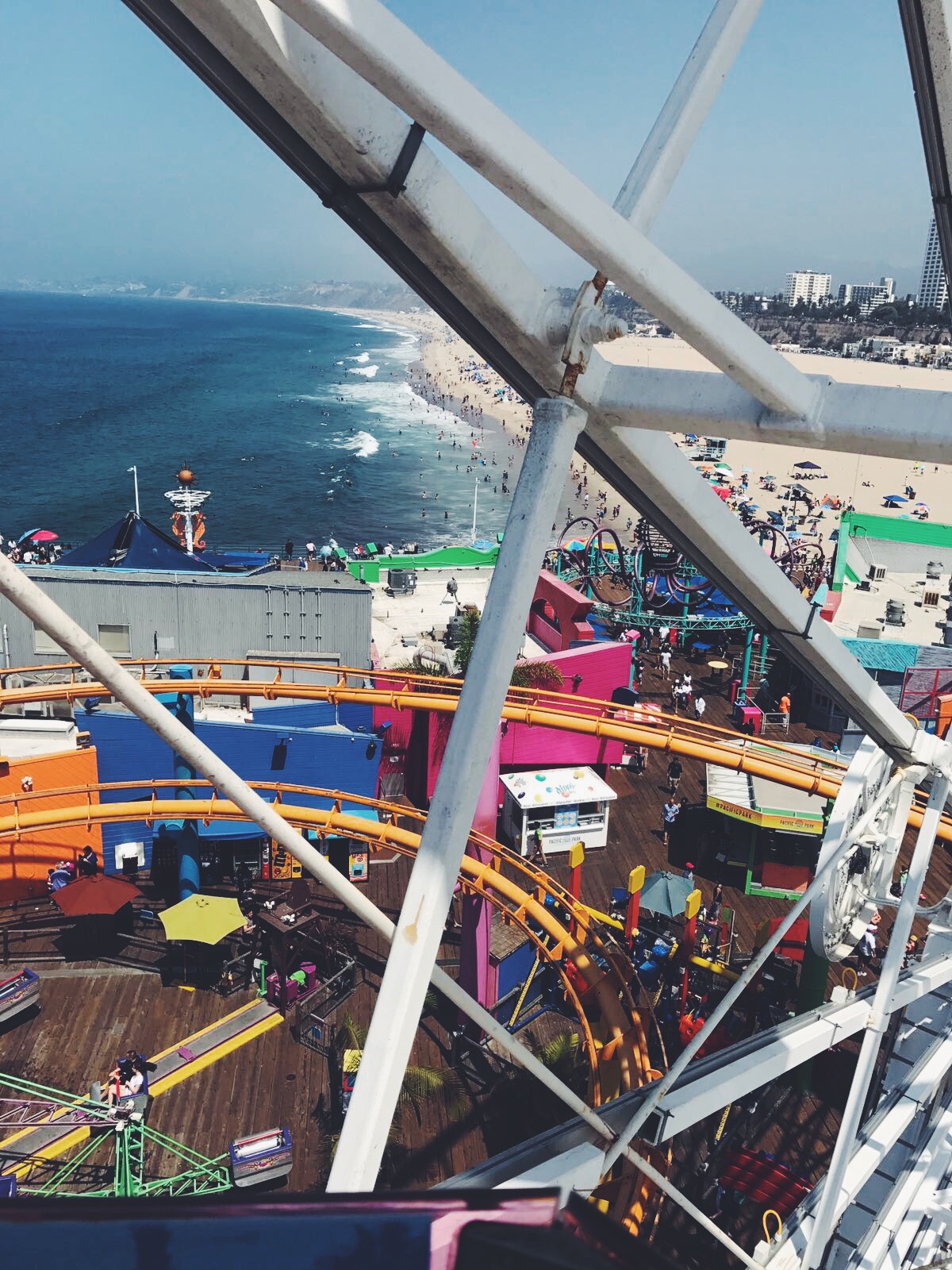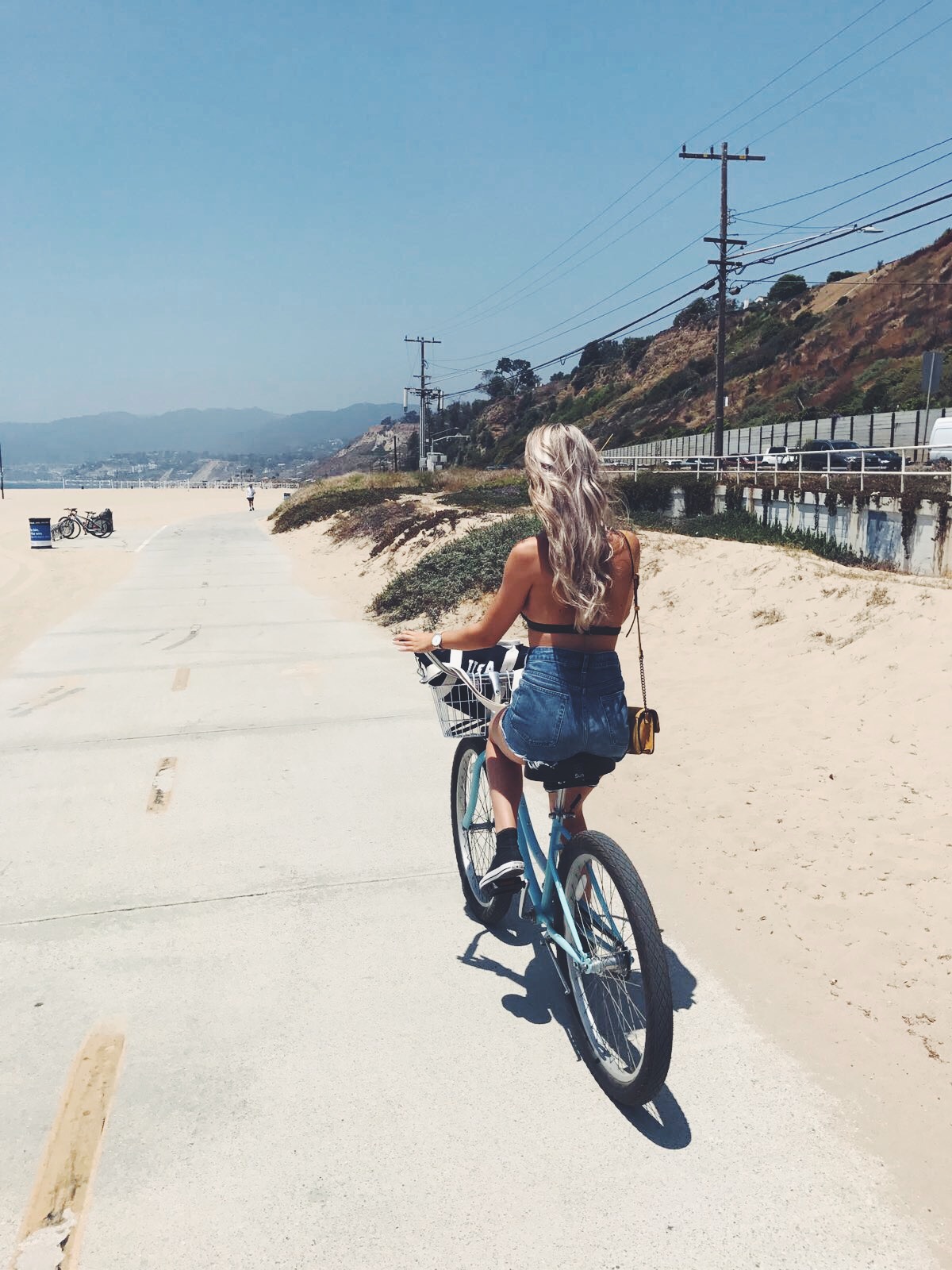 #2 Venice Beach
Santa Monica is my absolute number 1 but if you are in Santa Monica anyway you can certainly cycle those few kilometres to Venice Beach. We made a stop there at several places of interest. On the Boardwalk you can find all kinds of street artists making paintings in all kinds of themes in front of you. On the Boardwalk you also have several nice little shops with all kinds of things. You see a lot of young people on Venice Beach. You can play basketball, skate and take surfing lessons. When we were there we saw a couple of boys skating in the skate park. They were goooood. It looked like we were watching a skate movie.
When you get off the beach you end up in the living area. Yes but why would you go there? You may have noticed that you know VENICE from somewhere. Yes indeed, Venice is a city in Italy. What does Venice have to do with a place near Los Angeles? The Venice Canals were built in 1905, they are 3 canals with canals for pedestrians. You really imagine yourself in another world.
#3 The Grove & Farmers Market
In the neighbourhood where we stayed lies The Grove. The Grove is part of the popular Farmers Market. In the Farmers Market you can find 100 different kinds
f food from all over the world. This is special by American standards because most Americans prefer American food and not too much from other countries. In the Netherlands I prefer to eat food from other parts of the world. You can go there for French cheeses, for example; the American cheese really cannot be eaten. As a real foodie, you should definitely stop by here.
From the Farmers Market you can take a trolley to The Grove. At The Grove we spent a lot of money on shopping, eating and enjoying. In the middle of The Grove they made a grassy field where you can chill romantically with blankets. At The Grove there is also an authentic cinema. So it is highly recommended to watch a movie in this cinema. In the middle of The Grove there is an iconic fountain. There are old school songs that will make you end up in a dreamy Hollywood movie. This fountain is the mini version of the fountains in Belleagio in Las Vegas. I will tell you about my trip in Las Vegas another time. 😉 Our favourite place to eat was the Cheescake Factory. Too tasty! As a child you didn't want to choose, you just wanted to taste everything. This dream came true at La Piazza where you can order small dishes.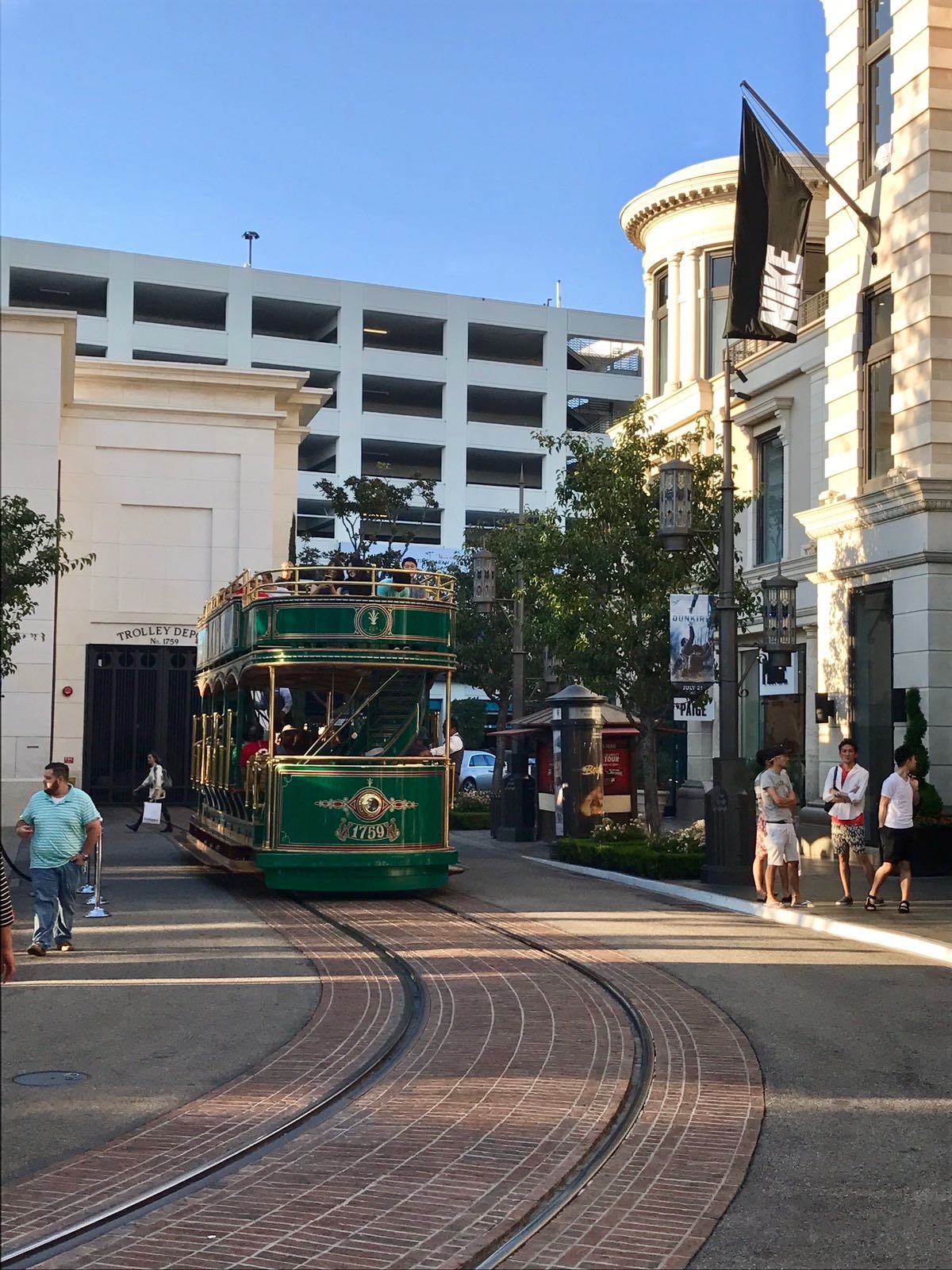 # 4 Sunset Boulevard
Yeah okay, you should see Sunset Boulevard because it belongs to Los Angeles. It's not the best part of Los Angeles either. As soon as we arrived we drove to Sunset Boulevard to have a look at this area. Sunset Boulevard is the streetscape of what you expect in Los Angeles. If you didn't walk along the Sunset Boulevard you can't come home. Here you will find all the stars with stars on the ground. I only miss the cosiness of The Grove here. Next to the Sunset Boulevard you can drive up the mountain to get closer to the Hollywood sign. A must see of Los Angeles.
It is nice to drive through Beverly Hills. Famous stars live here, maybe you'll spot one. The houses are impressive and therefore already worth a visit. If you want to see stars you can drive along Rodeo Drive. It is the Kalverstraat of Los Angeles. You will also find the expensive cars of the owners from Beverly Hills.
Hollywood is the part of the city known as the movie city. Hollywood has been known since 1911, now only Paramount Pictures is still based in Hollywood.
I love Los Angeles, and I love Hollywood. They're beautiful. Everybody's plastic, but I love plastic. I want to be plastic. – Andy Warhol
Other tips
In this blog I have given you some tips about great places to see when you are in Los Angeles. I would like to give you some other tips.
On my birthday we watched a competition of the Dodgers. The sun went down you saw the palm trees in the background, it looked like a movie. The vibe in the stadium felt so special that I can really recommend this tip to you. Grab a beer and nachos and your evening is complete!
If you are a film fan you should go to Universtal Studios just outside Los Angeles for a day. You can step into the world of Harry Potter or the Simpsons. The Studio Tour at Universal Studios is world famous. Here you can imagine yourself in a golf cart in the world of sets from movies.
And last but not least, fast food! I prefer not to eat too much meat because I don't like it. But in America you have to let that go. You have so much more choice than in the Netherlands. My favourite was In-N-Outburger. When you come to the cash register, you have to say that you want the 'special menu'. You get cheese over your fries instead of without it. It is not on the standard menu so you really have to ask for it. I would say try as much fast food as possible. Only then you don't long for the Mc Donalds at home anymore.
Do you want to know more about travelling?
Together with my best friend I not only visited Los Angeles but also Las Vegas and San Diego. Las Vegas is really a great city where you can walk around for days. And San Diego is a city to fall in love with.
To find out more about these crazy experiences you can subscribe to the newsletter. We will keep you informed if there is another great story coming up that you can immerse yourself in and imagine yourself on the other side of the world.
{{cta('95aa5d14-0482-4b53-862f-c1c799e4b686′,'justifycenter')}}
Do you like this article and would you like to read more about travelling in America? Then read this post: 'All the must see highlights on your trip to Chicago'